For The Love Of StoriesBig Finish produce fantastic full-cast audio dramas for CD and download.
Big Finish warehouse to re-open
8 June 2020
Shipping of collector's edition CDs and box sets to recommence, as Big Finish acts to clear the backlog of pending orders amid the coronavirus pandemic.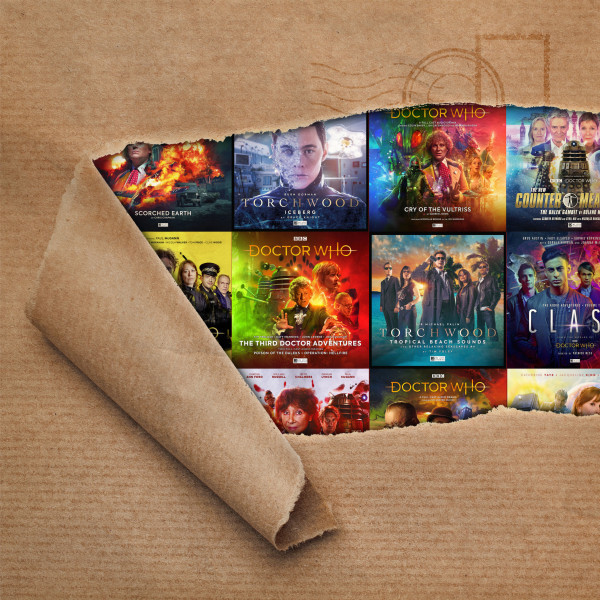 As of Monday 8 June, Big Finish staff will be returning to work on a split-shift basis. The company has taken steps to ensure the protection of its warehouse workers, including providing safety equipment and a regular schedule of deep cleaning, which will allow the introduction of a one-person per day rota pattern for the coming weeks.
Company chairman, Jason Haigh-Ellery said: "Our listeners have been extremely patient over the past three months, while our warehouse staff have been furloughed, and as we operated a digital-first release schedule. I would like to thank all our customers for their understanding during this time; we really couldn't have done it without you.
"We are now delighted to be in a position to begin shipping the orders for physical products we have taken since 24 March.
"The team has put procedures in place to ensure the continued safety of our staff. However, we naturally have a lot of pending orders to work through, and our warehouse is not yet back to full capacity, so we ask that customers continue to bear with us as we start to clear the backlog.
"To make it fair for everyone, outstanding orders for collector's edition CDs and box sets will be fulfilled on a 'per month' basis; so, orders placed in April will be batched up and mailed out first, followed by those placed in May and June.
"Please note we are still awaiting the delivery of some stock from our pressing plant and we cannot guarantee the status of local mail or postal services. We expect there to be continued delays, particularly for overseas customers."
For those looking forward to new stories, Big Finish's forthcoming release schedule for the next three months is as follows:
JUNE 2020
■ DW • THE MONTHLY ADVENTURES: The Lovecraft Invasion (265, SIXTH DOCTOR)
■ DW • STRANDED 1: (BOX SET)
■ DW • SHORT TRIPS: Out of the Deep (10.6)
■ TORCHWOOD: Dinner and a Show (39)
■ THE AVENGERS: The Comic Strip Adaptations Volume 4 (BOX SET • STEED & MRS PEEL)
■ SPACE PRECINCT: Demeter City (AUDIOBOOK)
■ GEMINI FORCE ONE: Black Horizon (AUDIOBOOK)
JULY 2020
■ DW • THE MONTHLY ADVENTURES: Time Apart (266, FIFTH DOCTOR)
■ DW • MISSY: Series 2 (BOX SET)
■ DW • THE ROBOTS 2: (BOX SET)
■ DW • SHORT TRIPS: Downward Spiral (10.7)
■ TORCHWOOD: Save Our Souls (40)
■ STAR COPS: Mars Part 2 (BOX SET)
■ THE OMEGA FACTOR: Divinity (AUDIOBOOK)
AUGUST 2020
■ DW • THE MONTHLY ADVENTURES: Thin Time / Madquake (267, FIFTH DOCTOR)
■ DW • THE SIXTH DOCTOR AND PERI: Volume One (BOX SET)
■ DW • SHORT TRIPS: These Stolen Hours (10.8)
■ TORCHWOOD: Torchwood Soho – Parasite (BOX SET)
■ TORCHWOOD: Red Base (41)
■ ADAM ADAMANT LIVES!: Volume 2 (BOX SET)
■ DW • OUT OF TIME 1: (BOX SET)