We love StoriesBig Finish produce great full-cast audio drama for CD and download, featuring many popular television fantasy series.
Blake's 7 - Archangel: New Book Announced!
17 February 2012
Big Finish is proud to announce the second book in the new series of original Blake's 7 novels. Written by Scott Harrison and set between the TV stories Trial and Killer, Archangel finds the rebels trying to move on from the horrific death of crew-member Olag Gan.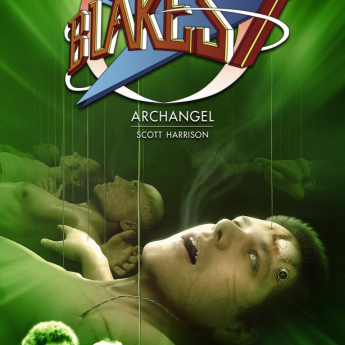 When an old friend of Blake's – believed to have been murdered five years earlier by the Federation – is discovered alive in a labour camp on Sigma Minor, the rebels decide to mount a daring rescue attempt. But the talented cybernetic engineer Blake once knew is a shadow of his former self. His memory has been wiped, his family are prisoners of the Federation, and his name is inextricably linked to a sinister project known only by a codename: Archangel.

Archangel: An ultra-secret experiment so dangerous, so horrific, so terrifying that it was shut down by the High Council and ordered never to be reopened... until now.

This time, death may be the Liberator crew's best option.

Scott Harrison is a writer and playwright whose stage plays have been produced in both the US and the UK. As well as contributing short stories for the popular time-travelling voodoo cult Faction Paradox (originally created for the BBC Books Eighth Doctor range) and for both the Steampunk and Horror genres, he has also written comic book scripts, audio scripts and for various eBook and audiobook collections. He is range editor for the Modern Masters of Audio series (produced & directed by Neil Gardner) and is currently writing for and editing a new Steampunk anthology for Snowbooks, where he is absolutely thrilled to be working with legendary Blake's 7 scriptwriter Tanith Lee.

Scott is thrilled to be part of this exciting new range as he has watched Blake's 7 all his life. 'I hope to make the novel as breathtakingly exciting as each of those 52 TV episodes have been for me over the past 30-plus years,' he says. 'To be invited by Big Finish to be a part of this range, particularly at its outset, is surely every writer's dream, not to mention a huge honour.'

Archangel is available for pre-order now, along with the first book in Big Finish's Blake's 7 novel range: The Forgotten, by Mark Wright and Cavan Scott.

Hardback copies of The Forgotten are on sale from May 2012 and Archangel from November 2012