We love StoriesBig Finish produce great full-cast audio drama for CD and download, featuring many popular television fantasy series.
Blake's 7: Heroes audiobook out now!
30 November 2017
Released today, six new tales for the Liberator crew on audio, read by Michael Keating.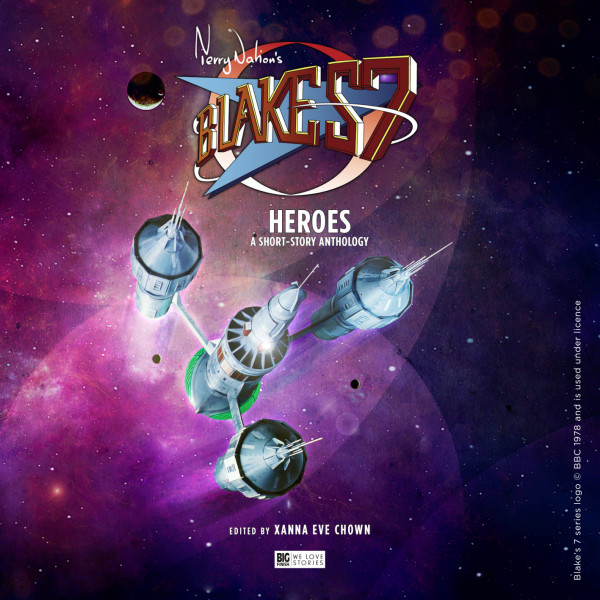 Blake's 7: Heroes features six stories by Trevor Baxendale, Paul Darrow, Jonathan L Howard, Una McCormack, LM Myles and Gary Russell.
A distress call is coming from a Federation research base…
A crack team is assembled to take over the Liberator…
A band called the Dangerous prepare to 'Rock the Rock Planet'…
We chat with editor of this novel, Xanna Eve Chown about bringing this Blake's 7 anthology to page and audio.
Big Finish (BF): Blake's 7! Six new tales. Do you have a favourite?
Xanna: Ooh, I don't know. They're all very different, and I love all of them... I like the idea of getting a mix of writers and stories together, exploring the same theme. There's room in a collection like this for different kinds of stories - big adventures with chases and explosions, and smaller, more character-focused ones. Saying that, I always look forward to reading Paul Darrow's take on things. He has a very unique style and point of view, and his stories are always surprising. And I love Gary Russell's contribution - he had me at the title!
BF: We see the Liberator proudly on the cover. Are these pre-season four adventures?
Xanna: They are. Both Gary and Una McCormack decided to set their stories between Seek-Locate-Destroy and Mission to Destiny, and these book-end the collection. Trevor (Baxendale)'s is set between Moloch and Deathwatch, Jonathan (L Howard)'s is between Project Avalon and Breakdown, Lizbeth (Myles)'s is between Killer and Hostage and Paul Darrow's is set during Season 3. The reader can have fun working out where! (And guessing which mysterious character from Avon's past makes a surprise appearance...)
BF: It's a big question to ask... what makes a hero, especially in the world of Blake's 7. What do you think makes a hero?
Xanna: Ha ha. Well, I guess heroes come in all shapes and sizes. I think the idea of what makes a hero is always there in the background of the TV show, isn't it? Are the Liberator crew heroes? Anti-heroes? Would they describe themselves as heroes if you asked them? It's not clear cut. I've put Avon's quote on the cover - "I could never stand heroes." (God, I love Avon.) It's the ambiguity that's intriguing. Everyone loves a flawed hero. My personal hero is probably someone like Ken Campbell - he was like a force of nature. Irreverent, engaging, and more than a little bonkers.
BF: The books are a great chance to get inside the heads of the characters, you could say better than audio. What do you think?
Xanna: Well, you get to eavesdrop on their thoughts a bit more. We peek into Travis's mind in Gary's story, and there are some lovely reflective moments from Cally in Una's, early on when she is still adjusting to life on the Liberator. Hopefully the book will complement the audios. Short stories are quite a different proposition from an audio adventure. The books and audios are not linked in any way at the moment - although maybe that's a project for the future...!
Blake's 7: Heroes is available now as a digital audiobook at £9.99 with the adventures read by Michael Keating, who played Vila Restal in the original tv series.
And coming soon are the hardback novel and ebook versions of Blake's 7: Heroes at £16.99 and £12.99.
Unfortunately, these have suffered some delays in the production process, but we are hoping to release the ebook version in the next few days.
UPDATED 01/12/2017: The ebook of Blake's 7: Heroes is now available! Please note that due to production issues, the physical delivery of this book has been delayed, but we are hoping that all orders can be despatched in w/c 18/12/2017.
Please don't forget that all orders for the hardback book will also unlock an ebook download from the Big Finish site, which you can enjoy in the meantime.