We love StoriesBig Finish produce great full-cast audio drama for CD and download, featuring many popular television fantasy series.
Blind Terror - Big Finish Originals
2 October 2018
If you're seeking some spooky listening this October, look no further than the next of our Big Finish Originals! Blind Terror: The Gods of Frost stars Eve Myles, and is written by the spookiest Torchwood writer, Guy Adams.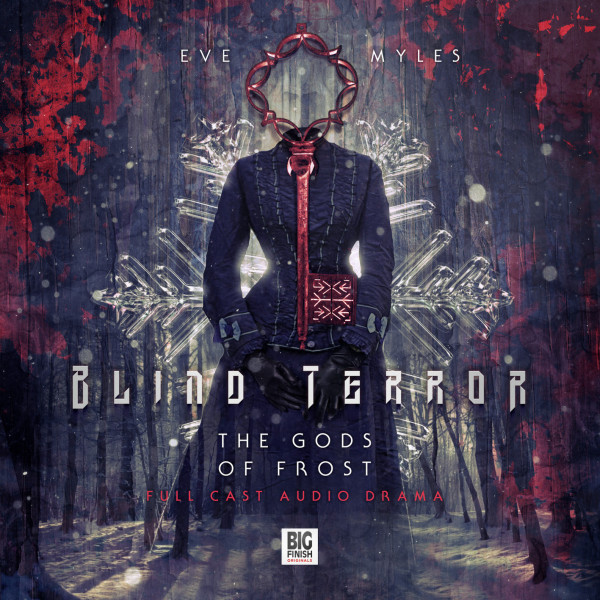 Following the death of her husband, Kathryn Ellis becomes the new housekeeper at Hodder Hall, keen to embark on a bright new future… only, her past won't let her go just yet, and the ghosts that stalk the village threaten to cut her future short.
Blind Terror: The Gods of Frost will be available later this month as part of the Big Finish Originals range, a new wave of original drama launched to celebrate 20 years of award-winning audio publishing.
The Gods of Frost, comprising six half-hour episodes, will be available on download from www.bigfinish.com at a pre-order price of £17 and is out for release in October – perfect for some Halloween listening!
Episode 1: Soul Cake
Episode 2: They're Coming
Episode 3: Hodder's Folly
Episode 4: The Lord of Misrule
Episode 5: Hide and Seek
Episode 6: Solstice
Guy revealed all the details in last month's Vortex magazine: "It's entirely thanks to Eve Myles that Blind Terror came about. The idea was actually floating about for a while before it was one of what became known as the Big Finish Originals.
"It was purely because I had become the go-to person to write horror stories for Torchwood. Eve had said she enjoyed what I was doing and liked my scripts and we've become friends. She effectively said to Scott, 'Get Guy to write an original horror series, and if you do, I'll star in it.'
"Scott then went to Big Finish and explained the situation, and when the answer came back, it was, 'Alright then – do it!' So it's really down to Eve herself."
And Eve Myles told us about playing this new character, very different from her more usual role for Big Finish as Torchwood's Gwen Cooper: "Kathryn is an intriguing character as she's incredibly gentle, but she's broken, and yet she's still very assertive though lost and grief-stricken. It's lovely to be working on something completely different, from Gwen being so strong, physical and in the midst of the action, to find the lovely Kathryn in a rather strange world that she's very happy to be in.
"It's a really complex story, and that's what I like, it's not black and white. It isn't a horror. It isn't a thriller. It isn't sci-fi. It's its own genre – it's Blind Terror. It's layered, it's complex and it's intelligent."
You can read more in September's Vortex magazine. Make sure that you pre-order Blind Terror: The Gods of Frost to save money before its release this month.
Or you can sample an extract of the first episode for FREE right now! Download episode 1: Soul Cake for free here.
PLEASE NOTE: Blind Terror contains adult material and is not suitable for younger listeners.