5. Blind Terror: The Gods of Frost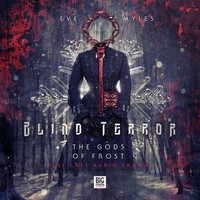 Released October 2018


Prices
Download
US $20.00

Web Special Price!


Synopsis
SHORTLISTED for BBC Audio Drama Awards 2019 in the Best Podcast or Online Audio Drama
"Everything about Blind Terror: The Gods of Frost is a triumph. Strong writing, performances, direction and sound design. Everything about this story demands to be listened to and it will surely stand out as one of the strongest pieces of horror ever to grace the audio format." Blogtor Who
Available as a release here or as part of the Big Finish Originals bundle
Following the death of her husband, Kathryn Ellis becomes the new housekeeper at Hodder Hall, keen to embark on a bright new future… only, her past won't let her go just yet, and the ghosts that stalk the village threaten to cut her future short.
Eve Myles stars in this original gothic horror from the pen of Guy Adams, comprising six half-hour episodes, produced by the team behind The Confessions of Dorian Gray.
Episode 1: Soul Cake
Episode 2: They're Coming
Episode 3: Hodder's Folly
Episode 4: The Lord of Misrule
Episode 5: Hide and Seek
Episode 6: Solstice
PLEASE NOTE: Blind Terror contains adult material and is not suitable for younger listeners.
Written By: Guy Adams
Directed By: Scott Handcock
Cast
Eve Myles (Kathryn Ellis), Joseph Tweedale (Isaac Hodder), Bethan Rose Young (Clarissa Hodder), Kerry Joy Stewart (Dolores Cutler), Bradley Freegard (Benjamin), Kezrena James (Gloria), Gareth Jewell (Daniel Ellis), John Cording (Lemuel Hodder), Laura Dalgleish (Pam), Richard Elfyn (Clive) and Guy Adams (Roddy). Other parts played by members of the cast.
Producers: Scott Handcock
Script Editor: James Goss
Executive Producers: Jason Haigh-Ellery and Nicholas Briggs