2. Cicero Series 01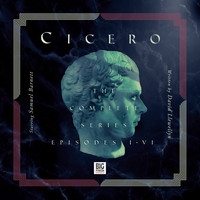 Released May 2018


Prices
Download
US $25.00

Web Special Price!


Synopsis
1st episode NOMINATED for Best Audio Drama in the 2018 Audie Awards
"This is simply some of the finest story-telling you'll come across, in any medium. The music and sound design are used perfectly here. It's not extravagant, it's excellent. Performances across the board, are layered and grounded from a script which is passionate, fast paced and thoughtful. The direction couldn't have been handled better making this another Big Finish Original masterpiece." Blogtor Who
A six episode series, available here as a stand-alone release or as part of the Big Finish Originals bundle
Rome, 80BC. An age of bloody civil war and dictatorship is at an end.
In its turbulent aftermath, an ambitious young lawyer, Marcus Tullius Cicero, is beginning to make a name for himself. But does he have what it takes, and can this new era of peace and prosperity truly last?
When he defends the accused in a prominent murder trial, Cicero's path crosses with that of Sulla, the former dictator and a war hero of the Republic. Soon, Cicero will discover that beneath Rome's civilised and sophisticated veneer lies corruption, cruelty and vice. Taking on the Roman underworld may come at a considerable cost, and so Cicero must find a way to balance family and friendship with his unwavering commitment to justice.
The Roman world is on the brink of revolution. The age of Caesar is drawing near. And Cicero will have to do everything he can to survive the storm.
This release includes a 50-min behind-the-scenes feature.
(Please note that the opening episode was previously available from Big Finish here)
Written By: David Llewellyn
Directed By: Scott Handcock
Cast
Samuel Barnett (Marcus Tullius Cicero), George Naylor (Quintus Tullius Cicero), Simon Ludders (Sextus Roscius), Elizabeth Morton (Caecilia Metella), Stephen Critchlow (Etrucius), Youssef Kerkour (Titus Capito), Ben Arogundade (Claudius), Deirdre Mullins (Vitellia), Hussina Raja (Licinia), Paul Clayton (Sulla), Laura Riseborough (Terentia), Richard Earl (Marcus Snr), Sarah Douglas (Helvia), Katherine Pearce (Fabia), Oliver Mason (Drusus), Samantha Béart (Lucretia), Stevie Raine (Magistrate), Wilf Scolding (Piso), Rupert Young (Atticus), Sarah Ovens (Pomponia), Jon Culshaw (Terentius), Rick Yale (Mugger). Other parts played by members of the cast.
Producer and Script Editor: Scott Handcock
Executive Producers: Jason Haigh-Ellery and Nicholas Briggs