Cicero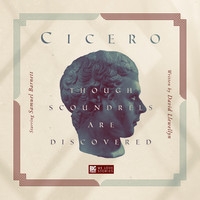 Released February 2017


Prices
Download
US $5.00

Web Special Price!

Synopsis
NOMINATED for Best Audio Drama 2018 Audies
'Samuel Barnett is compelling in the lead role, and has his own emerging gravitas in the major court speech. He is meant to be young and forging a reputation, and this is the person presented in the story. Scott Handcock's direction is as precise as ever, and the whole piece is a delight.' - Tony Jones, Starburst
"With Cicero, Big Finish takes what could be a several hundred page murder mystery and weaves it into a tale that is just under an hour. Not only is it a solid mystery that kept my attention throughout, it also provides a fun look into Ancient Rome's justice system... And of course, we all know that since it is from Big Finish, it is a wonderfully put together audio," 18th Wall Productions
"Cicero, as a man of principle in a corrupted world, is able to sound a warning about the whole state of the nation – both his and increasingly ours – when he goes off-script and speaks from his most profound heart. It's an air-punching oration that many will find both liberating and cathartic to hear spoken out loud." Warped Factor
"I have to applaud writer David Llewellyn for masterfully adapting the record for Marcus Tullius Cicero's first major case — Pro Roscio Amerino or For Roscius of Ameria. Samuel Barnett and George Naylor very ably gave Llewellyn's script depth as the brothers Cicero. They translated ancient history into an episode of Law & Order: Ancient Rome." SciFi Pulse
⅘ "Far from the dry history lessons of our school days, and enjoying, but not feeling bound by its historical setting, Cicero provides an entertaining murder-mystery drama which kept us hooked throughout." Cultbox
9/10 "the Roman Republic and the worlds of the brothers Cicero are a destination I would dearly like to visit again." Planet Mondas
"The writing by David Llewellyn is top notch if for nothing else than the banter between brothers which feels effortless and natural. It's modern day linguistics with flourishes of the past" Blogtor Who
Rome, 80 BC.
A wealthy landowner has been murdered in the street. His son, Sextus Roscius, is accused of the crime. When every lawyer in the city turns down his case, there's only one man who can save Roscius from a guilty verdict and a particularly grisly execution…
Marcus Tullius Cicero: a mere twenty-six years old, but a rising star in the Forum. Together with his brother, Quintus, Cicero must investigate the murder of Roscius's father and find the true culprit; but in their quest for justice, the brothers Cicero may be about to make some very powerful enemies indeed...
Written By: David Llewellyn
Directed By: Scott Handcock
Cast
Samuel Barnett (Marcus Tullius Cicero), George Naylor (Quintus Tullius Cicero), Simon Ludders (Sextus Roscius), Elizabeth Morton (Caecilia Metella), Stephen Critchlow (Etrucius), Youssef Kerkour (Titus Capito). Other parts played by members of the cast.
Producer and Script Editor: Scott Handcock
Executive Producers: Jason Haigh-Ellery and Nicholas Briggs