3. Jeremiah Bourne in Time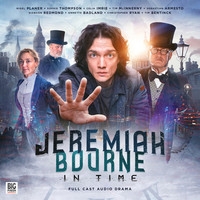 Out in July


Prices
Pre-order Digital
US $17.00

Web Special Price!


Synopsis
Available here as a release or as part of the Big Finish Originals bundle
Jeremiah Bourne is a boy with a remarkable gift. He can travel in time. Not by using a time machine, or stepping through a dimensional portal. It just happens to him, as though by accident. One minute he's in the present day, the next, he's a hundred years in the past, standing in the London of 1910.
Jeremiah has two questions; how did he get there – and how can he get back? On his quest for the answers, he enlists the help of Phyllis Stokes of The Society for Theosophical Research and her equally eccentric brother, Roger Allcot Standish, magistrate, spiritualist and dedicated nudist. He encounters the sadistic Mr and Mrs Grout and the ruthless Ed Viney, thief, gang member and slitter of throats. And he arouses the disapproval of Clementina Quentinbloom, the head of a home for 'Fallen Girls', by befriending Daisy Wallace, a girl ahead of her time.
Can Jeremiah get home? What is the connection between Clementina's establishment and Doctor Henry Davenant Hythe, the humanitarian and eugenicist? And does Jeremiah's gift of time travel have something to do with his mother's sudden disappearance, all those years ago...
Written By: Nigel Planer
Directed By: Barnaby Edwards
Cast
Sebastian Armesto (Jeremiah Bourne), Sophie Thompson (Phyllis Stokes), Tim McInnerny (Rodger Allcott Standish), Celia Imrie (Clementina Quentinbloom), Nigel Planer (Henry Davenant Hythe), Christopher Ryan (Pete), Tim Bentinck (Mr Grout), Annette Badland (Mrs Grout), Siobhán Redmond (Hemling), Ony Uhiara (Daisy Wallace), Alix Wilton Regan (Lucy Bonnet), Lauren McCrostie (Ruby), Helen Goldwyn (Janet), George Naylor (Ed Viney). Other parts played by members of the cast.
Producer: David Richardson
Script Editor: Jonathan Morris
Executive Producers: Jason Haigh-Ellery and Nicholas Briggs
Photo credits: Amy Mathieson and Barnaby Edwards