We love StoriesBig Finish produce great full-cast audio drama for CD and download, featuring many popular television fantasy series.
Books Special Offer Launches Today!
12 June 2013
Starting today, we have a huge offer on books, including Mervyn Stone, Caustic Comedies, Bernice Summerfield and more! And if you order something in the offer, you'll be entered into a draw to win some additional fine works of fiction chosen by the great and good of Big Finish! See the full news story for details...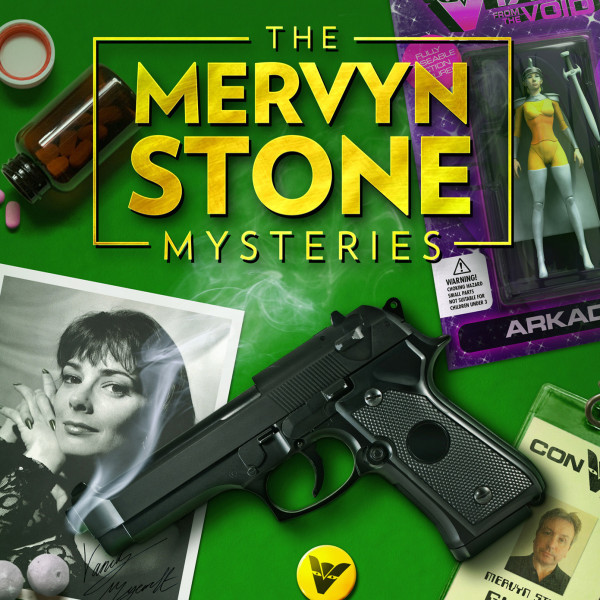 From today right through the weekend, we give you an opportunity to own some of Big Finish's finest non-audio works (that's books to the layman) - for only £2.99 each! And as a special treat, we'll be giving one lucky bookworm the chance to own some non-BF books, chosen - and signed - by members of the Big Finish family! Grab a book now and you'll be entered into our draw to win these priceless items, signed by the person who picked them:
Tom Baker - 'What a question! My favourite book? Let's keep it simple. For our purposes my very favourite read these days is... guess? Did I hear you say Treasure Island? Of course it is. I love it so much I even persuaded Big Finish to record it. A tale of greed, murder and mayhem, pirates, treachery and terror. And that's just for starters.'
Trevor Baxter - 'I'm very tempted to say A La Recherche du Temps Perdu by Marcel Proust which would leave you with nine volumes to buy! My favourite novel? What a question. Well, if I have to go for one it is Beware of Pity by Stepan Zweig, written in 1938 but so well translated by Anthea Bell it reads as though it was written yesterday. I first read it when I was sixteen and read it again recently in this new translation. It exemplifies the finest values of the European tradition, such as can be heard, say, in the Beethoven symphonies, the Mozart Piano concertos, etc, etc. Zweig's books were burned by the Nazis and he had to go into exile, eventually committing suicide, unable to live, I imagine, without the civilisation he saw being destroyed and whose culture he had so cherished and, indeed, enhanced. I'd be more than happy to sign a copy of that.'
Nick Briggs - 'Any Human Heart was recommended to me by Sarah Sutton. She gave the impression that she could see something in the book that would specifically appeal to me. She sort of narrowed her eyes and looked at me and said, 'I think you'd really like it.' I felt sort of flattered and went out straight away and bought it. I found later that she was doing this to everyone she spoke to! I wonder how many friends of hers actually read it? Anyway, I was hooked from the first page, and I can honestly say that it is the only book I've ever read that made me cry out with utter, uncontrollable despair at one point. Only trouble was, I was sharing a house with other actors at the time and it was four in the morning (I couldn't put the book down), so they all thought I was having some sort of night terror! All that aside, it is a truly brilliant piece of work.'
Louise Jameson - The Bone People
Paul Darrow - The Big Sleep
Jason Haigh-Ellery - The Hobbit
David Richardson - To Kill a Mockingbird
Paul Spragg - The Time Traveler's Wife
Kris Griffin - The Left Hand of Darkness
There's a great selection of material in our books offer, ranging from classic Bernice Summerfield novels and Nev Fountain's superb detective books starring Mervyn Stone (get caught up before his first audio adventure this month!) to Rob Shearman's play scripts collection Caustic Comedies and the audio version of his acclaimed short story collection, Love Songs for the Shy and Cynical. The full list is below, or you can just drop by the Big Finish Bargains page to take your pick of the books on offer.
Choose now from:
Mervyn Stone: Geek Tragedy (paperback and hardback)
Mervyn Stone: DVD Extras Include: Murder (paperback and hardback)
Mervyn Stone: Cursed Among Sequels (paperback and hardback)
Caustic Comedies (paperback and hardback)
Wildthyme on Top
The Coming of the Queen
Project: Valhalla
Bernice Summerfield: The Doomsday Manuscript
Bernice Summerfield: The Gods of the Underworld
Bernice Summerfield: Life During Wartime
Bernice Summerfield: The Big Hunt
Bernice Summerfield: A Life Worth Living
Bernice Summerfield: A Life in Pieces
Bernice Summerfield: The Tree of Life
Bernice Summerfield: Something Changed
Bernice Summerfield: Parallel Lives
Bernice Summerfield: Genius Loci
Bernice Summerfield: Collected Works
Bernice Summerfield: Old Friends
Bernice Summerfield: The Two Jasons
Bernice Summerfield: Nobody's Children
Bernice Summerfield: Missing Adventures
Bernice Summerfield: The Vampire Curse
Love Songs for the Shy and Cynical audiobook
Shane Rimmer: From Thunderbirds to Pterodactyls audiobook
The offer will end on the morning of Monday 17 June.