We love StoriesBig Finish produce great full-cast audio drama for CD and download, featuring many popular television fantasy series.
Callan goes continental! Volume two is out now
24 September 2020
A brand new full-cast audio drama box set based on the original TV series is released today.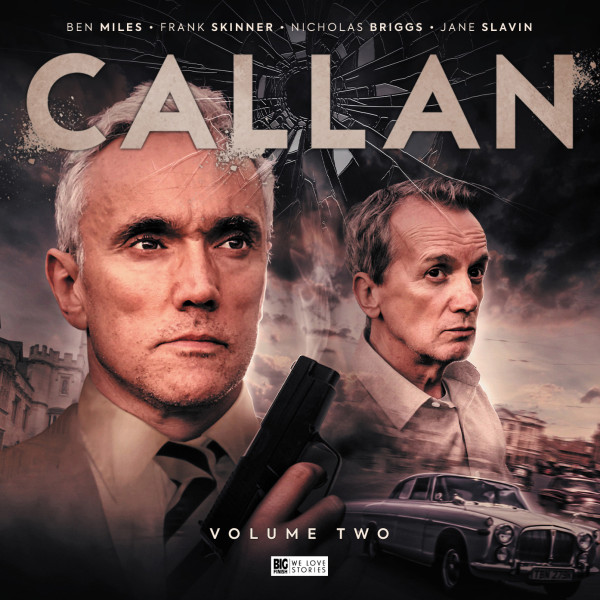 David Callan works for The Section, a top-secret counter-espionage organisation. He's a killer, a trained assassin, and the best at what he does. But that doesn't mean he has to like it.
Murder, betrayal and model soldiers. It's all in a day's work for Callan.
Callan initially came to audio in 2018 in a set of four spy tales based on series creator James Mitchell's Sunday Express short stories, adapted for Big Finish by his son Peter.
Now, after a two-year break, the cloak and dagger adventures resume, with Callan caught up in counter-intelligence in Oxford, Paris, and on the Costa Del Sol. Ben Miles stars as David Callan with Frank Skinner as his friend, former cellmate, and partner in crime, Lonely.
Callan Volume 2 is now available to own at the special price of £27.99 as a collector's edition four-disc CD box set or £24.99 as a download, exclusively from the Big Finish website.
The box set contains four brilliant brand-new hour-long episodes:
File on a Difficult Don
The cap and gown meet the gun and bullet when Callan visits the Dreaming Spires to protect a code-breaker.
File on a Mourning Mother
Callan and Meres are investigating the mysterious death of a scientist at a top secret research centre when they discover, Hell hath no fury…
File on an Elusive Engineer
Callan and Meres are sent to protect a British engineer from an assassination attempt and then find themselves all at sea…
File on an Angry American
The CIA plans to execute a double agent on British soil and Callan is sent to make sure the target's wife doesn't get caught in the cross-fire...
Among the top quality names joining Ben Miles and Frank Skinner in the cast are Jane Slavin (Liz), Jade Anouka (Angela Wain) Jamie Parker (Peter Carteret), Tam Williams (Meres) and Nicholas Briggs (Hunter).
Actor Frank Skinner said: "As a kid I loved the original series. It's got a real grimness about it. It's really good – it has properly-punch-you-in-the-stomach gritty realism.
"Lonely is firmly entrenched in the low-life criminal underworld. And I get the feeling that Callan is much more at home there than he is with the posh boys. The fact that we've recorded it during the coronavirus pandemic was great research for me and Ben as to what their prison years might have been like."
Actor Ben Miles added: "I think they have an almost telepathic relationship now. I think both of them know what the other is thinking about five sentences ahead. Whenever Callan calls Lonely, I imagine he knows it's not for a social catch up. Throughout the whole series, there's a camaraderie and a bleak comedy which I think echoes their years together inside, and certainly a mechanism of how to survive in prison.
"This second series of Callan for Big Finish has been on the cards for a while and I was really excited to hear that it was coming back. I'm even more thrilled that we've managed to do it against the odds."
There is an interview with Ben Miles, Frank Skinner and producer Emma Haigh, originally broadcast during Virtual Big Finish Day, on the Big Finish YouTube Channel here.
Praise for Callan Volume 1:
"An excellent debut for Callan in the full-cast audio format, this is a more than welcome addition to the growing roster of darker, bleaker, tougher dramas on Big Finish's books. 9/10." – Starburst Magazine
"From the off, Peter Mitchell nails the TV series' mixture of class war and Cold War politics... Callan remains as compelling as ever. Big Finish have played a blinder." – We Are Cult
"Frank Skinner is near perfect as the snivelling but loyal Lonely, giving one of the best performances. Then there's Ben Miles as the titular Callan. Simply put, he is brilliant in this role." – Blogtor Who
"Callan is one of the best things that Big Finish have ever done." – The UnMutual
Callan Volume 2 is now available at the special price of £27.99 as a collector's edition four-disc CD box set or £24.99 as a download here.
For a limited time, Callan Volume 1 is also available at the same reduced price. (This offer ends at 23:59 UK time on 01 October 2020.) See the trailer below.
Big Finish listeners can also save money by purchasing both box sets in a series bundle for just £50 on CD or £45 as a download.