For The Love Of StoriesBig Finish produce fantastic full-cast audio dramas for CD and download.
Captain Jack and Jo vs the Giant Maggots!
24 April 2019
It's Torchwood versus Doctor Who monsters! This month, Jo returns to the village where she left the Doctor in The Green Death – and she has a new man on her arm. Captain Jack Harkness takes the former Doctor Who companion on the trip of a lifetime...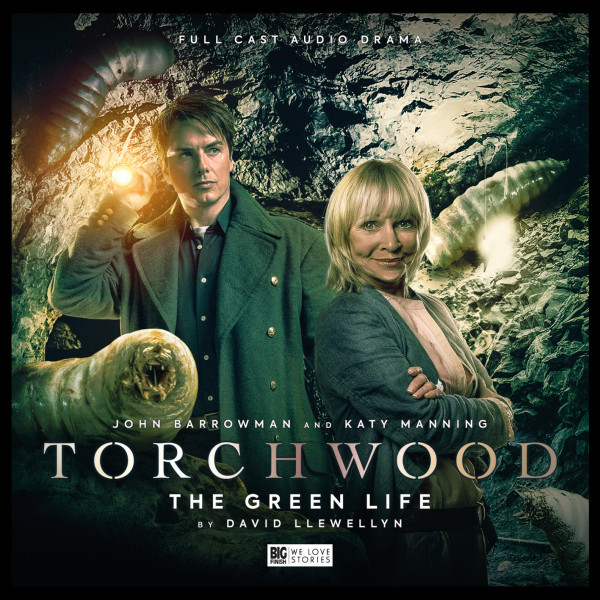 Torchwood: The Green Life is out now.
Many years ago Jo Grant met Professor Clifford Jones, fell in love and saved the world. It all happened in the idyllic Welsh community of Llanfairfach.
Josephine Jones has come back to Llanfairfach and she finds it a bustling place with a thriving economy. The little town is now at the spearhead of a healthy-eating revolution. And yet, something's missing. It feels like the heart has gone out of the place.
She falls in with a dashing stranger and realises that although the past was a lot simpler, not everything's changed. There's still something nasty in the mine, and it's been waiting for Jo for a very long time.
But how do you place the wonderful Jo Grant in the darker world of Torchwood? Writer, David Llewellyn, told March's edition of Vortex how it was done: "It was very difficult, actually. The temptation was to make Jo a more cynical character so that she'd fit in, but then producer James Goss and script editor Scott Handcock steered me back to her appearance in The Sarah Jane Adventures, where she's this ball of energy and exuberance.
"So then it became more a case of how you create tension and friction and comedy and drama out of that contrast, between Jo's smiley optimism and Jack's more pragmatic, hard-nosed approach. That really brought the script to life, I think. Jo is enormous fun to write as a 'fish out of water'."
Torchwood: The Green Life is available now priced at £9.99 on CD or £7.99 on download. Don't forget that all CD purchases unlock a download option via the Big Finish app or the Big Finish website.
You can buy and/or pre-order the Torchwood Monthly Range individually, or why not save money with a Torchwood bundle. A six-release bundle is £50 on CD or £45 on download, or you can save even more money by ordering all twelve Torchwood monthly releases coming out in 2019 and 2020 for £90 on CD or £84 on download.
Please note that Torchwood contains adult material and may not be suitable for younger listeners.
Next month's Torchwood release sees two of the more duplicitous characters in Torchwood and Doctor Who stuck together – literally! Indira Varma reprises the deceased Suzie Costello and Annette Badland returns as Margaret Blaine Slitheen in Sync written by Lisa McMullin.
Margaret Blaine is the Mayor of Cardiff. She's also an alien who'll do anything to get off planet Earth. When a spaceship crashes outside Cardiff, it seems like the answer to her prayers. But she's not the only person at the crash site.
Suzie Costello works for Torchwood, but strictly to her own agenda. When a spaceship crashes outside Cardiff, it seems like the answer to her prayers. Only, she's not the only person at the crash site.
Bonded by an alien device, Margaret and Suzie find themselves on the run from Torchwood, the police, and six warp missiles that'll destroy them, Cardiff, and most of the Western Hemisphere.