We love StoriesBig Finish produce great full-cast audio drama for CD and download, featuring many popular television fantasy series.
Cometh the lockdown, cometh the #lockdownloads!
11 January 2021
Just in time, Big Finish is back with more iconic characters and stunning stories to help keep away those lockdown blues.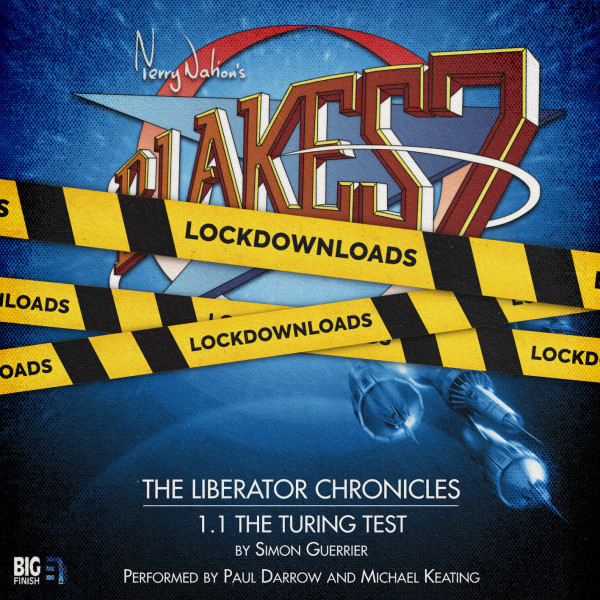 As in the previous lockdowns imposed by the coronavirus crisis, Big Finish is again releasing free downloads of full-cast audio dramas – or #lockdownloads – for a limited time.
Every Monday, a new story (or episode from a box set collection) can be downloaded for free exclusively from the Big Finish website's Weekly Deals page.
Each freebie can be unlocked by anyone who has registered for a Big Finish account (which is free to create) and played on the Big Finish listening app (which is free to install). Accompanying each free release is a selection of discounts on related titles.
The first of 2021's #lockdownloads is:
Blake's 7 – The Liberator Chronicles: The Turing Test
Originally released in February 2012, The Liberator Chronicles was Blake's 7's first Big Finish audio series, reuniting original cast members Gareth Thomas (Roj Blake) Paul Darrow (Kerr Avon) and Michael Keating (Vila Restal).
The Turing Test, written by Simon Guerrier, is the first episode of the series. It features Avon and Vila going undercover at a science institution where danger, deception and droids await them – not to mention a gang of space buccaneers!
After evading an attack by Cassini Pirates, the Liberator heads to the rogue moon of Quentil, where Avon and Vila infiltrate a top-secret Federation science facility.
Vila assumes the guise of Doctor Yarding Gill, an expert in digital memory. And Avon is his 'creation' - a super-advanced android that could pass for human. In fact, he does...
Can they maintain the ruse for long enough to complete their mission? And will the Cassini Pirates catch up with them?
Plus, for a limited time, Big Finish listeners can get more Blake's 7 download discounts than Orac could compute at once, with at least 50% OFF any of the Blake's 7 – The Liberator Chronicles: Volumes 1-6.
For Big Finish listeners who'd like to save more, there are also bundle deals, including 46% OFF the complete Blake's 7 – The Liberator Chronicles: Vol 1-12 and 40% OFF the full-cast audio drama box set Blake's 7 – The Classic Adventures: Series 2 (which also stars original TV series actors Jan Chappell, Steven Pacey and Tom Chadbon).
All the above offers end at 23:59 on 17 January 2021.