For The Love Of StoriesBig Finish produce fantastic full-cast audio dramas for CD and download.
Doctor Who: Dark Eyes 4 - New Release Date!
21 November 2014
With Doctor Who: Dark Eyes 3 out this month, we're delighted to unveil the final Dark Eyes cover, story details, and announce an earlier than expected release date...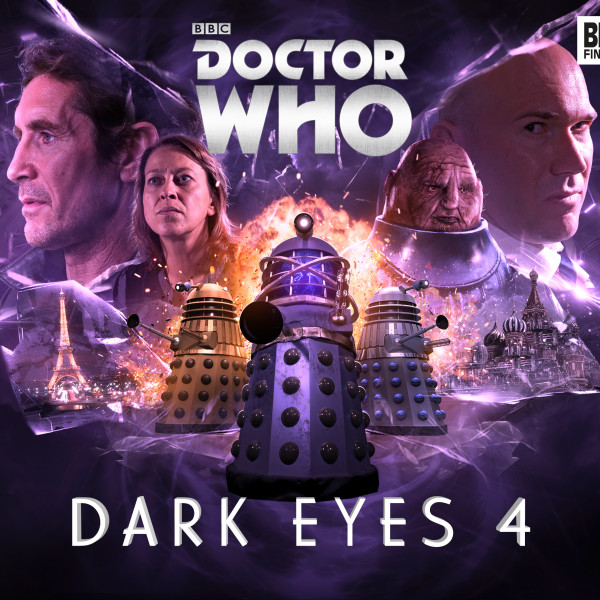 Recording is now complete on Doctor Who: Dark Eyes 4, the final box set in the epic Eighth Doctor series. Paul McGann returns alongside Nicola Walker as Liv Chenka, Alex Macqueen as the Master, David Sibley as the Eminence and Nicholas Briggs is the Daleks.
"It's been such a joy to produce the final two Dark Eyes box sets," says producer David Richardson, "and to complete the acclaimed and award-winning saga started by Nick Briggs. I'm confident that with its fourth box set, Dark Eyes is going out in style - questions will be answered, foes will be confronted, and an arc that has spanned space and time will come to an apocalyptic conclusion."
Director Ken Bentley has once again assembled a brilliant guest cast, which includes Barnaby Kay (New Tricks, Holby City), Rachael Stirling (The Bletchley Circle, Doctor Who: The Crimson Horror), Blake Ritson (Upstairs Downstairs, DaVinci's Demons), Alex Wyndham (The Crimson Field, Little Dorrit), Susannah Harker (House of Cards, Doctor Who: Shada and Sapphire and Steel for Big Finish), Sorcha Cusack (Silent Witness, Father Brown), and Dan Starkey (Strax in Doctor Who) who is playing the Sontarans.
"The Dark Eyes series has been so successful it's almost impossible to improve upon what's gone before," says director Ken Bentley, "but we've done everything we can to pull out all the stops for the series finale, and the scripts are outstanding. The perfect mix of everything Doctor Who does well."
The episodes are as follows:

4.1 A Life in the Day by John Dorney
The Doctor and Liv return to post-World War I London, where the Doctor meets Kitty Donaldson (Beth Chalmers), and Liv strikes a friendship with her brother Martin (Barnaby Kay). But what mysterious force is hunting them?
4.2 The Monster of Montmartre by Matt Fitton
The Doctor and Liv's investigations bring them to Paris, where a monster stalks the streets.
4.3 Master of the Daleks by John Dorney
The Master and the Dalek Time Controller have forged an alliance. History hangs in the balance, and this time the Doctor can't help…
4.4 Eye of Darkness by Matt Fitton
It's the endgame. Truths will be revealed, and a hero will make the ultimate sacrifice.
John Dorney: "It's been an absolute joy working on Dark Eyes 4. To be part of the finale for this extremely well received and acclaimed series is a major privilege. I've long had a hankering to write a script for Paul McGann, so finally completing the set of Big Finish Doctors was hugely exciting on its own - before you throw in the chance to also work with the fabulous Nicola Walker, Alex MacQueen, and the many other magnificent actors who feature throughout. I think this set's going to be something special."
Matt Fitton: "Once again it's been a privilege and pleasure to leap aboard the Dark Eyes rollercoaster, but this time we're staying on all the way to the end. With nods back to the previous three series, and friends and foes old and new, Dark Eyes 4 is the last hurrah that brings these cataclysmic events in the Eighth Doctor's life to their thrilling conclusion. Hold on tight, it's going to be a heck of a ride!"
Doctor Who - Dark Eyes 4 will be released in March 2015 and can be pre-ordered now from here. Doctor Who - Dark Eyes 3 was released this month and remains at the special pre-order price until 1st December.
A new series of Eighth Doctor box sets is currently in pre-production, and more details will be announced in the New Year.