For The Love Of StoriesBig Finish produce fantastic full-cast audio dramas for CD and download.
Doctor Who - More Monthly Short Trips for 2016!
28 November 2015
Popular novelist Jenny T Colgan spearheads a new run of Doctor Who short stories from January 2016!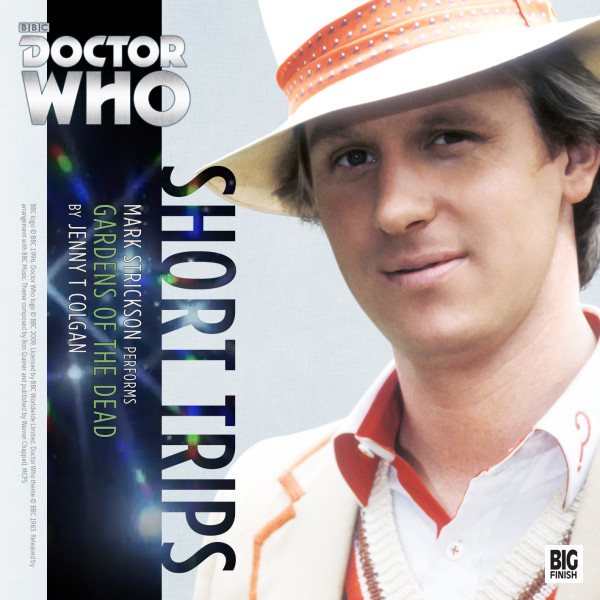 With the year drawing to a close, we look forward to what's coming in 2016 from the downloadable Doctor Who – Short Trips range; all-new short stories performed by a variety of well-known and much-loved actors from the worlds of Doctor Who.
Range producer Ian Atkins is fresh out of the studio as stories for both 2016 and 2017 are being recorded and edited: 'Director Lisa Bowerman and I have just had the joy of listening to Mark Strickson effortlessly reprise his Turlough persona for two stories. Mark is just brilliant, not only in stepping back into Turlough's 32-year-old shoes, but in bringing such a range of voices to the readings. We were very lucky to be able to get him, and I can't wait for people to hear the end results!'
Mark returns as Turlough in Doctor Who: Gardens of the Dead, released in January 2016 and written by fan-favourite author Jenny T Colgan.
'Jenny is an Actual Proper Novelist who has well and truly outed her Doctor Who fan self with her recent Big Finish work on Doctor Who: The Diary of River Song and Doctor Who: The Tenth Doctor Adventures. Matt Fitton put me in contact with her as he thought she might be interested, and it's been a delight! I was probably at my most committed as a Doctor Who fan for this TARDIS team. And it turned out I wasn't the only one!'
As Jenny confirms: 'When I was ten I won a competition to meet the Doctor in London, and although he will have absolutely no memory of this, Mark Strickson was incredibly polite and sweet to a very anxious, tiny Doctor Who fan (and her mum). Particularly, obviously, as I'd expected him to be evil. Honestly at that age I was in two minds whether Doctor Who was a documentary or not. Turlough, Tegan and Nyssa in the TARDIS with Peter Davison was my dream team, even though the window when they all travel together is incredibly small, from Mawdryn Undead to Terminus. Which doesn't stop me wanting to stake my claim on that in-between-y bits; and I had such fun writing this. I could write for those characters all day, especially Tegan and Turlough together. They both make me laugh so much. Mark was of course awesome at the reading (RADA awesome, in fact), and it was an incredible thrill to hear him again. I think it's a real shame they haven't had a divided loyalty character in the TARDIS since. Maybe he was just too good at it. NB: there are no swimming trunks in this episode.'
Jenny's Doctor Who: Gardens of the Dead is released in January, where the Doctor, Tegan and Nyssa are getting used to Turlough as a new travelling companion – a companion with his own secrets and a mission from one of the Doctor's arch foes. Turlough is set to return later in the run in Doctor Who: Trap for Fools, taking place near the end of his journeys in the TARDIS.
The series continues in February with Doctor Who: Prime Winner by Nigel Fairs, and then in March with Julian Richards' Doctor Who: Washington Burns.
'The rest of the two year run is shaping up now, but we're still waiting and hoping for a few things to come off before going public with them, and the order changes three times a week!' teases Ian. 'But I've already had the pleasure of listening to India Fisher bring a new Eighth Doctor story to life, and Anneke Wills being absolutely entrancing in a Second Doctor story written by Penelope Faith. And these are the engrossing tips of the iceberg!'
Each of the Doctor Who – Short Trips downloads are available to order separately for just £2.99 each – with money-saving annual subscriptions also available, offering 12 brand new stories for only £30.