For The Love Of StoriesBig Finish produce fantastic full-cast audio dramas for CD and download.
Doctor Who: Happy Birthday Peter Davison - Special Offers on the Fifth Doctor!
8 April 2016
The man behind the Fifth Doctor is celebrating soon! To mark the event, we've discounted a few of our favourite titles until noon Monday!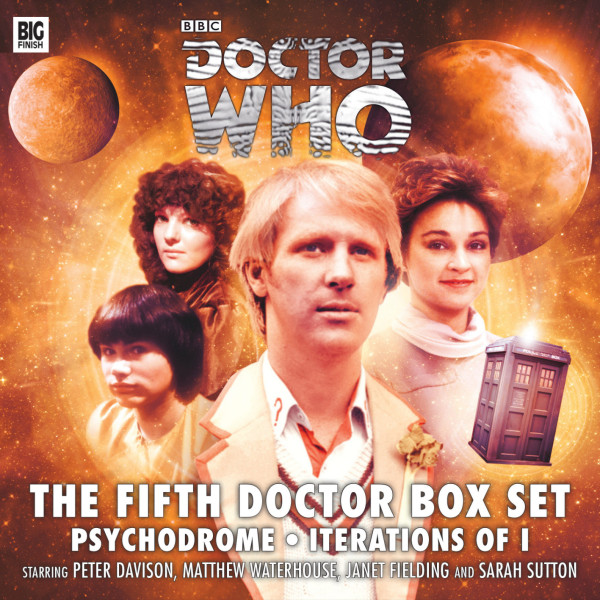 Happy Birthday Peter Davison!
Since joining Big Finish for our first adventure in the TARDIS in Doctor Who: The Sirens of Time, Peter has continued his travels with friends both new and well-known and faced the Universe's greatest threats – including a showdown with the Master in this month's Doctor Who: And You Will Obey Me!
This weekend, we're marking Peter's upcoming birthday with special offers on nine of our favourite Fifth Doctor titles – including the award-winning Doctor Who: The Fifth Doctor Box Set, available to buy and download for just £20 this weekend.
Containing the stories Psychodrome by Jonathan Morris and Iterations of I by John Dorney, the set features Peter alongside a trio of his companions - Adric (Matthew Waterhouse), Nyssa (Sarah Sutton) and Tegan (Janet Fielding) - in adventures set near the beginning of the Fifth Doctor's era.
Click here to get your copy, available to enjoy from the moment of purchase thanks to the complimentary digital download included with the majority of Big Finish CD orders – meaning you don't need to wait to listen!
Further along the Doctor's timeline, an evening of terrifying stories awaits Nyssa in Doctor Who: 1001 Nights – featuring four Arabian Nights-themed tales for the travellers. Then it's off to the 1960's to solve a mystery involving the UK's most influential and iconic band; those cheeky lads from Liverpool, The Common Men in Doctor Who – 1963: Fanfare for the Common Men!
Two triumphant trilogies are on offer next, where the Doctor and Tegan are joined by Turlough (Mark Strickson) and a newly rejuvenated Nyssa. Doctor Who: The Emerald Tiger takes our heroes to the jungles of Calcutta, where a legendary treasure leads to an alien secret. Doctor Who: The Jupiter Conjunction finds the Solar System's cheapest source of space freight leading the Doctor and Turlough into the path of dangerous men. And a terrifying future is visited in Doctor Who: The Butcher of Brisbane, where Tegan flees from Mr Sin and Nyssa finds herself with a new husband – Magnus Greel!
Another old enemy returns to haunt the travellers in Doctor Who: Eldrad Must Die! with the resurrection of the infamous Kastrian warlord! More warriors are found at the University of Frodsham in Doctor Who: The Lady of Mercia, while Nyssa returns to her family in Doctor Who: Prisoners of Fate – in which the Doctor's own past is about to catch up with him!
All our double-disc releases can be yours for just £5 each on both CD and download this weekend; but why not pick up our entire selection of special offers at once with the Doctor Who – Peter Davison 2016 Birthday Bundle; just £60 on both CD and download, with free postage for UK customers!
This special offers are available until noon Monday April 11th (UK time) so order now!
For more Fifth Doctor Adventures, check out our collected range page here.