We love StoriesBig Finish produce great full-cast audio drama for CD and download, featuring many popular television fantasy series.
Doctor Who's Victorian investigators are back to crack another three cases
16 October 2019
Neve McIntosh, Catrin Stewart and Dan Starkey return as the crime-fighting team otherwise known as The Paternoster Gang in Heritage 2, released today.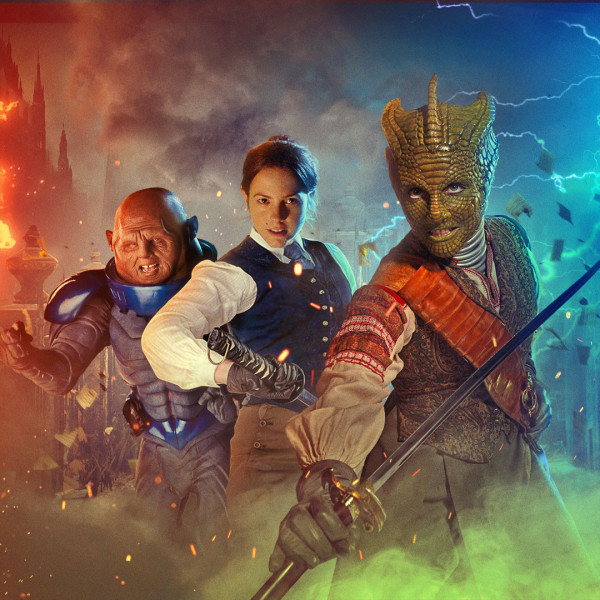 The Paternoster Gang: Heritage 2 is available now as a collector's edition box set or download at the Big Finish website from £19.99.
The much-loved characters, created by Steven Moffat for Doctor Who in 2011, feature in a brand new set of audio adventures from Big Finish Productions, made in association with BBC Studios.
Victorian London harbours many secrets: alien visitors, strange phenomena and unearthly powers. But a trio of investigators stands ready to delve into such mysteries –the Great Detective, Madame Vastra; her resourceful spouse, Jenny Flint; and their loyal valet, Strax. If an impossible puzzle needs solving, or a grave injustice needs righting, help can be found on Paternoster Row.
In this latest series, the Silurian/human/Sontaran team come face to face with Spring-Heeled Jack, the demon of 19th century folklore, explore a haunted Scottish castle with famed ghost-hunter Thomas Carnacki, and even host a lavish dinner straight out of an episode of Upstairs, Downstairs.
Producer David Richardson said: "We started the production by meeting with the cast, and many ideas from that meeting surface here. Dan Starkey's written his own script to kick off the set, and Neve McIntosh had suggested it would be fun to do an episode about Spring-heeled Jack."
Writer and actor Dan Starkey added: "I had a browse through a couple of Victorian cookbooks and they included a menu for a hunt ball – it's amazing! It's ten courses. The amount of food they made for those big formal dinners was astonishing. It was quite a fun thing to ask, what does Vastra eat? We know she mentions in one episode she's just come from eating Jack the Ripper... if that's true, what else is true?"
The box set comprises three new stories:
Dining with Death by Dan Starkey
When negotiations between two warring alien races are sabotaged, Madame Vastra offers Paternoster Row as neutral ground upon which to continue their diplomacy – and to celebrate the treaty with a feast.
While Strax frets about hosting two species with very different dietary needs, Jenny investigates the dissenters who want to halt the peace process.
But a deadly plot is brewing, and the diners may not survive the cheese course...
The Screaming Ceiling by Guy Adams
In one of the earliest cases of his illustrious career, Thomas Carnacki heads to the Highlands to embark upon the terrifying investigation of Castle Kraighten.
On arrival, he finds that another party of sleuths has been engaged – surely these amateurs of Paternoster Row have nothing to teach the great Ghost Finder?
But this is no ordinary haunting. A room in the castle has a mouth in its ceiling. And it screams...
Spring-Heeled Jack by Gemma Arrowsmith
People are being stolen from the streets by a monster. By all accounts, it has burning eyes, breathes blue flames, and can leap the height of a building at a bound.
While Vastra and Jenny fend off an over-eager member of the gutter press, Strax dives into dangerous waters.
Is this Spring-Heeled Jack of legend, returned to terrorise the capital? Or are there more sinister forces at work?
The Paternoster Gang: Heritage 2 is available now as a collector's edition box set or download from £19.99. And you can read more from behind the scenes in Vortex issue 127, which is available free to download from the Big Finish website.
All The Paternoster Gang Volumes 1-4 are available for pre-order ahead of their release, at £24.99 on collector's edition box set CD or £19.99 on download, each from www.bigfinish.com, and will remain at this price until general release when they will be available for £30 on CD or £25 on download each. Each box set will consist of three audio adventures plus an additional disc of extras.
You can save money with a bundle and order all four volumes at £94 on CD or £80 on download.
And don't forget to catch Madame Vastra, Jenny and Strax in their Big Finish debut in our celebratory box set, The 8th of March, which was released on International Women's Day, 08 March 2019.