We love StoriesBig Finish produce great full-cast audio drama for CD and download, featuring many popular television fantasy series.
Doctor Who Short Trips Meet The Time War!
12 January 2017
In September and October this year, two stories explore some small but important chapters in the Eighth Doctor's involvement with the Time War...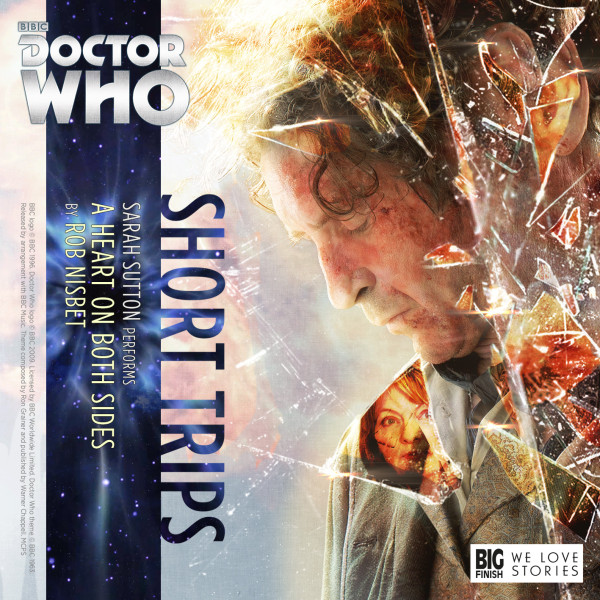 "I help where I can. I will not fight"
With the universe fracturing around him in the crossfire of the Time War, the Eighth Doctor has turned his back on his people, choosing to help those suffering from their actions. But what happens when events of the Time War touch upon those he's known and cared for? Two new Doctor Who Short Trips in 2017 explore what it means for former companions when Time War influences reach their lives...
Producer Ian Atkins comments, "I'm hugely looking forward to this year's The Eighth Doctor - The Time War boxed set, and that made me think about celebrating the release with a special pair of Short Trips in the months before. While the stories aren't connected to the boxed set directly, they do mark a special couple of tales, so we've got some striking, distinctive designs from Tom Saunders for them, and we're able to announce them nice and early."
In September comes Rob Nisbet's A Heart on Both Sides, read by Sarah Sutton:
After her medical work on Terminus, Nyssa is now the controller of a hospital ship, the Traken. As the universe burns in the crossfire of the Time War, she and her assistant travel to a planet close to Gallifrey where they are needed more than ever. A long time ago, Nyssa knew a Time Lord and understood his people. But it seems they can change...
Ian comments: "Rob wrote a gorgeous story called The Patient for a fanzine I saw in the 1980s, with Nyssa at work in a post-Terminus hospital. With my Time War goggles on, it struck me that could be a very rich area to play with, and I've loved Sarah's work for the range already so I knew she'd rise to the occasion (and she did). Rob's delivered a wonderful take on the madness and confusion that arises when you get caught up in a war that's not your own."
The second story follows in October: All Hands on Deck by Eddie Robson, read by Carole Ann Ford:
Everyone Susan Campbell cared about has gone. Most of them died in the second Dalek invasion, and her grandfather never visits. She's living in what used to be Coal Hill School, helping Earth rebuild again.
Then, one night, she's called away to help with an emergency. A piece of appropriated Dalek technology is malfunctioning, and everyone's afraid of what it might do...
This is just the first in a sequence of predicaments facing Susan - and the connection between them will shape the rest of her life.
"When we had Sheridan Smith return to the Eighth Doctor era in The Curse of the Fugue," Ian says, "It had made me think about the Doctor meeting his granddaughter Susan again anyway, so the ideas just seemed to come together when I was thinking about the Time War. I was a huge fan of Eddie Robson's Eight Doctor writing, and I was over the moon when he agreed to revisit the era. He knows the characters so, so well and with strong character pieces like the Short Trips, that's exactly what you want. Listening to Carole Ann in studio is always a joy. She works so hard at it, with a great attention to detail."
Also confirmed today are three other releases: August's The British Invasion by Ian Potter read by Wendy Padbury, November's The Ingenious Gentleman Adric of Alzarius by Julian Richards read by Matthew Waterhouse, and the first 2018 release - The Authentic Experience read by Nicola Bryant, written by Dan Starkey (Sontaran Strax from the TV Doctor Who series).
These downloadable stories can be pre-ordered for £2.99 each, or come as part of the 2017 Short Trips Subscription or 2018 Short Trips Subscription, making all 12 of each year's stories available for just £30. The stories from 2015 and 2016 are each collected in a Short Trips bundle at the very same prices.
The Short Trips range continues later this month with Doctor Who - The World Beyond The Trees read by Nicola Walker, and watch this space for news about the final two 2017 titles and readers to be announced.