For The Love Of StoriesBig Finish produce fantastic full-cast audio dramas for CD and download.
Doctor Who: Special Offers on Evelyn Smythe
26 February 2016
This weekend, we salute one of Big Finish's most beloved contributors, with special prices on every appearance of the wonderful Maggie Stables.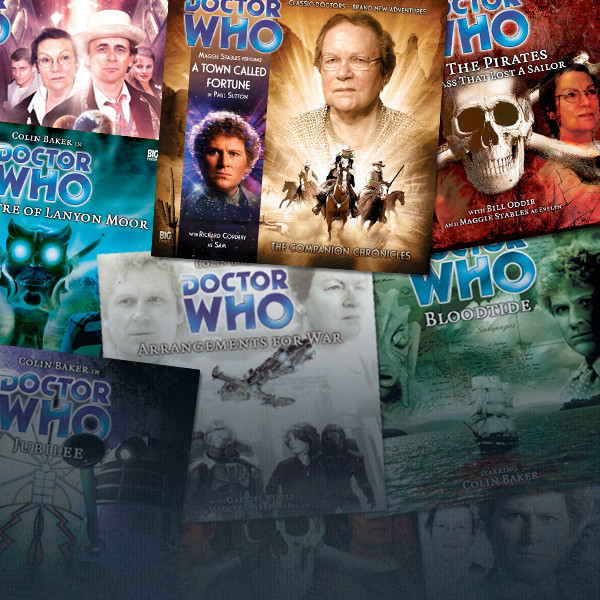 Part of the Big Finish family since our first year in operation, Maggie Stables became one of our fondest contributors to work with. Loved by listeners, her cast mates and the production team alike, Maggie forged a legend as the Sixth Doctor's (Colin Baker) companion Dr. Evelyn Smythe across eleven years of audio adventures.
Maggie sadly passed away peacefully in September of 2014; but this weekend we wanted to take the opportunity to remember her brilliance with a range of offers on all of her Big Finish appearances.
The Doctor and Evelyn first crossed paths in Doctor Who: The Marian Conspiracy, which is available to download at the permanently reduced price of £2.99. Eight further adventures are also included in this offer; and feature a reunion with Brigadier Lethbridge-Stewart (Nicholas Courtney) in Doctor Who: The Spectre of Lanyon Moor and Romana (Lalla Ward) in Doctor Who: The Apocalypse Element – which also features a Dalek invasion of Gallifrey!
The travellers then encounter Silurians in the Galapagos Islands in Doctor Who: Bloodtide, face Vampires on the South Bank in Doctor Who - Project: Twilight and live a waking nightmare in Doctor Who: The Sandman. The TARDIS then arrives in the altered present of the English Empire in Doctor Who: Jubilee (which inspired the TV story Dalek), they enjoy a musical diversion in Doctor Who and the Pirates, before arriving at a showdown with the insidious Forge in Doctor Who - Project: Lazarus; guest starring Sylvester McCoy.
After this heartbreaking adventure, Evelyn's view of the Doctor changed – and their relationship met the ultimate test in Doctor Who: Arrangements for War. This and all subsequent Doctor Who Main Range stories are available for just £5 on both CD and to download throughout the weekend.
Evelyn encounters some scheming bodysnatchers in Doctor Who: Medicinal Purposes (guest starring David Tennant as 'Daft Jamie'), faces a figure from her past in Doctor Who: Thicker Than Water, encounters a classic comedian and a future sci-fi star in Doctor Who: Pier Pressure, takes on a threat from five hundred billion years ago in Doctor Who: The Nowhere Place and helps save the Doctor's life once and for all in Doctor Who: 100.
The professor's farewell tour ends with a battle with an old foe in Doctor Who: Assassin in the Limelight and a meeting with fellow companions past and present in Doctor Who: The Crimes of Thomas Brewster, featuring appearances by John Pickard as Thomas Brewster, Lisa Greenwood as Flip and Anna Hope as DI Menzies. After facing the return of a tentacled threat in Doctor Who: The Feast of Axos (available for £2.99 to download as part of our Listeners promotion), Evelyn helps the Doctor save a troubled young friend in Doctor Who: Industrial Evolution; before facing her final fate in Doctor Who: A Death in the Family. This special Seventh Doctor adventure features Sylvester McCoy, Sophie Aldred and Philip Oliver, bringing a decade's worth of adventures to a close for Big Finish's first original companion.
Maggie also appears as Evelyn in two extra adventures. Doctor Who: Real Time is available on CD for only £5, pitting our heroes against the Cybermen; while Doctor Who – The Companion Chronicles: A Town Called Fortune takes the professor back to the Wild West and is available for £5 on both CD and to download. Maggie also appears as the scheming Ruthley in our very first Doctor Who adventure Doctor Who: The Sirens of Time and in our 40th Anniversary adventure Doctor Who: Zagreus as the Great Mother; both titles have been permanently reduced to just £2.99 to download.
Maggie appears as alternative characters in two other dramas; aiding Lisa Bowerman in Bernice Summerfield: Just War (permanently reduced to £5 on CD) and in Sarah Jane Smith: The Tao Connection, featuring Elisabeth Sladen as the irreplaceable journalist. You can pick up this title this weekend for only £5 on CD or download. And remember, if you choose to buy this release on CD directly from Big Finish, you will also unlock instant access to a digital copy for download.
For the true Big Finish completist, you can enjoy all of the titles on offer in two special bundles. The Maggie Stables Collection CD bundle contains 15 titles for only £60 (with free UK postage and reduced international shipping) while the Download Collection bundle contains 22 releases for the low price of £85. Order today but hurry; these offers must end noon Monday February 29th (UK Time).