For The Love Of StoriesBig Finish produce fantastic full-cast audio dramas for CD and download.
Doctor Who: The Seventh Doctor's Reunion!
27 April 2016
This summer, the Seventh Doctor and Ace find an old friend returning to the TARDIS. Melanie Bush is back in action in our next Doctor Who Main Range trilogy!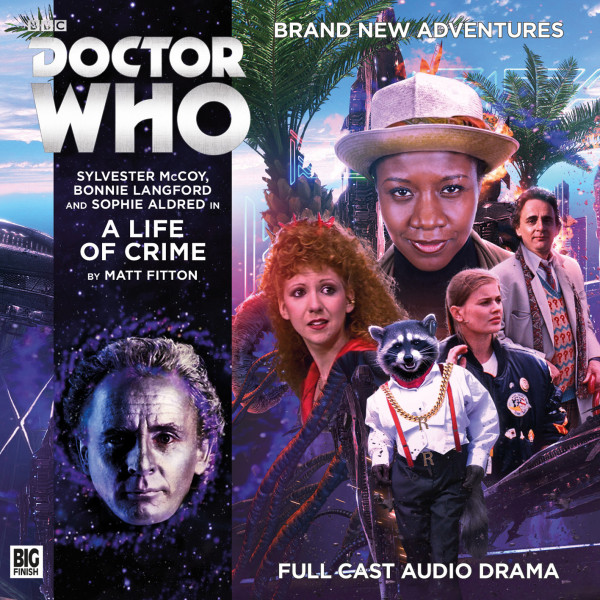 Reunited for the first-time since 1987's Dragonfire, Sylvester McCoy, Bonnie Langford and Sophie Aldred return to the Vortex in a new trilogy of Doctor Who Main Range adventures, beginning in July 2016.
'I've loved teaming the Seventh Doctor up with both Mel and Ace,' says script editor Alan Barnes. 'I thought they were a companion combination with a huge amount of untapped potential – earnest, perky Mel makes for a fantastic contrast with untamed, sarky Ace. And with the conclusion of our Hex saga, it seemed an opportune moment to look in on Mel, and find out what she's been up to since leaving the TARDIS. Quite a lot, as it turns out!'
'Mel is this supposed calm voice of reason and Ace is the adventurer but actually that flips quite often and they give each other support in their weaker areas at different times when they need it most,' says Bonnie. 'There doesn't seem to be any rivalry - it's a team effort. They both have the same purpose in mind which is to support the Doctor and make sure that good triumphs over evil.'
'And there's a real fondness there,' adds Sophie. 'Ace is still calling Mel "doughnut", for example!'
The trilogy's first instalment is Doctor Who: A Life of Crime by Matt Fitton, released in July.
'It finds an on-the-run Mel pitching up on the paradise planet Ricosta – a sort of space Costa del Crime for lowlifes seeking to retire with the proceeds of their illegal activities,' says Alan. 'But when she runs into the Doctor and Ace, will they even recognise her as the Mel they once knew…?'
August's Doctor Who: Fiesta of the Damned is written by Guy Adams, making his debut on the Doctor Who Monthly Range.
'It's a horror-adventure story in which the TARDIS lands in 1938, slap-bang in the middle of the Spanish Civil War,' explains Alan.
'There's always a tragic element to historical war stories,' says Guy, 'that crushing awareness we the audience have, knowing where events will lead. We're all time travellers when experiencing historical stories, we know the future.
'Not that Fiesta of the Damned is a straight historical of course. There were countless horrors in the Spanish Civil War but they didn't include alien machinery and legendary chimera wandering the streets of a remote Spanish village.'
Matthew J Elliot provides September's Doctor Who: Maker of Demons, after helping to set up the trilogy in Dead to the World, part of Doctor Who: You Are the Doctor and Other Stories.
'It takes the three of them to another conflict,' says Alan, 'this time on the tempestuous planet Prosper – where the Doctor and Mel are forced to face up to the consequences of one of their former adventures.'
Each of these new double-disc titles are available to pre-order for just £14.99 on CD or £12.99 to download. For extra savings, you can subscribe to the Main Range in either six or twelve month subscriptions.
Subscribers can enjoy a range of bonuses, including exclusive extras from behind-the-scenes, special Short Trip releases and much more! Click here for more details.