For The Love Of StoriesBig Finish produce fantastic full-cast audio dramas for CD and download.
Doctor Who: The Trouble With Drax!
14 June 2016
Gallifrey's greatest cockney is back, with his most outrageous scheme yet! Ray Brooks guest stars as Drax in our latest Fourth Doctor Adventure...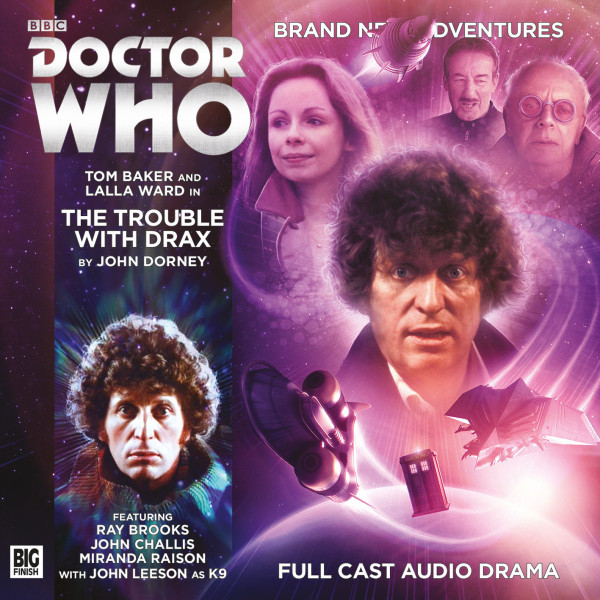 Originally portrayed by the late, great Barry Jackson in 1979's The Armageddon Factor, rogue trader Time Lord Drax is back in action, in this new play starring Tom Baker, Lalla Ward, John Leeson, Ray Brooks, John Challis, Hugh Fraser, Jane Slavin, Miranda Raison and John Banks. Listen to the trailer below:
Altrazar. The temporal Atlantis, a place lost to time. Believed by many to be a myth, it has long been the perfect location for the rich and powerful to hide away their most dangerous secrets.
Until now.
Because the somewhat crooked, not exactly honest, wheeler-dealer cockney Time Lord known as Drax has found a map that leads to its location. And, at the behest of a manipulative businessman, he's going to use it.
When the TARDIS is dragged out of the space-time vortex, its crew aren't best pleased to see the Doctor's old school friend, even less when he pressgangs them into joining a raid on the most secure safe-house in history. However with Romana and K9 held hostage, the Doctor has little choice but to agree. With Drax in tow, he heads for the planet.
Which is where the trouble starts.
Written by John Dorney, Doctor Who – The Fourth Doctor Adventures: The Trouble with Drax is available to buy and download now.
Don't forget that as with the majority of Big Finish releases, CD orders for this title also give access to a complimentary digital copy of the release: so you don't have to wait to enjoy the story! You can even listen straight from your smartphone with the Big Finish App, available on both iOS and Android devices.
Subscribe to the whole of the Fourth Doctor Adventures Series Five today to enjoy additional savings, with 2017's Series Six also available to pre-order.
Next month, the travellers face a rematch with the villainous Cuthbert (David Warner), with the Black Guardian (David Troughton) waiting in the wings! Doctor Who: The Pursuit of History can be pre-ordered now; listen to the trailer below:
Four previous series of Fourth Doctor Adventures are still available to order now, with money-saving special bundles also available. Check out the entire range on our Fourth Doctor Collected page.