For The Love Of StoriesBig Finish produce fantastic full-cast audio dramas for CD and download.
Fourth Doctor Series Four Update
4 April 2014
Tom Baker, Louise Jameson and John Leeson are returning as the Doctor, Leela and K9 in the fourth series of Doctor Who: The Fourth Doctor Adventures, which starts in January 2015. The series of eight one-hour audio adventures is released by Big Finish Productions.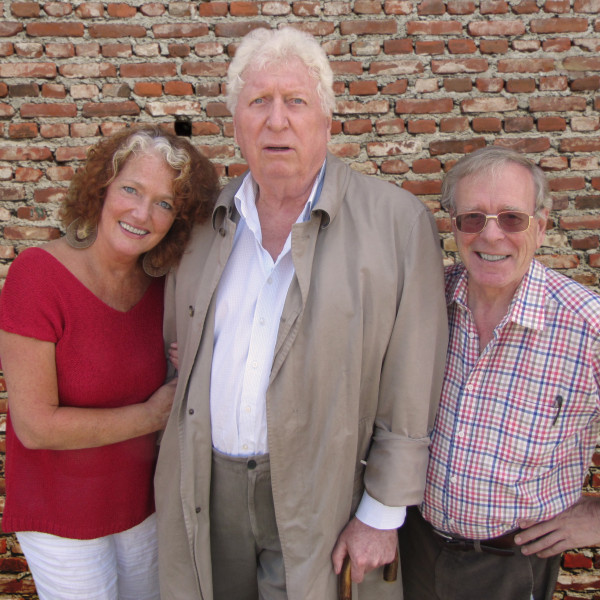 The run begins with The Exxilons by Nicholas Briggs, which sees the return of the race created by Terry Nation in 1974 for TV's Death to the Daleks.
Says Nick Briggs: 'Even though I'm known by many as a bit of a Death to the Daleks fanatic, it was producer David Richardson who had the idea of an Exxilon story. I jumped at the chance. So this is a story of what the Exxilons were doing when they were a space-travelling race.'
The guest cast includes Daisy Dunlop (daughter of Lesley Dunlop, who appeared in Frontios) as Trexa, Jacqueline King (Sylvia Noble in Doctor Who) as Calura and Hugh Ross (who plays Toby Kinsella in audio spin-off Counter-Measures) as Gethal.
The Doctor and Leela are stranded in a remote house in The Darkness of Glass in February, where an ancient power is about to be unleashed. The script is by Justin Richards, while Mark Lewis Jones (Games of Thrones, Stella) plays Professor Oliver Mortlake, Julian Wadham (Steed In Big Finish's The Avengers) is Joseph Holman, Sinead Keenan (Being Human) is Mary Summersby and her brother Rory Keenan (The Guard) is David Lacey.
"Justin wrote a beautifully rich script," says producer David Richardson, "and it was a pleasure to cast four superb and high profile actors in the guest roles. This was so much fun to record, and I think it is going to be a treat for those who like their Doctor Who to be scary."
March sees the release of Requiem for the Rocket Men by John Dorney, which sets the Fourth Doctor up against a band of jetpack-wearing space pirates.
"A few years back we did a Companion Chronicle for Ian Chesterton calledThe Rocket Men," says David. "It soon became clear that we had a hit that was ripe for a sequel – and so Return of the Rocket Men followed for Steven Taylor a year later. I've always wanted to bring the Rocket Men into a full cast story, and I couldn't resist giving Tom's Doctor a full-blown colourful space opera. And even better – in this story the Rocket Men team up with the Master!"
In addition to the return of Geoffrey Beevers as the Master, Mark Frost (Hope Springs) plays Shandar, Olivia Poulet (The Thick of It) is Myrren and Damian Lynch (EastEnders: E20) is Marshall.
The Master is back in Death Match by Matt Fitton although – while thematically linked – the two adventures are not strictly part of the same story. Susan Brown (Torchwood) plays Kastrella, while Andy Secombe (Star Wars: The Phantom Menace) is Vargrave.
The Doctor and Leela then visit an ordinary house in an ordinary street in May release Suburban Hell by Alan Barnes, where they are caught up in a nightmarish dinner party. Katy Wix (Not Going Out, Anna and Katy) is Belinda, Raymond Coulthard (Mr Selfridge) plays her husband Ralph and Annette Badland (Margaret Blaine in Doctor Who) is Thelma.
June's release is The Cloisters of Terror by Jonathan Morris, in which the travellers investigate strange disappearances at St Matilda's college for girls. The story sees the return of Rowena Cooper as Emily Shaw, the eccentric mother of Liz Shaw, who first appeared in the Companion Chronicles adventure The Last Post.
"I'd always hoped to bring back Rowena as Emily," says David, "but after the very sad passing of Caroline John our plans were put aside. But then it occurred to me she would be a wonderful foil for Tom's Doctor – and I was right!"
Richenda Carey guest stars as Sister Frances Beckett, while Claudia Grant (who played Carole Ann Ford in An Adventure in Space and Time) is Megan.
The season concludes in July and August with an epic interlinked story that sees the return of an old foe – more of which will be revealed soon!