For The Love Of StoriesBig Finish produce fantastic full-cast audio dramas for CD and download.
Harry Sullivan and Naomi Cross-over!
8 November 2022
The Seventh Doctor investigates age-old mysteries with his fourth incarnation's companions in a brand-new box set of full-cast audio dramas, released today by Big Finish Productions.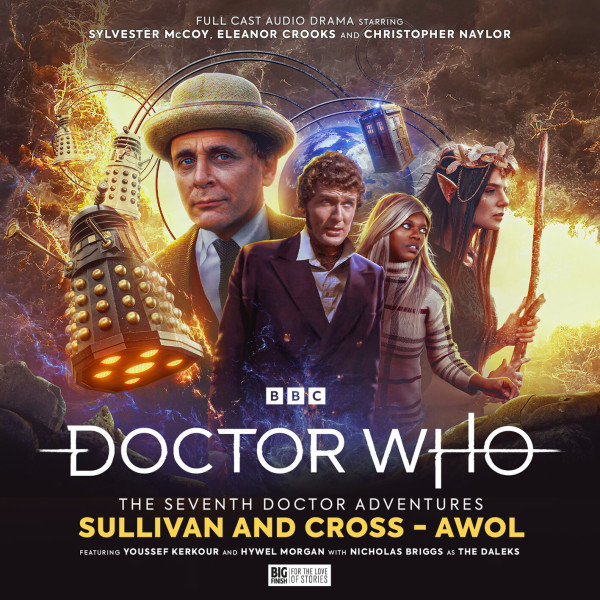 In the four-part opener, the Doctor (Sylvester McCoy) faces murderous elves with his old pals Harry Sullivan (Christopher Naylor) and UNIT secretary Naomi Cross (Eleanor Crooks)! Then, in a two-part adventure the trio battle the infamous Daleks at a horror festival...
Sometimes a Time Lord forgets precisely where he left things - keys, screwdrivers... companions! Harry Sullivan and Naomi Cross are stuck in the wrong time, so when the TARDIS arrives, they give up their 21st-century lives to find a way home.
But as they join the Doctor – a different version to any they've met before – Harry and Naomi are in for a few perilous stops along the way...
Doctor Who – The Seventh Doctor Adventures: Sullivan and Cross – AWOL is now available to own for just £19.99 (collector's edition CD box set + download) or £16.99 (download only), exclusively here.
London Orbital by John Dorney (4 parts)
Long ago, a massacre in a suburban house led to the young Harry Sullivan joining UNIT. But the murders were never solved. Years later, Harry and Naomi Cross investigate an oddity in the London Underground and uncover a whole different side to the capital.
Creatures of myth are running amok across the city in a conflict going back decades. And somewhere in the shadows lurks a new incarnation of their old friend... the Doctor. And he's here to stop a war.
Scream of the Daleks by Lisa McMullin (2 parts)
Halloween 1969 – the Doctor, Harry and Naomi respond to a scream for rescue. They find that people have been dying on the same spot on this day across millennia.
But in their bid to stop the nightmare, the travellers have unleashed the Doctor's old enemy. This may be one cry for help better left unanswered...
John Dorney, writer of London Orbital, said: "It was always the game plan to bring Harry and Naomi back to the Seventh Doctor at some point. I like their dynamic.
"There's always something fun about old companions meeting new Doctors and having to cope with the different personalities. The Fourth and the Seventh Doctors are some of the more contrasting incarnations that I can possibly think of."
Sylvester McCoy added: "The Seventh Doctor likes working with Harry and Naomi – he has a soft spot for them. They have been my companions before but in another Doctor's form. So, in a way, I know them, even though I've never worked with them before.
"Scream of the Daleks was great fun and I enjoyed it a lot. When I first joined Doctor Who, I never felt like I was truly established until I defeated the Daleks so it's always nice to go back and re-defeat them."
Writer Lisa McMullin said: "I've been pestering script editor Matt Fitton for 100 years for a Dalek episode. The other reason I wanted to write for this set was because I haven't written for this Doctor, so when Matt said, 'Do you want to do a Sylvester story? And with the Daleks?', I just couldn't say no!"
Big Finish listeners can save money by purchasing both 2022 Seventh Doctor titles together in a bundle for just £38 (collector's edition CD box set + download) or £33 (download only).
All the above prices include the special pre-order discount and are subject to change after general release.
Please note that Big Finish is currently operating a digital-first release schedule. The mailout of collector's edition CDs will be delayed, but all purchases of this release unlock a digital copy that can be immediately downloaded or played on the Big Finish app from the release date.