We love StoriesBig Finish produce great full-cast audio drama for CD and download, featuring many popular television fantasy series.
I, Davros - The Complete Series is out now!
17 September 2020
Fourteen years after their original release, a collection of five stories featuring Davros, the creator of the Daleks is 25% OFF for a limited time in I, Davros: The Complete Series.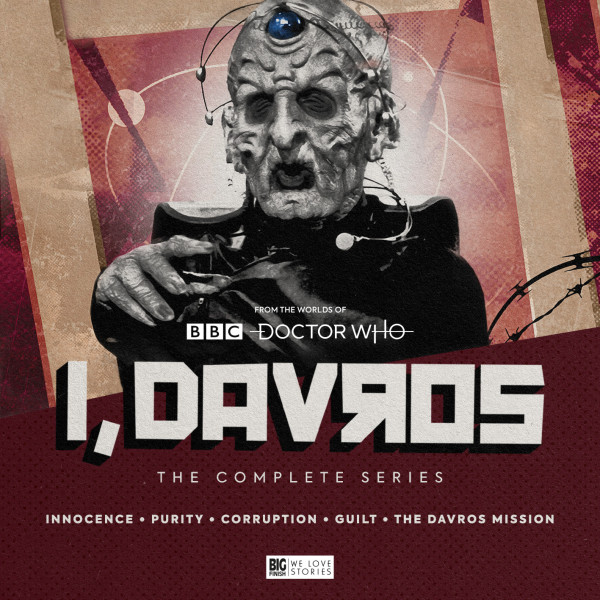 He is the man who made the Daleks - the greatest threat the universe has ever seen. But what made the man? This series of full-cast audio dramas charts the rise to supremacy of the infamous Davros. Terry Molloy stars in the role he first played on television in the 1984 Doctor Who adventure, Resurrection of the Daleks.
I, Davros: The Complete Series contains five stories, with a massive 429-minutes total running time and is available only as a digital download at the introductory price of just £9.99 until 23:59 (UK time) 23 September 2020.
The episode list is as follows:
Innocence by Gary Hopkins (originally released 2006)
"I find it fascinating that a living creature would subject itself to such dangerous experimentation. Knowing that it would die..."
The Kaled and Thal races are at war. No one really remembers why, or when it started, but generations of people on both sides have lost so very much.
Born into an influential family is Davros. Now aged sixteen, he is being pulled in various directions his father wants him to follow tradition and go into the military. His sister has joined the Military Youth and his scheming, devoted mother wants him to pursue a life of science.
But no one seems terribly interested in what Davros himself wants. So, he must begin to assert himself, begin to take control over his own life, begin to work towards his destiny...
Purity by James Parsons and Andrew Stirling-Brown (originally released 2006)
"We are Kaleds. We are more than a match for weak, tattered, crippled relics of the war."
Now approaching his 30th year, Davros is trying to get out of the Kaled military and into the Scientific Corps, determined to use his mind to create new ways to let the Kaled race survive the never-ending war with the Thals. But first, he must undertake a mission into Thal territory. A mission that will introduce him to technology and hardware he could only dream of. And it just might teach him a few life lessons too.
But however dangerous the Thal City might be, it is nothing compared to the scarred relics that inhabit the Wastelands... Wastelands he and his team have to cross twice.
Corruption by Lance Parkin (originally released 2006)
"Logically, the war ends with one form of life in utter control of the world. All other life forms gone. That is the goal. That is the only true victory!"
Now established within the Science Elite, Davros and his team are pushing the boundaries of Kaled experimentation further and further forward.
Access to Thal DNA spearheads an entirely new field of research for Davros, and as he becomes more and more intrigued by genetic mutations, others around him begin to fear him, his drive and his obsessive need for power.
Meanwhile, he must learn to cope with betrayal and political manoeuvrings that will leave him changed forever.
Guilt by Scott Alan Woodard (originally released 2006)
"That is our world out there. A chemical soup for a sky above and a scarred, radioactive wasteland below. It is purgatory. But we must make it paradise!"
The Kaled city is now ravaged, and life has become one of fear, protected by a vast transparent dome that covers what remains of the City.
The Thals undertake a desperate mission to take Davros away from his laboratories, and the Supremo must send a crack squad over enemy lines to retrieve his chief scientist.
Led by the young, enthusiastic and morally-bankrupt Lieutenant Nyder, Davros is successfully rescued.
But he has been changed by the experience, and where once he stood for knowledge, he now espouses the utter extermination of the Thal people. To this end, Davros will stop at nothing and will sacrifice anybody to see his legacy continue.
Here's to the future...
The Davros Mission by Nicholas Briggs (originally released in 2007)
After his capture on Necros, Davros is destined to face the justice of the Daleks. He sits alone, isolated in his cell. His creations will no longer listen to him. But out of the darkness comes a voice...
Davros is no longer alone in his torment. Before he faces trial on the planet Skaro, he must go through an ordeal that will force him to the very limits of his sanity.
But where do his true loyalties lie? How will he face the future?
This release also includes a bonus Behind the Scenes documentary, presented by Joseph Lidster and featuring interviews with Terry Molloy and other performers from the original I, Davros series.
Plus, for a limited time, there is up to 50% OFF all Big Finish Davros stories. These discounts are available for download purchases only, exclusively at the Big Finish website, and are valid until 23:59 (UK time) on 23 September 2020. No code required.