For The Love Of StoriesBig Finish produce fantastic full-cast audio dramas for CD and download.
International Rescue faces danger and deception!
30 September 2023
Stand by for more action! A brand-new full-cast audio drama box set packed with F.A.B. adventures is coming in January 2024 from Anderson Entertainment and Big Finish Productions.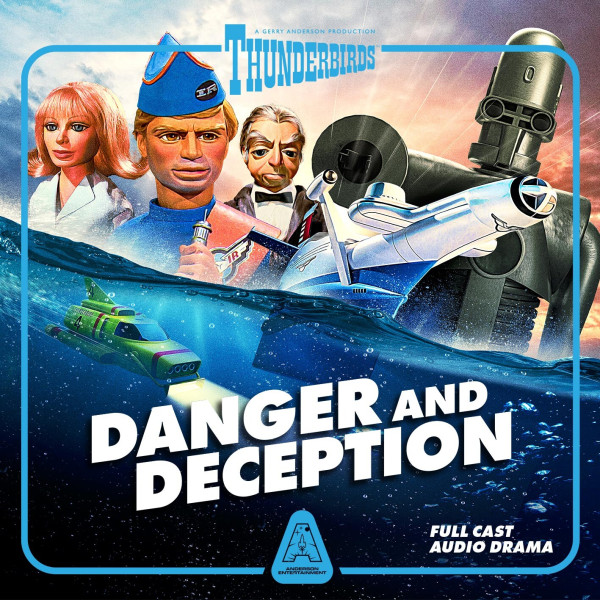 Thunderbirds first launched onto British television in 1965 and, for many fans, remains the pinnacle of Gerry and Sylvia Anderson's legacy.
The series centred around the exploits of International Rescue, a global response organisation founded by millionaire ex-astronaut Jeff Tracy on a beautiful island somewhere in the Pacific. His five sons, each named after a real-life astronaut, took control of the five Thunderbird machines, a fleet of rescue craft designed by the engineering genius Brains. These included Thunderbird 1 (a hypersonic rocket piloted by Scott), Thunderbird 2 (the heavy transporter piloted by Virgil), Thunderbird 3 (the space rocket flown by Alan), Thunderbird 4 (a submarine operated by Gordon), and Thunderbird 5 (an orbiting space satellite we most often saw manned by John).
Revealed today, to mark Thunderbirds Day 2023, Thunderbirds: Danger and Deception contains four new exciting adventures adapted from the Thunderbirds comic strips of TV21 written by Alan Fennell. Danger and Deception stars Jon Culshaw as Jeff Tracy/Parker, Wayne Forester as Virgil/Brains, Genevieve Gaunt as Lady Penelope, Joe Jameson as Gordon/Alan, Justin T Lee as Scott/John and Anna Leong Brophy as Tin-Tin. All other parts are played by the cast and crew.
Thunderbirds: Danger and Deception is now available for pre-order as a digital download (for just £16.99) exclusively from bigfinish.com, or as a limited edition 4 x CD box set (at the special Thunderbirds Day 2023 price of just £24.99) exclusively from shop.gerryanderson.com
The four adventures are as follows:
The Revolution, adapted by Chris Thompson
A rebel militia deliberately sabotages the atomic ocean liner President, causing it to become jammed in the San Miguel canal. International Rescue races against time to prevent the ship from capsizing, while defending themselves against the hostile rebel leaders and the imminent arrival of the San Miguel army.
Mr Steelman, adapted by Genevieve Gaunt
Lady Penelope and Parker meet for the very first time and embark on a mission to save the world from the scheming villainy of the terrifying criminal genius known as Mr Steelman. Danger lurks at every turn and if they're not careful, the intrepid duo's first mission could also be their last!
The Trapped Spy, adapted by Andrew Clements
International Rescue is caught in an impossible situation after a Universal Secret Service agent is trapped behind enemy lines. When Jeff Tracy refuses the request for help, the USS resorts to blackmail to get what they want, risking further lives in the process and stretching International Rescue's resources to breaking point.
The Big Freeze, adapted by Ben Page
A failed missile defence test at Camp 21st Century leaves the personnel of the Antarctic base freezing to death and in deadly danger of radiation poisoning. Thunderbirds 1 and 2 race to the danger zone, but the harsh polar conditions hamper their rescue efforts and leave the chances of success perilously slim.
Here's what the cast and crew of Thunderbirds: Danger and Deception had to say about the forthcoming box set:
Andrew Clements, producer:
"The stakes have never been higher for International Rescue across these four hugely varied stories which are unlike anything they've tackled before. Hearing these adventures come to life has been such a surreal and nostalgic experience. We have the most wonderful cast and they don't play these iconic roles lightly – they really inhabit the characters and bring all the little nuances to the fore, ensuring an immersive performance on every single take. Combined with Sam's stellar direction and some incredible post-production work, I genuinely can't wait until the fans get a chance to experience these epic audio tales."
Samuel Clemens, director:
"Working on this box set was so exciting as there are some high-octane adventures in here with real peril which I'm hoping will keep the listeners glued to speakers or headphones, just as we were glued to mics whilst recording.
"We also have the Lady Penelope and Parker origin story, adapted by Genevieve Gaunt – our very own Lady Penelope herself – which was truly thrilling to read, a delight to record and I'm sure this is a must have for listeners.
"Having the opportunity to record these fabulous stories is always an honour. We have made quite a few now and each time we all get together, we have such fun. It really feels like we have our very own Thunderbird family and I'm very grateful to be a part of it, and to have the chance to work with such talent."
Jon Culshaw:
"It's great to play Jeff – he's so strong and such a driver of the characters. And Parker – chauffeuring, cracking safes, saying "h'open sesame" to caves and knobbling the baddies – it's been terrific."
Wayne Forester:
"It's amazing. There is a company feeling already, like you'd get in a theatre, and we all have such a good time – it's not hard to have fun with this. It was a bit of a departure for me to play a super villain!"
Joe Jameson:
"Having most of us together has been the nicest thing. The other delight is that we get to play all the extra characters – I really enjoyed being Roger Lyon and Luigi, my gangster character."
Justin T Lee:
"I think a lot of people say this but I really did grow up watching the Gerry Anderson shows and it's a universe of spectacle, fun and invention that's a lot of fun to play in."
Anna Leong Brophy:
"It was lovely for Tin-Tin to have more of an active role in The Revolution – she's getting on the ground and making decisions and affecting the storyline in a much broader way."
Genevieve Gaunt:
"Adapting Mr Steelman was great fun and I really got my geek on analysing a lot of details from the comic! It's a great structure because you've got the scaffolding of the strip and then you can add your own flourishes."
All the above prices include the special pre-order discount and are subject to change after general release.