For The Love Of StoriesBig Finish produce fantastic full-cast audio dramas for CD and download.
James Dreyfus is the Master!
7 October 2017
With The First Doctor Adventures rapidly approaching its January release, we chat to one of the stars - the first incarnation of the Master, James Dreyfus.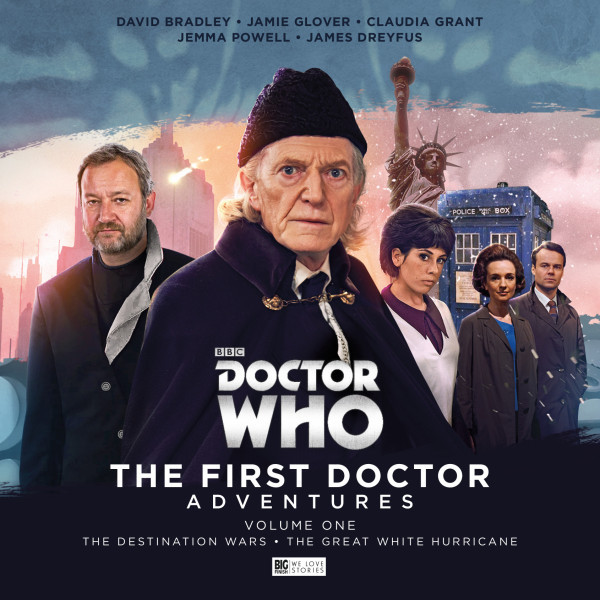 Playing the origins of a character that is beloved (but also feared) by many a Doctor Who fan, James Dreyfus plays the first incarnation of the Master. In the interview below we discuss playing this role, the joy of audio, and perhaps most importantly, the legendary Big Finish lunches! †¨
Big Finish (BF): Hello James, how are you doing today?
James Dreyfus (JD): I'm fine, thank you.
BF: Today we're talking about the recently announced First Doctor Adventures. How was it playing the first incarnation of the Master – any pressure?
JD: It was remarkably stress-free, and a lovely day in the studio. What a cast!
BF: Where did you go for your Master – is it a very different portrayal from the more recent Masters we've seen, Michelle Gomez or John Simm?
JD: I don't have a huge background in Doctor Who, so I'm coming at it afresh. I can't compare him to anyone or anything they've done. I go off the script and the strength of the writing. And the Master helps by normally being in disguise, being particularly wicked, or hypnotizing people. So, it's a joy to not have any references in my head.
BF: And it's wonderful that a character that everyone has seen has such different portrayals of it… and you bring a unique portrayal of him.
JD: Exactly. And not just one that you have to live up to.
BF: How was the recording day in the studio?
JD: It was such fun! It's always fun and lighthearted, they're lovely people around and wonderful meals. It's a really great day, a really fun day.
BF: Everyone always says wondrous things about the lunches! They're almost legendary! *laughs* Finally, in conclusion, we'd love to know what's your favourite thing about audio? What do you prefer about audio compared to theatre or other genres?
JD: I love the fact that it's a smaller number of people in the studio that you get to know, you get a camaraderie. You don't have to learn it, but you need a familiarity with the text. You can work by yourself, and you can do it again to get it right, and strive for perfection. That's what I love about it, it's very self-contained. Also, you don't have an audience who tend to make you hyper-nervous, or hyper in general. It can all be a bit much, with an audience! You can bring all that down on audio.
Thanks, James! Make sure you have a copy of this upcoming new Master and new (but the original, you might say) Doctor in The First Doctor Adventures Volume 1, out in January. You can get Volumes 1 and 2 (out in July) individually at £23 on CD or £20 on download, or save money with a bundle. Get Volumes 1 and 2 together at £45 on CD or £40 on download.