For The Love Of StoriesBig Finish produce fantastic full-cast audio dramas for CD and download.
Jenny: the Doctor's Daughter is coming to Big Finish
1 November 2017
Coming soon from the Worlds of Doctor Who - Jenny: the Doctor's Daughter! She's back, and the universe better be ready for her.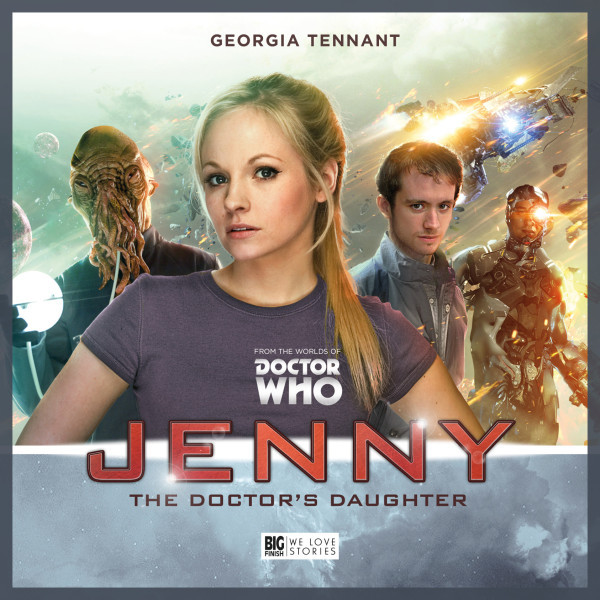 Georgia Tennant (née Moffett) returns to the world of Doctor Who in Jenny: The Doctor's Daughter, four new adventures from Big Finish, made in arrangement with BBC Worldwide. Jenny originally featured in the Doctor Who television episode, The Doctor's Daughter, from Series 4 back in 2008.
"I'm so thrilled to be joining forces with Big Finish to bring Jenny back," Georgia tells us, "As we head into the 21st century, FINALLY a female Time Lord in charge of her own spaceship... oh wait!"
"Having worked with Georgia before at Big Finish," says producer David Richardson, "I was very keen to make this series happen – and how brilliant to be able to bring Jenny into her own audio adventure series. I'm very proud of the female role models we have in our catalogue – River Song, Bernice Summerfield, Sarah Jane Smith, Charlotte Pollard among them – and in Jenny we have another brave, bold, intelligent woman who risks everything to save and protect others."
The last we saw of Jenny, the fantastic creation of Russell T Davies and Stephen Greenhorn, was her revival after a fatal shooting at the end of episode six, series four of Doctor Who, and her setting off to explore the cosmos. These new adventures will find out what exactly she saw, and where she ran off to amongst the stars.
Joining Georgia Tennant will be her own companion, much like the Doctor! Sean Biggerstaff (Harry Potter) plays Noah and follows Jenny in her adventures through time and space.
Georgia, also associate producer of these adventures, has been instrumental in continuing the legacy of the character in the Doctor Who universe. As the wife of David Tennant and daughter of Peter Davison – both former incarnations of the Doctor – the rebellious Time Lord spirit certainly runs in the family!
"I am very excited about discovering the new adventures of Jenny – a rogue element in the universe of Doctor Who," says executive producer Jason Haigh-Ellery. "There is so much we can do with the character and I'm really glad that Georgia has agreed to not only come back to play the part, but also to participate in moving the series forward."
These four new adventures come from popular Doctor Who writers Matt Fitton and John Dorney, joined by Christian Brassington from BBC One's Poldark, and Adrian Poynton, writer of BBC Three's White Van Man. Available as a box set, the stories consist of:
Stolen Goods by Matt Fitton
Prisoner of the Ood by John Dorney
Neon Reign by Christian Brassington
Zero Space by Adrian Poynton
Jenny: The Doctor's Daughter is available for pre-order for its release in June 2018 at £23 on CD or £20 on download from Big Finish and will remain at this price until general release when it will be available for £35 on CD or £30 on download.
You can also purchase Jenny as part of a special bundle with The Diary of River Song Series 4 and Series 5, pre-ordering all three box sets for £68 on CD or £60 on download.