For The Love Of StoriesBig Finish produce fantastic full-cast audio dramas for CD and download.
More Class to come in 2023!
22 October 2022
Class fans rejoice! A very special audio adventure, Secret Diary of a Rhodian Prince, is coming next year from Big Finish Productions.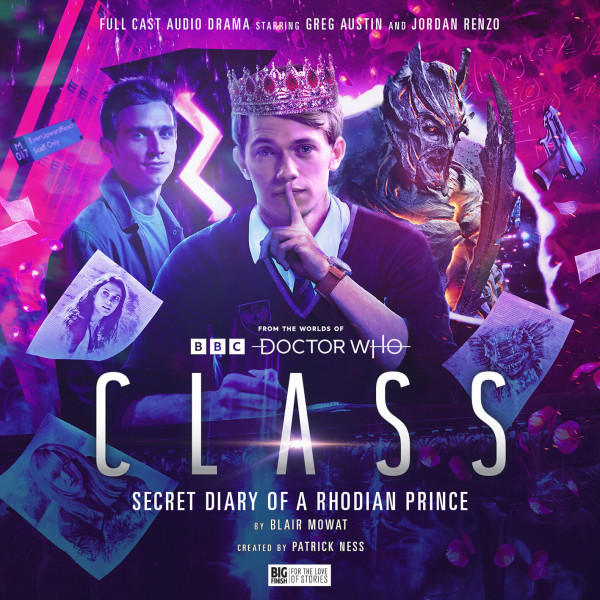 Today marks the sixth anniversary of the first broadcast of Doctor Who spin-off, Class. The highly-acclaimed drama, which originally began on BBC Three on 22 October 2016, followed the students of Coal Hill Academy struggling with the stresses of adolescence while fending off alien threats!
Class has since had a second and hugely successful life on audio, with the lead cast all reprising their roles in Big Finish's follow-up series. Now a brand-new limited-edition audio drama, featuring original series stars Greg Austin and Jordan Renzo, is due for release in January 2023.
Class: Secret Diary of a Rhodian Prince is written and produced by the TV and audio series' original music composer and long-term fan, Blair Mowat. In the compelling tale, Charlie Smith — the last surviving member and prince of the humanoid species, the Rhodians — candidly reveals the trauma of relocating to Earth and spills the tea on his romance with student Matteusz Andrzejewski.
This exclusive Class audio will be strictly limited to a pressing of 1,000 CDs, which listeners can now pre-order for just £10.99 exclusively here. It is also available to pre-order as a download for just £8.99.
What's it like being an alien stranded on a strange planet in the aftermath of a genocide? What would you think of Earth's culture? What's it like falling in love with a human when you only met one just the other week? Who is the Doctor?
And what happens if your secret diary falls into the wrong hands…?
In Secret Diary of a Rhodian Prince we find out what Charlie really thought about his life on Earth and hear the bits you never got to see.
Producer Blair Mowat said: "Class is back! Patrick Ness created the most wonderful characters in Charlie and Matteusz and I always wanted to know a little bit more about how they met, how they fell in love and what it was like for Charlie adjusting so suddenly to life on Earth.
"The format of a diary really allows us to see his experiences through a very personal lens and lets us jump quickly between different events. We dive into his past, his present and maybe even his future. In regard to what comes next, anything is possible..."
Listeners can catch up on all four volumes of Big Finish's popular Class series, which are available to purchase in a download bundle for just £68.
For collectors, the last few remaining CD copies of Class Volume 3 & 4 can be bought individually for just £24.99 or together in a bundle for just £44. (Customers who purchase a collector's edition CD will also have the digital copy added to their account.)
Please note that Big Finish is currently operating a digital-first release schedule. The mail-out of collector's edition CDs may be delayed due to factors beyond our control, but all purchases of this release unlock a digital copy that can be immediately downloaded or played on the Big Finish app from the release date.