We love StoriesBig Finish produce great full-cast audio drama for CD and download, featuring many popular television fantasy series.
18 May 2017
The news that many fans have been waiting for: Blake's 7 is returning to Big Finish in 2017!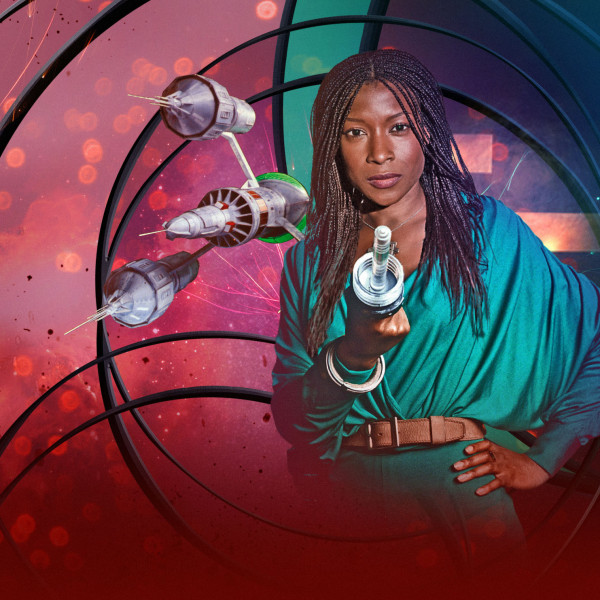 +INFORMATION+
Blake's 7 is back in July with a brand new boxset of full-cast adventures, Blake's 7 - The Spoils of War - starring members of original cast of the TV series. Paul Darrow, Jan Chappell, Michael Keating, Steven Pacey and Jacqueline Pearce all return to once again recreate their roles from the classic TV series, with Alistair Lock providing the voices of computers Orac and Zen.
Joining the cast for the first time is Yasmin Bannerman, taking the role of Dayna, a part previously played by Josette Simon. "Of course, we invited Josette to return to Blake's 7," says producer John Ainsworth, "and although pleased to be invited, she declined the invitation. So, we're delighted to welcome Yasmin as the new Dayna."
As it turns out, Yasmin was not unfamiliar with Blake's 7, having watched the series when it was first shown. "My brothers and I were huge Blake's 7 fans as kids and watched every single episode from the first till the last," she says. "Dayna was my heroine. I loved her. In an era when very few people of colour were to be seen on TV and fewer in any positive light, Dayna was a young black woman who was smart, accomplished, courageous, driven and kick-ass! She made me so proud. Needless to say I was absolutely gobsmacked to be offered the role. My brothers are thrilled!"
Currently at the pre-order price of £25 on Download and £28 on CD, the new boxset features four new episodes, all set in the timeframe of the TV series' third season, after Blake has left the Liberator. The first story, Liberation by Steve Lyons, is set immediately after the TV episode Powerplay, and focuses on Dayna who is still getting used to being a member of the Liberator crew. Outpost, by Christopher Cooper, is also set shortly after Powerplay and features Tarrant and Vila on a mission to a Federation installation abandoned after the galactic war. Close Enough, by Sophia McDougall, finds Avon acquiring an up close and personal insight into what it's like to be a telepath. Finally, the pursuit of alien technology in Solus, by George Mann, leads the Liberator crew to a deadly encounter with President Servalan:
We're also delighted to confirm that from October 2017 a huge fourth run of Blake's 7 - The Classic Adventures will be released; a total of three box sets building into a twelve-episode series. Pre-orders are now available, either at £25 on Download and £28 on CD each or all four of today's newly-announced sets can be bought in Blake's 7 - Classic Adventures Series 3 & 4 bundles for £80 or £100 respectively. As ever, a CD purchase will, on release, unlock digital download access.
Watch this space for more information in the coming months.