We love StoriesBig Finish produce great full-cast audio drama for CD and download, featuring many popular television fantasy series.
Next Blake's 7 Book: Lucifer Revelation
27 February 2014
The eagerly-awaited second instalment of Paul Darrow's Lucifer trilogy is available to buy from May 2014. Paul Darrow tells us what's in store for Avon - and what's coming up in the final book, Lucifer: Genesis.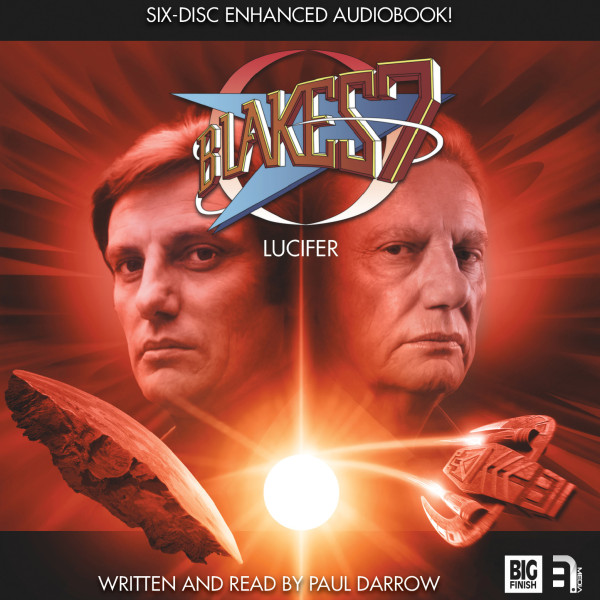 Lucifer picked up Avon's story at the final moments of the final episode of Blake's 7 and followed him on his fight for survival. Now the sequel, Lucifer: Revelation, continues the story...
Many years have passed since the death of his companions on Gauda Prime, but Avon is still very much on the minds – and a thorn in the sides – of those in power. On the run in a stolen spaceship, Avon has world leaders, warlords, aliens, bandits and hitmen on his trail, all hoping to seize control of the supercomputer Orac, and to be rid of Avon once and for all. But those who underestimate Avon do so at their own peril!
We asked Paul what readers can expect from the next two books.
"The previous book, Lucifer, explained, I hope, what happened to Avon after the frantic denouement of the Blake's 7 series. The second book about to burst upon you, Lucifer: Revelation, carries on from where Lucifer left off, although the books can be read or listened to as 'standalones'. The third book, Lucifer: Genesis, goes back to the beginning, as it were. So you'll get to find out my take on Servalan and her rise to power, Avon's pre-series history, and a bit more besides!"
And what's it been like writing for Avon again, at this later stage of his life?
"I very much enjoy writing these stories and I hope you enjoy reading them. If you do, tell others. If you don't – keep it to yourself, I need the royalties!"
Thank you, Paul. Any last thoughts?
"Avon lives! Or does he wear levis? Or is he Elvis? You decide."
Thank you, Paul!
Lucifer: Revelation is available for pre-order now.