For The Love Of StoriesBig Finish produce fantastic full-cast audio dramas for CD and download.
Nicola Walker in a Robot revolution
15 December 2020
Sisters Liv and Tula Chenka turn detective to investigate suspected terrorist cult, The Sons of Kaldor. But who is really to blame? Find out in the latest volume of The Robots, released today from Big Finish Productions.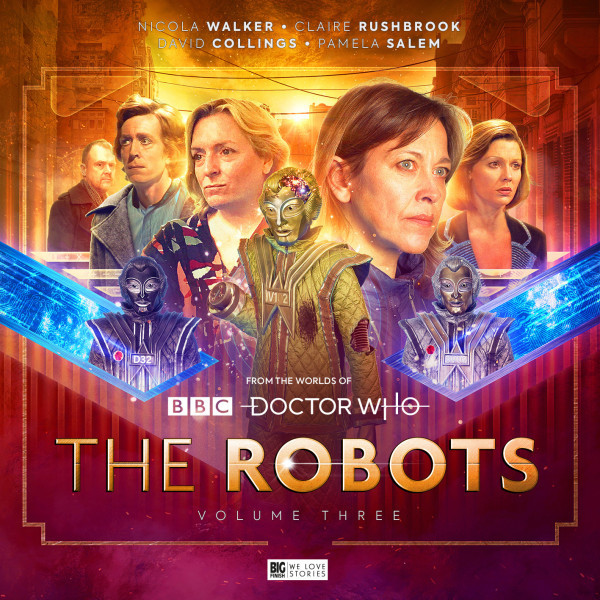 For the uninitiated, The Robots is set on Kaldor, the planet of the robots which originally featured in the Doctor Who television episode, The Robots of Death. And now we're finding out just what happens when Liv Chenka (companion of the Eighth Doctor played by Nicola Walker) returns home for a year to join her sister Tula (Claire Rushbrook).
The Robots volume 3 is now available to own at £19.99 as a collector's edition CD box set or £16.99 as a download, exclusively HERE!
Of the developments in the latest volume, script editor John Dorney said: "We've experienced a lot of growing tension between humans and robots with varying degrees of sentience in the robots. And we've got the development of various mysteries that Liv and Tula are looking into as well.
"One of the best decisions we made was asking Nicola who we might get to play her sister. Without hesitation she suggested Claire and you buy into them as sisters right from the get-go. They have a glorious chemistry."
The three intriguing stories contained within this box set are as follows:
The Mystery of Sector 13 by Rob Whitelock
Liv is investigating the Sons of Kaldor - looking out for any unusual activity on Kaldor. But when her hunt leads her to an abandoned warehouse, she may have bitten off more than she can chew... And while she's away, Tula is finding that some problems lie a little closer to home.
Writer Rob Whitelock said: "Writing for these characters living in this particular world has been such a joy. To me, Kaldor is like Earth. If you stripped away all our regulations that constrain companies from exploiting unethical tech or monopolising business and meddling in government, you'd have Kaldor. That kind of world is always going to be interesting to anyone who loves sci-fi."
Circuit Breaker by Guy Adams
Poul has returned to Kaldor City... and Toos is doing her best to help his recovery. After troubling events in a local hotel, he finds himself with another crime to investigate. But are there some mysteries that shouldn't be solved?
Writer Guy Adams said: "I wanted to look at psychosis. David Collings was so good in The Robots of Death with his breakdown on screen, with his robophobia. It's a heavyweight thing, and there's no better way to discuss a heavy, weighty thing than having great actors, killer robots and fun!"
A Matter of Conscience by Lisa McMullin
The Sons of Kaldor are stepping up their anti-robot campaign as Liv and Tula are stepping up their search. But even as they get closer to the survivors of Storm Mine four, their understanding of events on Kaldor is about to change irrevocably. 
Writer Lisa McMullin said: "My little sub-plot is about the Sons of Kaldor and a new recruit, and why someone might be drawn into a terrorist organisation. And what has happened in their life in order to make them want to rise up against the robots. I don't know who I'm on the side of."
Alongside Nicola Walker and Claire Rushbrook, The Robots volume 3 also guest stars Pamela Salem and the late David Collings, reprising the roles of Toos and Poul from The Robots of Death. Other familiar names joining the cast include Susan Penhaligon (Bouquet of Barbed Wire), Carolyn Seymour (Survivors), Glen McCready (Years and Years) and Jon Culshaw (Dead Ringers).
The Robots volume 3 is now available to own at £19.99 as a collector's edition CD box set or £16.99 as a download, exclusively HERE!
Big Finish listeners can save money with The Robots bundle of all four volumes for just £78 on CD or £66 on download.
The Robots volume four is scheduled for release in June 2021.