For The Love Of StoriesBig Finish produce fantastic full-cast audio dramas for CD and download.
Nothing Short of Sensational Stories!
9 December 2022
Short Trips is back with a brand-new audio box set of individual bite-size Doctor Who adventures, due for release in February 2023 from Big Finish Productions.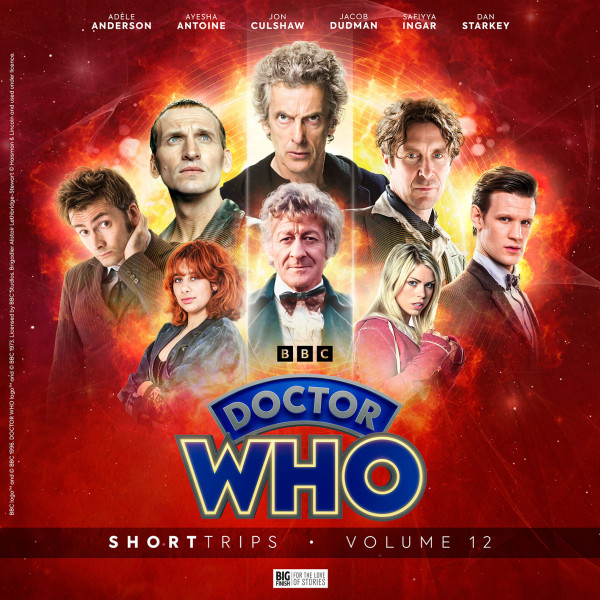 Originally a book series, Doctor Who — Short Trips was relaunched as an audiobook range in 2010. The twelfth volume of self-contained tales marks the last in the range produced by Alfie Shaw, with Peter Anghelides taking the reins from Volume 13.
The anthology of five first-person narratives and one audio mini-drama, performed by brilliant Big Finish actors, explores hidden corners of various Doctor Who eras. The box set also features the Big Finish debut by writer Jennah Dean, with Table for Two, Dinner for One.
Doctor Who — Short Trips Volume 12 is now available to pre-order as a digital download only (for just £14.99), exclusively here.
The six stand-alone short stories are as follows:
Salvage by Max Curtis (an Eighth Doctor and Bliss adventure)
Read by Adèle Anderson.
There's a place where all lost things go. Salvage, a sanctuary where the abandoned and misplaced can be found.
In the Time War, more has been lost than ever before. Planets, people, and even whole timelines have been consumed by the fighting. Everyone needs Salvage, but even this haven isn't immune from the effects of the Time War.
AWOL by Angus Dunican (a Third Doctor and Brigadier mini-drama)
Performed by Jon Culshaw.
In the short time the Doctor's worked for UNIT, he's become an invaluable part of the team. Yet, he's gone missing. For the Brigadier, the tricky part isn't going to be tracking him down. The tricky part is going to be convincing the Doctor to come back.
The Three Flames by Sophie Iles (a Twelfth Doctor adventure)
Read by Dan Starkey.
Fleeing from a dying world, a family of Tenaborgs crash land on a strange planet. Their only hope of survival? A stranger called the Doctor.
Identity Check by Eugenie Pusenjak (a Ninth Doctor and Rose adventure)
Read by Jacob Dudman.
The Colossus River Diversion is one of the greatest engineering projects in the universe, created by different species all coming together to create something spectacular. However, when the Doctor and Rose arrive, old tensions boil to the surface and threaten to derail everything.
Table for Two, Dinner for One by Jennah Dean (a Tenth Doctor adventure)
Read by Ayesha Antoine.
Good evening, Madames and Monsieurs. Welcome to the Ristorante del Cosmo, the finest restaurant in all of London. It's so good, in fact, we think you'll never want to leave...
The Galois Group by Felicia Barker (an Eleventh Doctor and Valarie adventure)
Read by Safiyya Ingar.
There are rules to travelling in time, rules that Valarie Lockwood thought she understood. But, when she has an opportunity to break those rules, she seizes the chance.
Valarie's going to have to learn the hard way that the laws of time are there for a reason.
Script Editor and Producer Alfie Shaw said: "It's a delight to bring my time on Short Trips to a close with these six fabulous stories. We've got another dose of Time War weirdness, dying worlds and deadly restaurants, as well as a fabulous mini drama with Jon Culshaw showcasing what a marvel he is.
"It's been great to work with these brilliant writers, especially those for which this is their first Doctor Who story. Being a part of that process is always something special. I hope everyone enjoys them, and I look forward to where the range goes under Peter's stewardship."
All the above prices include the special pre-order discount and are subject to change after general release. From November 2022, new pre-order prices will apply for unreleased box set.
Please note that Big Finish is currently operating a digital-first release schedule. The mailout of collector's edition CDs will be delayed, but all purchases of this release unlock a digital copy that can be immediately downloaded or played on the Big Finish app from the release date.