For The Love Of StoriesBig Finish produce fantastic full-cast audio dramas for CD and download.
Omega returns in a new Doctor Who audio novel
26 June 2023
Jon Culshaw narrates a brand-new double Doctor diamond anniversary audio novel, due for release in November 2023 from Big Finish Productions.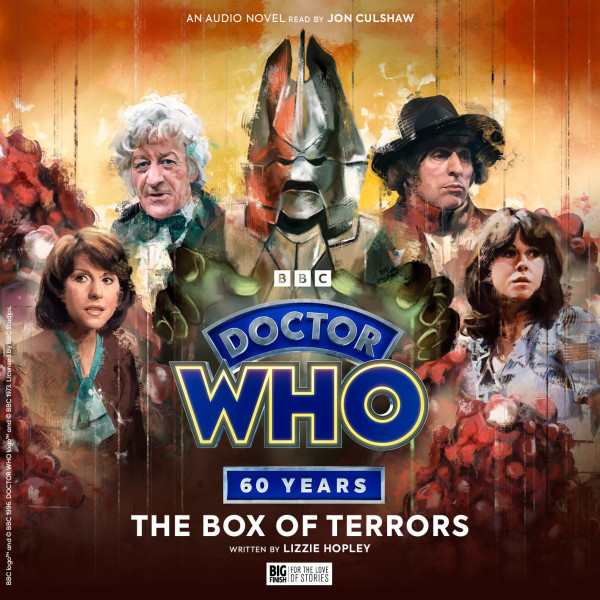 Two Doctors – and two Sarah Jane Smiths! – come together to tackle a new threat from an old enemy in this forthcoming 60th anniversary special audiobook, written by Lizzie Hopley.
Doctor Who – The Audio Novels: The Box of Terrors, featuring specially composed music and sound effects, is now available to own for just £17.99 (as a download only), exclusively here.
After being framed for the destruction of an entire civilisation, the Third Doctor and Sarah Jane follow a strange comet to planet Earth.
Meanwhile, the Fourth Doctor and his Sarah Jane are called to an intergalactic emergency: the beacons protecting the 'Sand Box', are failing.
When the TARDIS crashes to earth before his eyes, the Fourth Doctor is reunited with his former self and another Sarah Jane. But are the four of them enough to keep the Sand Box closed and whatever is within from getting out?
Writer Lizzie Hopley said: "The Box of Terrors is the biggest thing I've written for Big Finish and it was an honour to be asked to do it for the 60th Anniversary.
"'The Third and Fourth Doctors battle Omega' is not a job you say no to and there was much discussion with the endlessly talented duo, David Richardson and Roland Moore, as to who and what else to feature – imagine that sweetshop of ideas!
"Structuring something this big is immensely tricky, ensuring every aspect of plot and character has a through-line and makes an emotional impact. What helped hugely was hearing Jon Culshaw's voice(s!) in my head as I wrote. It's a trick I do for all my audio as writing prose to be performed rather than read is a different process but knowing the sheer range of Jon's talent meant I could really push things. I can't wait to hear what he and the sound team have made of this crazy journey."
Please note that The Box of Terrors is a special diamond anniversary release and not part of The Audio Novels bundle. However, Big Finish listeners can save money by purchasing all six titles in the Doctor Who - The Audio Novels range together as a bundle for just £99.
Praise for Scourge of the Cybermen, the first of the Doctor Who – The Audio Novels range, also narrated by Jon Culshaw:
"Scourge of the Cybermen provides a terrific debut adventure for this new range."

– CultBox

"Big Finish Productions is giving the audiobook an upgrade, with original Doctor Who audiobooks that may not have a full cast but aren't lacking in the star power or production values."

– Nerdvana Media

"It's a story worth seeking out for fans of both audio and literary Doctor Who."

– Warped Factor

"It's far more than the usual audiobook listening experience one might be expecting."

– Indie Mac User
All the above prices include the special pre-order discount and are subject to change after general release.