For The Love Of StoriesBig Finish produce fantastic full-cast audio dramas for CD and download.
Out today - Captain Scarlet: The Spectrum Files
28 September 2017
Continuing Big Finish's 50th anniversary celebration of Captain Scarlet and the Mysterons, today sees the release of The Spectrum Files. Narrated by David Graham, and starring the vocal talents of Wayne Forester and Liz Morgan.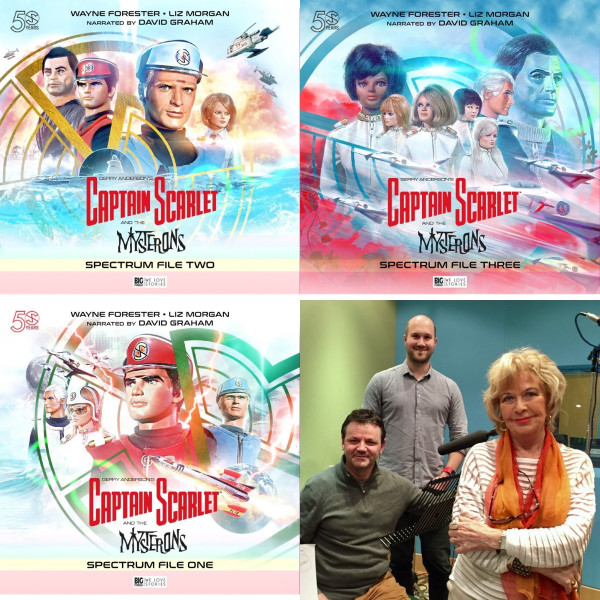 Three new adventures from the world of Spectrum vs the Mysterons, Captain Scarlet: Spectrum Files One, Two and Three are out today. These three adventures feature the vocal talents of Wayne Forester, Liz Morgan, and David Graham, produced and directed by Jamie Anderson, and based on the original tie-in novels by John Theydon, back in the original broadcast year of Captain Scarlet, 1967.
A violent thunderstorm floods London. Florida is laid waste by hurricanes. Somehow the Mysterons are controlling the world's weather, and only Spectrum can stop the devastation.
As the hours count down to the destruction of North America, Scarlet and Blue race against time to locate and destroy the Oceanus X - but even if they succeed, will this thwart the Mysteron plan?
A chance encounter with Captain Black leads Melody Angel to uncover a plot by the Mysterons to devastate the world's food supplies by contaminating them with a deadly new bacteria. While Destiny Symphony and Harmony pursue Black, Rhapsody is on the trail of the only man who may be able to destroy this new culture – but the Mysterons are one step ahead of her, and soon a new and even greater danger looms.
We chatted to Jamie Anderson about these three gripping adventures for the Spectrum team, "Once we knew that it was S.I.G to produce the Spectrum Files as enhanced audiobooks, I knew that the casting of our readers was going to be vitally important. With so many of the original Captain Scarlet and the Mysterons cast sadly no longer with us we couldn't rely on reuniting an old team.
"I was thrilled when Liz Morgan agreed to revive her original Angel voices and join us as narrator for the three books. Having Liz on board was a major piece of the puzzle, and it's fantastic to have such a key member of the original series cast on board. Liz's years with the BBC Rep and amazing industry experience make her an ideal choice to narrate these 1960s stories.
"The next major challenge was to find a male voice artist who had the versatility to produce tens of character voices, but also truly understood the Century 21 and 1960s sensibilities and vocal qualities of the fantastic original cast. The natural choice for this role was Wayne Forester. As a long time collaborator with Gerry Anderson, and as the actor who played the lead role in New Captain Scarlet (2005), Wayne was a great fit for this project and has worked tirelessly to capture the warmth and character of the male voices in these new enhanced audiobooks. In fact, many times during the recording, Liz Morgan commented that she felt quite emotional hearing Wayne's impressive portrayals of many of the characters. I think it was an exciting but emotional time for all of us.
"And as for narration, for many David's voice is synonymous with the Gerry Anderson Supermarionation series, but Thunderbirds was David's final voice job working with Dad. It seemed only right that we finally give David a chance to lend his vocal talents to Captain Scarlet and the Mysterons, and narrator of the Spectrum Files was the ideal job for him.
"David's narration, combined with Liz Morgan and Wayne Forester's fantastic character voices, makes for the perfect combination to bring these classic Captain Scarlet and the Mysterons stories to life for the very first time, with an authentic sprinkling of Century 21 magic."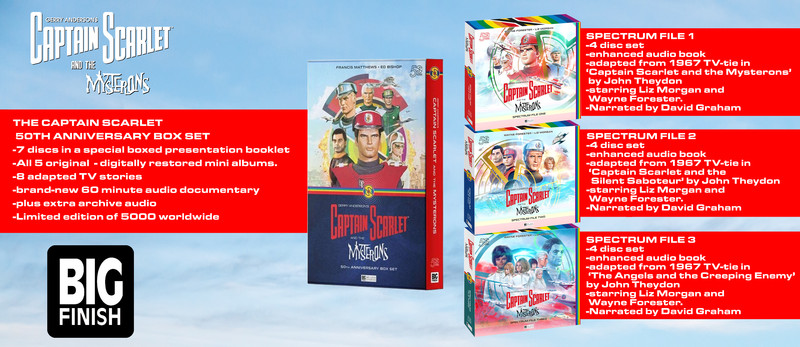 You can get these three adventures individually at £16.99 on CD or £14.99 on download.
Or you can get all three as part of a bundle. Save and gets all three Spectrum Files at £35 on CD or £30 on download.
For an extract of these adventures, check them out on Soundcloud:
Captain Scarlet ™ and © 1967, 2001 and 2017. ITC Entertainment Group Limited. Licensed by ITV Ventures Limited. All rights reserved.