For The Love Of StoriesBig Finish produce fantastic full-cast audio dramas for CD and download.
Praise for Survivors: Series 3
10 November 2015
Our latest post-apocalyptic box set has been released to rave reviews. Check out the critics' comments in our round-up article.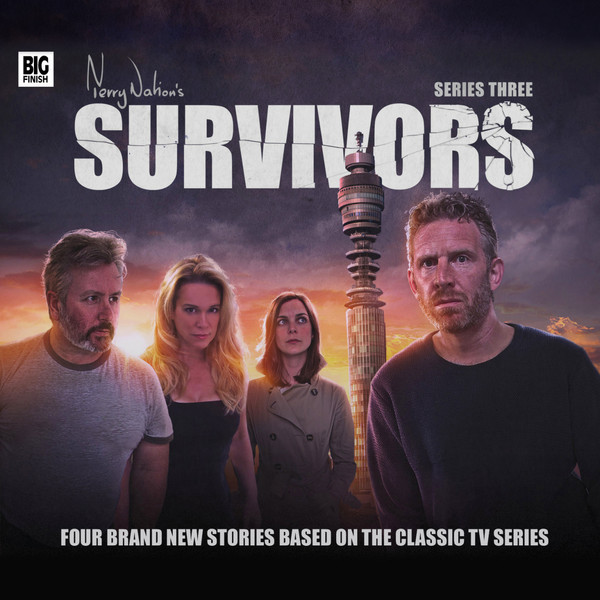 Based on the classic TV series by Terry Nation, Survivors: Series 3 continues the story of Abby Grant (Carolyn Seymour) and Jimmy Garland (Richard Heffer) as they continue the search for Abby's son Peter. In the decaying city of London, a band of thugs led by John Vincent (Paul Thornley) have a terrible plan to protect their country – with Maddie Price (Chase Masterson) caught in the crossfire...
Critics have lapped up the new box set, which features some of Big Finish's most provocative material to date. Check out some of the reviews below:
'John Vincent, or Vinnie to his friends, is a thoroughly frightening creation. A fully-rounded three dimensional believable character – his hate oozes out of the production. His oily, supercilious exterior barely covering a bubbling rage. A truly hateful character and utter plaudits to Paul Thornley for bringing him to life.'
Ed Watkinson, Planet Mondas
'With an astonishingly accomplished sound design and acting almost literally to die for... the audio revival of Survivors has now proven itself easily the best and most consistent work that Big Finish has taken on, and with a format that allows for a greater involvement in characters and storylines there are ways in which producer David Richardson is even improving upon the TV original.'
J.R. Southall, Starburst
'I could talk for hours, but I'd be giving away too many spoilers. It's basically dark, it's scary. It gives you a glimpse of so many of us. It's the human condition taken to its extremes... if you are tempted even remotely to embrace the Survivors, you will not regret it.'
Survivors: Series 3 is available to buy and download today.
The first two series of Survivors are also available – with the first episode of the award-nominated Survivors: Series 1 now online to download for free. An audiobook reading of Terry Nation's original novel is also available, performed by Carolyn Seymour. As with all Big Finish website CD purchases, where possible a download copy is instantly and exclusively available upon buying.
The battle for survival will continue in 2016 with Survivors: Series 4 and Series 5, available to pre-order now.
(Please Note: Survivors contains adult material and is not suitable for younger listeners.)