For The Love Of StoriesBig Finish produce fantastic full-cast audio dramas for CD and download.
Short Trips Down Memory Lane
2 February 2023
Buckle up for six Short Trips through various Doctor Who eras in a brand-new anthology of stand-alone audio adventures, released today by Big Finish Productions.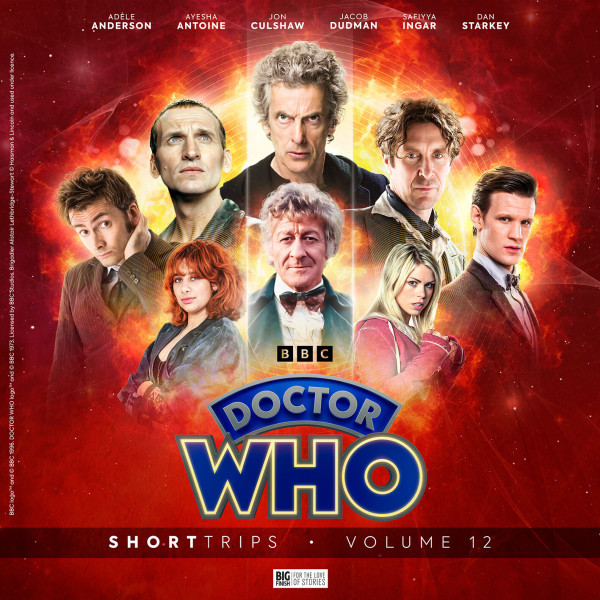 Showcasing finely-tuned short stories, Doctor Who – Short Trips was originally a book series before being relaunched in 2010 as an audiobook range that's now in its twelfth volume.
The latest collection consists of five compelling first-person narratives, plus one audio mini-drama, featuring adventures for the Third, Eighth, Ninth, Tenth, Eleventh, and Twelfth Doctors.
The narrators are Olivier Award-nominee Adèle Anderson, Doctor Who star Dan Starkey, Jacob Dudman (Fate: The Winx Saga, The Stranger), Big Finish regular Ayesha Antoine, Safiyya Ingar (voice of the new Eleventh Doctor companion, Valarie) and, performing as the Third Doctor and the Brigadier, first-rate impressionist and actor, Jon Culshaw.
Doctor Who – Short Trips Volume 12 is now available to own as a digital download only (for just £14.99), exclusively here.
The six self-contained tales are as follows:
Salvage by Max Curtis (an Eighth Doctor and Bliss adventure)
Read by Adèle Anderson.
There's a place where all lost things go. Salvage, a sanctuary where the abandoned and misplaced can be found.
In the Time War, more has been lost than ever before. Planets, people, and even whole timelines have been consumed by the fighting. Everyone needs Salvage, but even this haven isn't immune from the effects of the Time War.
Max Curtis said: "On every world, even ours, there are stories of the place where lost things go. Every key that's gone missing, every sock that's ever vanished in the wash, and a million biros. But in the Time War, it's become a place for lost people too. People like Bliss.
"I'm not sure Salvage would've worked as a full-cast audio drama, or a TV episode, or even a novel. It had to be a Short Trip and I hope it feels like the biggest Short Trip ever."
AWOL by Angus Dunican (a Third Doctor and Brigadier mini-drama)
Performed by Jon Culshaw.
In the short time the Doctor's worked for UNIT, he's become an invaluable part of the team. Yet, he's gone missing. For the Brigadier, the tricky part isn't going to be tracking him down. The tricky part is going to be convincing the Doctor to come back.
Angus Dunican said: "The great thing about Short Trips is that you can divest yourself of the need to tell 'a Doctor Who story' and, instead, reach into the endless treasure that is the show's history and just tell a story about the people you find. This is one of those.
"It comes early in the story of the Third Doctor and the Brigadier. It's two people who've had an ad-hoc relationship up until this point but who are now in crisis. I'm very proud of it."
The Three Flames by Sophie Iles (a Twelfth Doctor adventure)
Read by Dan Starkey.
Fleeing from a dying world, a family of Tenaborgs crash land on a strange planet. Their only hope of survival? A stranger called the Doctor.
Sophie Iles said: "This story was an excuse to write the Twelfth Doctor in a fairy tale, which is something I've wanted to explore for a while and also an excuse to write non-humanoid aliens as central characters. The Doctor is there to save a scared family and help them through their traumatic experience. Despite his strict – and, at times, slightly stuffy – demeanour, he does mean well, which is the most important thing."
Identity Check by Eugenie Pusenjak (a Ninth Doctor and Rose adventure)
Read by Jacob Dudman.
The Colossus River Diversion is one of the greatest engineering projects in the universe, created by different species all coming together to create something spectacular. However, when the Doctor and Rose arrive, old tensions boil to the surface and threaten to derail everything.
Eugenie Pusenjak said: "Irving Ordell – former soldier turned engine driver, and proud human from the planet New Thirdrock – is having a rough time. By day, he's forced to work alongside the hated alien race who invaded his home ten years ago. At night, his sleep is punctuated by nightmares of the war. But why can Irving suddenly understand his enemy's language and what really happened to him at the end of the war? When he encounters the Ninth Doctor and Rose, Irving has the opportunity to uncover these mysteries. But will he like what he finds?
"Writing this story was an absolute joy, as once again, I got to combine two great loves of my life: writing short fiction and Doctor Who. I'm honoured to have been invited back by Big Finish, and I hope people enjoy listening to Identity Check as much as I enjoyed writing it."
Table for Two, Dinner for One by Jennah Dean (a Tenth Doctor adventure)
Read by Ayesha Antoine.
Good evening, Madames and Monsieurs. Welcome to the Ristorante del Cosmo, the finest restaurant in all of London. It's so good, in fact, we think you'll never want to leave...
Big Finish newcomer, Jennah Dean said: "I was over the moon when I was commissioned to write an episode for the Short Trips collection, as it's such a unique and versatile part of the Doctor Who output that is produced by Big Finish. We're given the opportunity to explore the wider impact that the Doctor has on the people (and aliens) who exist within his world, not just
by creating stories that are about them, but by telling the stories from their perspectives too. Naturally, this was pure ecstasy for a sci-fi and fantasy fan like myself!
"I loved building the mini-world that exists within this episode, particularly the Lorne, which is the new species of alien I created. Whilst the episode involves scary aliens from the other side of the universe, the central themes of love, loss and loneliness should hopefully have a universal appeal."
The Galois Group by Felicia Barker (an Eleventh Doctor and Valarie adventure)
Read by Safiyya Ingar.
There are rules to travelling in time, rules that Valarie Lockwood thought she understood. But, when she has an opportunity to break those rules, she seizes the chance.
Valarie's going to have to learn the hard way that the laws of time are there for a reason.
Felicia Barker said: "One of the joys of Short Trips is the capacity they afford to experiment and carry a theme or concept to new depths. So, this is a story about Valarie learning the truths of time travel, a story archetype many listeners will think they know. But it's also a story about Valarie knowing those truths even before the story begins and never fully learning them at all. If it's a story about any one thing, it's a story about multiplicity."