For The Love Of StoriesBig Finish produce fantastic full-cast audio dramas for CD and download.
The Andromedan Aliens Land!
29 November 2022
The galactic war has unexpected repercussions in a brand-new box set of full-cast audio dramas based on Terry Nation's Blake's 7, released today by Big Finish Productions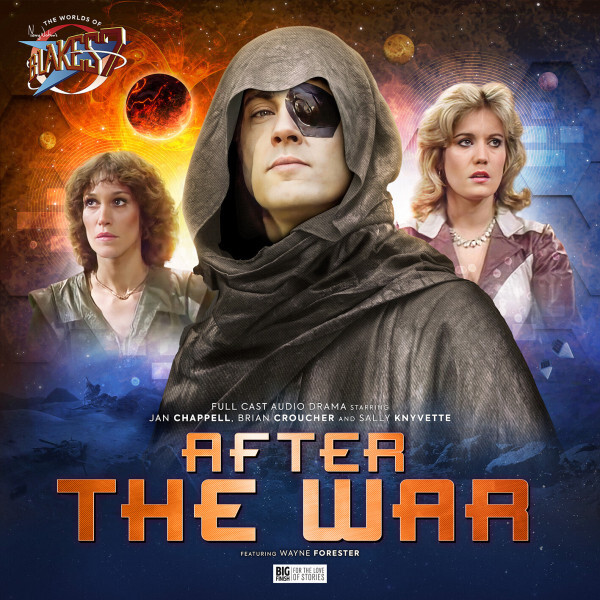 These adventures are set in the immediate aftermath of the 1979 TV episode Star One - humanity is struggling, the Federation is reeling and many enemies are still at large after the Andromedan attack.
Jenna Stannis (Sally Knyvette), Cally (Jan Chappell) and Space Commander Travis (Brian Croucher) each have their own startling encounter with an alien threat from a distant world.
The Worlds of Blake's 7: After the War is now available to pre-order as a collector's edition CD box set (+ download for just £19.99) or downloads only (for just £16.99), exclusively here.
The box set comprises three stories, as follows:
Andromeda One by Trevor Baxendale
Space Commander Travis knows that a data thief on the volcanic planet Amerinth can crack the encrypted coordinates for Star One. His road to hell is paved with bad intentions. Will an old acquaintance help him or thwart his treacherous purpose?
Fallout by Steve Lyons
When her life capsule crashes on a farming world, Jenna Stannis strikes up an uneasy alliance with the local population and a suspicious Federation officer. Will any of them recognise the alien menace that threatens to destroy their fragile coalition - and their lives?
The Enemy by Katharine Armitage
In the aftermath of their narrow escape from a devastated Liberator, Cally tracks down Jenna to a dilapidated space service station. Can Cally rescue her old friend and get them both to safety? Or has she unwittingly fallen into a deadly telepathic trap?
Brian Croucher said: "Andromeda One is another one of those exciting Blake's 7 stories! Travis lands on another planet with a young lady - they have a bit of a journey and a chase. He's going to Star One to perish!"
Sally Knyvette said: "It's extraordinary because I never thought that Blake's 7 would come back to me later on - it's been fab! It feels full circle. Jan and I are really enjoying working on these Big Finish episodes.
"I have no idea what's going to happen next but I'm quite excited. I hope Jenna will go on for the rest of my life - I love her now. She's feisty but is always on the side of good and freedom fighting. She's Robin Hood in space!"
Jan Chappell said: "The Enemy is a fascinating story - I wasn't quite sure where it was going myself. It was very interesting. Gradually Cally puts together that something is very wrong."
The Worlds of Blake's 7: After the War is available to own for just £19.99 (collector's edition CD box set + download) or £16.99 (download only) here.
Big Finish listeners can save money by purchasing this box set and December's release, Allies and Enemies, together in a bundle for just £38 (collector's edition CD box set + download) or £33 (download only).
All the above prices include the special pre-order discount and are subject to change after general release.
Big Finish is currently operating a digital-first release schedule. The mail-out of collector's edition CDs may be delayed due to factors beyond our control, but all purchases of this release unlock a digital copy that can be immediately downloaded or played on the Big Finish app from the release date.