We love StoriesBig Finish produce great full-cast audio drama for CD and download, featuring many popular television fantasy series.
The Diary of River Song: Series 1 - CD Release Today!
7 January 2016
Hot on the heels of our early digital release, our brand new Doctor Who spin-off series is leaving the warehouse today!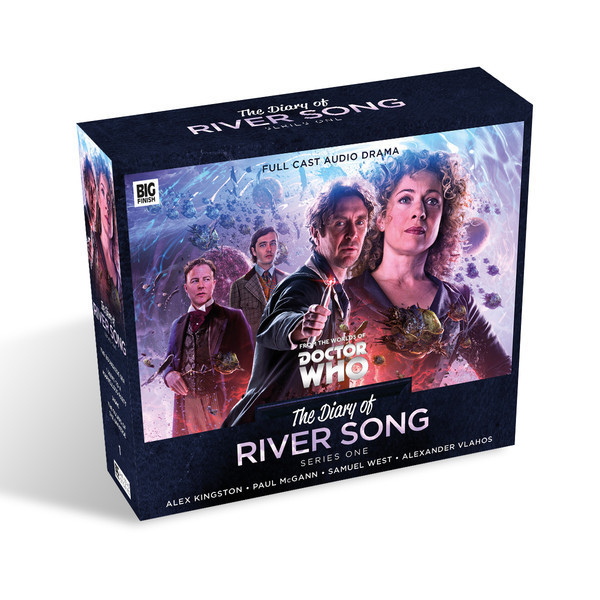 Digitally released after her festive appearance in the Doctor Who Christmas Special The Husbands of River Song, Alex Kingston is back in action in The Diary of River Song: Series 1. This fabulous set of four adventures puts River on a collision course with Egyptian curses, marvellous parties, dreaded SporeShips and an encounter with her future husband – the Eighth Doctor (Paul McGann). Critics have raved over River's new adventures since the release – check out our collection of comments below, and order your copy today.
'This is perfect Big Finish. I never thought I'd enjoy a story quite as much... Alex Kingston and Samuel West worked perfectly together; the score, the sound effects, the editing, everything was absolutely perfect.'
Daniel Whitaker, Gallifrey Archive
'The sound is rich and Ken Bentley's direction captures the light and shade of this great range of stories. With this set, River Song is immediately at home on audio...'
Tony Jones, Starburst
'Alex Kingston gives River her all just as she does with the TV series, but as she is centre stage we get more layers to her character other than the wise-cracking flirting we are used to – we get to see her as she is when not trying to impress The Doctor, but we also get to see the genuine love she has for him'
Ed Watkinson, Planet Mondas
1.1 The Boundless Sea by Jenny T Colgan
River Song has had more than enough excitement for a while. Deciding the universe – and her husband – can look after themselves, she has immersed herself in early 20th century academia, absorbed in writing archaeological theses.
But when a mysterious tomb is found in a dry, distant land, excitement comes looking for River.
Can Professor Song stop any more members of the expedition from dying? What deadly secrets lie buried within the crypt? And will British Consul Bertie Potts prove to be a help, or a hindrance?
1.2 I Went to a Marvellous Party by Justin Richards
River Song always enjoys a good party, even when she's not entirely sure where or when the party is taking place. But the party she ends up at is one where not everything – or indeed everyone – is what it seems…
Being River, it doesn't take her too long to go exploring, and it doesn't take her too long to get into trouble. The sort of trouble that involves manipulating other civilisations, exploitation, and of course murder.
River is confident she can find the killer. But can she identify them before anyone else – or quite possibly everyone else – gets killed?
1.3 Signs by James Goss
River Song is on the trail of the mysterious, planet-killing SporeShips. Nobody knows where they come from.
Nobody knows why they are here. All they do know is that wherever the SporeShips appear, whole civilisations are reduced to mulch.
But River has help. Her companion is a handsome time-travelling stranger, someone with specialist knowledge of the oddities and dangers the universe has to offer. For Mr Song has a connection to River's future, and he would never want his wife to face those perils alone…
1.4 The Rulers of the Universe by Matt Fitton
As shocking secrets are exposed, and a grand plan for the universe is revealed, River decides it's time she took control of events once and for all.
Out in deep space, a clandestine society faces off with an ancient and powerful alien force – but, for River, there's an added complication.
The Eighth Doctor has been caught in the middle, and she must make sure her future husband can arrive at his own destiny with all his memories – not to mention his lives – intact…
You can still order this box-set today at the special price of just £20 on CD and to download. With the set not available on general release until April 2016, it's the perfect chance to be one of the first to listen!
You can also pick up the set as part of our New Series Bundle, which also contains fellow January release Doctor Who: The Churchill Years Volume 1 and July 2016's Doctor Who: Classic Doctors, New Monsters Volume 1. And remember, when you choose to buy this release on CD directly from Big Finish, you will also unlock instant access to a digital copy for download.
River Song will return in March 2016 for Doctor Who: Doom Coalition 2, joining the Eighth Doctor (Paul McGann), Liv Chenka (Nicola Walker) and Helen Sinclair (Hattie Morahan) in their next battle with the Eleven (Mark Bonnar). Click here for more details and listen to the trailer below:
A second series of The Diary of River Song is now in production, with more details following soon!