We love StoriesBig Finish produce great full-cast audio drama for CD and download, featuring many popular television fantasy series.
15 February 2019
Story details and the trailer for the special Doctor Who release The Eighth of March have been released today. With some of our favourite characters all together in one box set, and several audio debuts such as the Paternoster Gang and the two Osgoods, we can't wait for this one!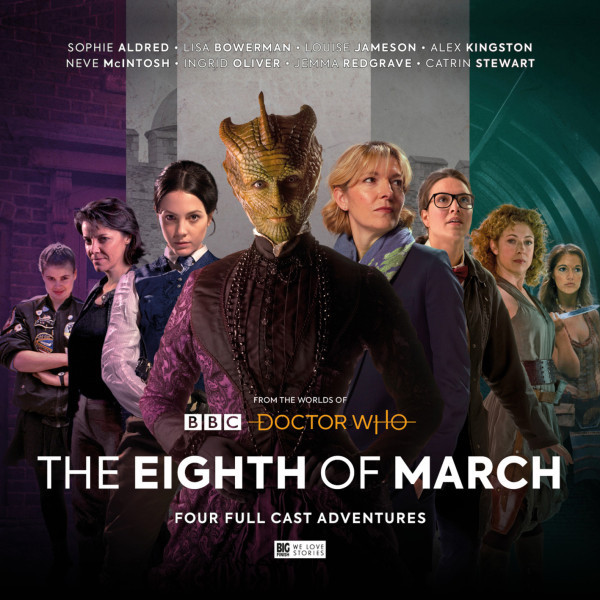 In celebration of all the strong female characters from the Doctor Who universe, a female lead cast – along with female writers, producer and director – has come together for an audio box set like no other.
Scattered through all of space and time, there are many women whose paths have crossed that of the Doctor.
Some were once fellow TARDIS travellers, some staunch allies defending the Earth, and one was the Doctor's wife…
From Victorian London, to an intergalactic convention, from the offices of UNIT, to an impossible university library – on the 8th of March, four very different adventures will unfold.
1.1 Emancipation by Lisa McMullin
When River Song crashes a Galactic Heritage convention, posing as the wrong Time Lord, Leela is sent by Gallifrey to investigate.
But before the canapés are cold and the champagne becomes warm, they find themselves embroiled in a royal kidnapping.
1.2 The Big Blue Book by Lizzie Hopley
With the Doctor AWOL, Benny and Ace are left to their own devices, going native in a Liverpool university.
Benny accepts an invitation she really shouldn't, and Ace meets a very strange collector.
An alien library is about to gain a big, blue book… but where's the TARDIS?
1.3 Inside Every Warrior by Gemma Langford
The Great Detective, Madame Vastra, aided by her resourceful spouse, Jenny Flint, and loyal valet, Strax, is looking into a series of mysterious break-ins.
An eccentric scientist and his put-upon assistant are the latest victims. Evidence mounts, with animal footprints and a trail of destruction.
1.4 Narcissus by Sarah Grochala
When one of their own goes missing, Kate Stewart and the two Osgoods decide to investigate.
Narcissus is interested only in the most beautiful people, but as the UNIT operatives are about to discover, its true purpose is something far from desirable.
"It seems very timely to celebrate some of the women of Doctor Who," says director Helen Goldwyn, "especially as the female characters in the series have evolved over the years to reflect how women's roles have changed in society too; from assistants and inferiors to equals and adversaries!
"And what's it been like, working with all these wonderful, legendary Doctor Who actors (not to mention all the fantastic guest actors too)? Well it could only ever be a delight and a privilege really, couldn't it? How fantastic to be part of a series that not only brings the women of Doctor Who to the forefront, but which also celebrates Big Finish's commitment to represent and nurture female creatives like myself who have, for so long, been in the minority. This production brings us another step forward and I'm proud to be part of that."
From the worlds of Doctor Who, The Eighth of March is available for pre-order now ahead of its release on International Women's Day, 8th March 2019, at £25 on CD or £20 on download from Big Finish. It will remain at this price until general release at the end of April 2019, when it will be available for £30 on CD or £25 on download.