We love StoriesBig Finish produce great full-cast audio drama for CD and download, featuring many popular television fantasy series.
28 April 2017
With just a couple of days left in the month, the frozen pre-release on some recent special Doctor Who titles are about to end...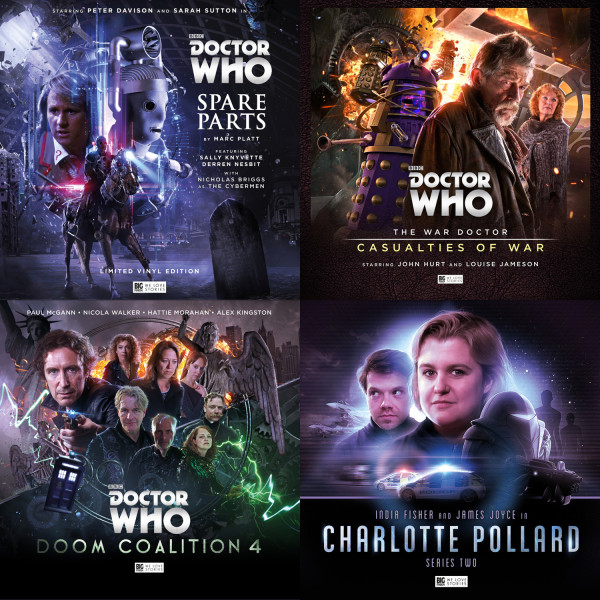 Big Finish Listeners are the first to get access to almost all of our new releases, along with enjoying pre-order discounts and exclusive digital access on CD orders. However, eventually these titles have to go on general release, or those special pre-order prices come to an end, and sometimes both. Today there's a heads-up on four popular titles which change price when we start the new month:
Doctor Who - Spare Parts (Limited Vinyl Edition) is our deluxe collector's edition of Marc Platt's scary, powerful and poignant origins of the Cyberman story for the Fifth Doctor (Peter Davison) and Nyssa (Sarah Sutton). Indie Mac User's review concludes: "...What a great story and a wonderful collector's item. I give it a 10/10". Currently available for £79, this will be £89 from May 1st - although this title will remain a Big Finish exclusive:
Charlotte Pollard - Series 2 brought India Fisher's Charley Pollard back to Big Finish for new adventures alongside James Joyce and Dan Starkey: "...a thrilling adventure that proves Charley has what it takes to go on even without the Doctor at her side. 9/10" says Blogtor Who. After this month, this release which is currently available at £20 on Download and £25 on CD will go up by £5 in both formats:
Doctor Who - The War Doctor Series 4: Casualties of War was Sir John Hurt's final portrayal of the War Doctor, in a set also combining the talents of Louise Jameson, Jacqueline Pearce and Nicholas Briggs: "Big Finish had the opportunity to make these sets and they ran with it. Casualties of War is a fitting end to their War Doctor series. Expertly acted, lovingly written, and it ends the story where it began for all of us in 2013, 10/10 " concluded We Are Cult's review. The pre-order price for the set was £20 on either format, but from May this becomes £25 on Download and £30 on CD:
And finally, another series of adventures came of a close with the fourth and final Doctor Who - Doom Coalition set, starring Paul McGann, Alex Kingston, Nicola Walker, Hattie Morahan, Rufus Hound and Mark Bonnar.
Starburst Magazine's review observed: "All in all, Doom Coalition 4 is a great success for Big Finish, as is Doom Coalition as a whole – an epic story told across sixteen episodes, with each episode contributing to the arc while standing out on its own. It's also given us more of Paul McGann's excellent Doctor alongside two complex and likeable companions who've believably grown across the series. TV Doctor Who could learn a lot from it. 9/10".
Originally (and still) on sale for £20 in either format, there are just two more days before it goes to £35 on Download and £40 on CD: