We love StoriesBig Finish produce great full-cast audio drama for CD and download, featuring many popular television fantasy series.
The Fourth Doctor on vinyl
2 August 2019
A complete list of the stores stocking the vinyl version of The Fourth Doctor Adventures - Wave of Destruction.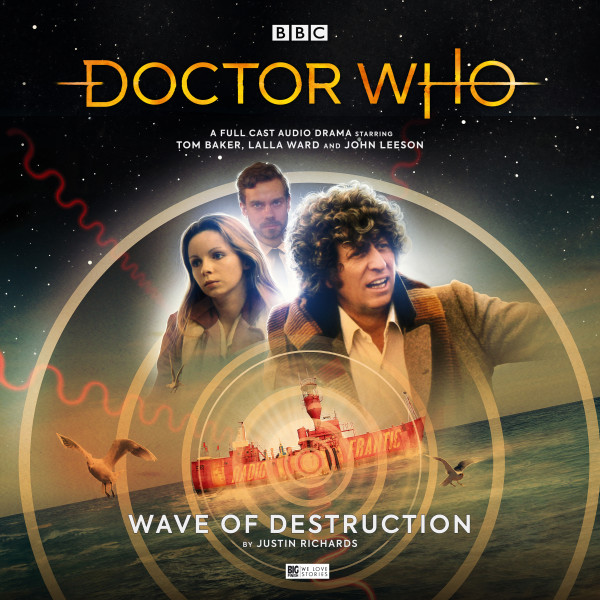 Good luck, vinyl hunters!
| | | |
| --- | --- | --- |
| Town | Store Address | Postcode |
| Aberdeen | Berryden Retail Park | AB25 3SA |
| Alnwick | Willowburn Avenue | NE66 2JH |
| Alton | Draymans Way | GU34 1SS |
| Armagh | The Mall West | BT61 9AJ |
| Arnold | Sir John Robinson Way | NG5 6BN |
| Ashbourne | Coopers Mill | DE6 1DA |
| Ashford | Simone Weil Avenue | TN24 8YN |
| Ashton Under Lyne | 2 Lord Sheldon Way | OL6 7TE |
| Attleborough | High Street | NR17 2EH |
| Aylesford | Mills Road | ME20 7NA |
| Balham | 149 - 151 Balham High Road | SW12 9AU |
| Ballymena | Unit 1 Braid Water Retail Park | BT42 3AG |
| Banbury | Oxford Road | OX16 9XA |
| Bangor | Balloo Retail Park Balloo Link | BT19 7HJ |
| Barkingside | 92 - 100 Tanners Lane | IG6 1QE |
| Barnstaple | Roundswell District Centre | EX31 3NH |
| Basildon | Cricketers Way | SS13 1SA |
| Basingstoke | Wallop Drive | RG22 4TW |
| Bath | Green Park Station | BA1 2DR |
| Bath | Frome Road | BA2 5RE |
| Beckton | 1 Claps Gate Lane | E6 6JF |
| Bedford | 90 Clapham Road | MK41 7PJ |
| Belfast | Unit 14A Forestside Shopping Centre | BT8 6FX |
| Belfast | Airport Road | BT3 9EJ |
| Belfast | Kennedy Centre | BT11 9AE |
| Benfleet | 21 Stadium Way | SS7 3NZ |
| Bicester | 23 Crown Walk | OX26 6HY |
| Biddulph | New Wharfe Road | ST8 7PJ |
| Biggleswade | Bells Brook | SG18 0NA |
| Birkenhead | 342A Woodchurch Road | CH42 8PQ |
| Birmingham | 1059 Alcester Road South | B14 5TN |
| Birmingham | 545 Stratford Road | B90 4AJ |
| Birmingham | 30 Mere Green Road | B75 5BT |
| Birmingham | 2 High Street | B31 2UQ |
| BISHOP AUCKLAND | St Helen Auckland | DL14 9SX |
| Bishops Stortford | 1 The Thorley Centre | CM23 4EG |
| Bishops Stortford | 16 Jackson Square Shopping Centre | CM23 3XQ |
| Blackpole | Windermere Drive | WR4 9JN |
| Blackpool | Redbank Road | FY2 9HH |
| Blackpool | Talbot Road | FY1 3AJ |
| Bognor Regis | Shripney Road | PO22 9NF |
| Bolton | Cricketers Way | BL5 3RD |
| Bolton | Trinity Street | BL3 6DH |
| Bourne | Exeter Road | PE10 9NJ |
| Bournemouth | Castle Lane West | BH8 9UW |
| Bracknell | 7 Princess Square | RG12 1LS |
| Bracknell | Ringmead | RG12 7SS |
| Bradford | 760 Harrogate Road | BD10 0QF |
| Braintree | 1 Tofts Walk | CM7 1XH |
| Brentwood | 51 William Hunter Way | CM14 4WQ |
| Bretton | Flaxland | PE3 8DA |
| Bridgend | Yr Dderwen | CF32 9ST |
| Bridgnorth | Whitburn Street | WV16 4QN |
| Bridgwater | The Clink | TA6 4AB |
| Brighton | 361 - 367 Old Shoreham Road | BN3 7GD |
| Bristol | 13 Kingschase Shopping Centre | BS15 8LP |
| Bristol | Emersons Way | BS16 7AE |
| Bristol | 111 Winterstoke Road | BS3 2NS |
| Bristol | Fox Den Road | BS34 8SS |
| Bristol | 48-56 Queens Road | BS8 1RE |
| Bromley | Pallant Way | BR6 8NZ |
| Bude | Crooklets Road | EX23 8ND |
| Burnley | Active Way | BB11 1BS |
| Burton On Trent | Union Street | DE14 1AA |
| Bury St Edmunds | Bedingfeld Way | IP32 7EJ |
| Calne | The Pippin | SN11 8JG |
| Camberley | Blackwater Valley Road | GU15 3YN |
| Cambridge | Brooks Road | CB1 3HP |
| Camden | 17-21 Camden Road | NW1 9LJ |
| Cannock | Orbital Centre | WS11 8XP |
| CANVEY ISLAND | Furtherwick Road | SS8 7AD |
| Cardiff | Colchester Avenue | CF23 9XN |
| Cardiff | Excalibur Drive | CF14 9BB |
| Carlisle | Church Street | CA2 5TF |
| Carrickfergus | 1 Rogers Quay | BT38 8BE |
| Castle Vale | Chester Road | B35 6HB |
| Chafford Hundred | Burghley Road | RM16 6YJ |
| Chatham | 68-72 The Pentagon Centre | ME4 4HP |
| Cheadle | Wilsmlow Road. | SK8 3BB |
| Chelmsford | 2 White Hart Lane | CM2 5PA |
| Cheltenham | Tewkesbury Road | GL51 9RR |
| Chesham | Elgiva Lane | HP5 2YA |
| Chester | Caldy Valley Road | CH3 5QJ |
| Chesterfield | Rother Way | S41 0UB |
| Chichester | Westhampnet Rd | PO19 7YR |
| Chingford | 11 Walthamstow Avenue | E4 8ST |
| Chippenham | Bath Road | SN14 0BJ |
| Christchurch | 1 Lyndhurst Road | BH23 4RY |
| Clitheroe | Moor Lane | BB7 1BE |
| Cobham | Bridge Way | KT11 1HW |
| Colliers Wood | 1 Merton High Street | SW19 1DD |
| Colne | Grove Mills | BB8 9JH |
| Coventry | 330 Fletchampstead Highway | CV4 9BJ |
| Coventry | Austin Drive | CV6 7NS |
| Craigavon | 1 Rushmere Shopping Centre | BT64 1AA |
| Cramlington | Dudley Court | NE23 6RT |
| Cranleigh | 144 - 158 High Street | GU6 8RF |
| Crawley | Crawley Avenue | RH10 8NF |
| Croydon | 2 Trafalgar Way | CR0 4XT |
| Darlington | 150 Victoria Road | DL1 5JG |
| Dartford | Stadium Way | DA1 4HW |
| Dartford | Priory Center | DA1 2HS |
| Darwen | Hardman Way Darwen | BB3 2AD |
| Dawlish | Shutterton Bridge | EX7 0NH |
| Deal | 36 - 38 West Street | CT14 6AH |
| Derby | The Sidings | DE21 6NZ |
| Derby | 1 Peak Drive | DE24 8EB |
| Derby | Copecastle Square | DE1 2AZ |
| Devizes | Monday Market Street | SN10 1DN |
| Didcot | The Orchard Centre | OX11 8RG |
| Doncaster | Thorne Road | DN2 5PS |
| Dronfield | Wreakes Lane | S18 1PN |
| Drumchapel | 20 - 22 Allerdyce Drive | G15 6RX |
| Dundee | Baldovie Road | DD4 8UG |
| Dungannon | Oaks Centre | BT71 4NA |
| Dunstable | 2 - 8 Luton Road | LU5 4RF |
| Durham | Arnison Retail Centre | DH1 5GD |
| Dursley | Castle Street | GL11 4BS |
| East Dulwich | 80 Dog Kennel Hill | SE22 8BB |
| East Grinstead | Brooklands Way | RH19 1DD |
| East Kilbride | 3 Kinsgate Retail Park | G74 4UN |
| East Kilbride | 120 Olympia Centre | G74 1LX |
| Eastbourne | Broadwater Way | BN22 9PW |
| Edinburgh | Cameron Toll Shopping Centre | EH16 5PB |
| Edinburgh | 185 Craigleith Road | EH4 2EB |
| Edinburgh | 9 -10 St Andrews Square | EH2 2AF |
| Edinburgh | 39 Westfield Road | EH11 2QW |
| Ellesmere Port | Kinsey Road | CH65 9HN |
| Eltham | 1A Phiiport Path | SE9 5DL |
| Ely | Lisle Lane | CB7 4AS |
| Enfield | 3 Crown Road | EN1 1AJ |
| Epsom | Kiln Lane | KT17 1EQ |
| Exeter | 1 Hill Barton Road | EX1 3PF |
| Exeter | Alphington Road | EX2 8NH |
| Fareham | Wallington Way | PO16 8SU |
| Farnborough | 6 Queensmead | GU14 7AL |
| Farnham | Water Lane | GU9 9NJ |
| Ferndown | 597 Ringwood Road | BH22 9AL |
| Folkestone | Park Farm Industrial Estate | CT19 5GA |
| Folkestone | 5 Bouverie Road West | CT20 2RX |
| Frome | Wessex Fields | BA11 4DH |
| Gateshead | Eleventh Avenue | NE11 0JY |
| Gillingham | Hempstead Valley Shopping Centre | ME7 3PB |
| Glasgow | 10 Darnley Mains Roadand | G53 7RH |
| Gloucester | Barnett Way | GL4 3RT |
| Gloucester | St Ann Way | GL2 5SA |
| Godalming | Woolsack Way | GU7 1LQ |
| Golden Way | Unit 24 | M41 0NA |
| Grantham | London Road | NG31 6HJ |
| Great Yarmouth | St Nicholas Road | NR30 1NN |
| Grimsby | Corporation Road | DN31 1UF |
| Guildford | Clay Lane | GU4 7JU |
| Halifax | Wade Street | HX1 1SB |
| Hampton | 303 Uxbridge Road | TW12 1AW |
| Harlow | Fith Avenue | CM20 2AG |
| Harringay | Williamson Road | N4 1UJ |
| Harrogate | Wetherby Road | HG2 8QZ |
| Hastings | John Macadam Way | TN37 7SQ |
| Haverhill | Haycocks Road | CB9 7YL |
| Hayes | Lombardy Retail Park | UB3 3EX |
| Haywards Heath | Market Place | RH16 1DG |
| Hazel Grove | 33 London Road | SK7 4AW |
| Heaton | Heaton Park Road | M9 0QS |
| Hedon | Hull Road | HU12 8DJ |
| Hemel Hempstead | London Road | HP3 9QZ |
| Hendon | Unit 4 Hyde Estate Road | NW9 6JX |
| Hereford | Barton Yard | HR4 0AG |
| High Wycombe | Oxford Road | HP11 2DN |
| HINCKLEY | 20 Rugby Road | LE10 0QD |
| Hoddesdon | Brewery Road | EN11 8HF |
| Hornchurch | 95 - 101 Highand Street | RM11 1TX |
| Horsham | 7 Worthing Road | RH12 1SQ |
| Huddersfield | Southgate | HD1 6QR |
| Huddersfield | 22 - 24 Market Street | HD1 2ET |
| Hull | Sainsbury Way | HU13 9NS |
| Huntingdon | St Germain Walk | PE29 3FG |
| Hythe | Military Road | CT21 5BH |
| Ilford | 55 Roden Street | IG1 2AA |
| Ipswich | Felixstowe Road | IP3 8TQ |
| Ipswich | 40 Hadleigh Road | IP2 0BX |
| Ipswich | 38/40 Upper Brook St | IP4 1DR |
| Irvine | Ayr Rd | KA12 8BH |
| Islington | 31 - 41 Liverpool Road | N1 0RW |
| Keighley | Cavendish Street | BD21 3RU |
| Kempston | 252 - 274 Bedford Rd | MK42 8AY |
| Kendal | Kendal Rugby Club | LA9 6DL |
| Kenton | Kenton Road | HA3 0BU |
| Kidbrooke Village | Unit 3, 13 Peglar Square | SE3 9FW |
| Kidderminster | 2 Carpet Trades | DY11 6XP |
| Kidlington | 289 Oxford Road | OX5 2PE |
| Kimberley | Main Street | NG16 2LY |
| Kings Lynn | 15 - 23 St Dominics Square | PE30 1DS |
| Kings Lynn | Hardwick Ind Est | PE30 4LR |
| Kirkcaldy | Fife Retail Park | KY2 6TS |
| Ladbroke Grove | 2 Canal Way | W10 5AA |
| Lancaster | Cable Street | LA1 1HH |
| Leeds | White Rose Shopping Centre | LS11 8LS |
| Leeds | Stile Hill Way | LS15 9JA |
| Leeds | Moor Allerton Centre | LS17 5NY |
| Leek | Macclesfield road | ST13 8LD |
| Leicester | Grove Farm Triangle | LE19 1WT |
| Leicester | 501 Melton Road | LE4 7SJ |
| Leigh | Leigh Altherleigh Way | WN7 5SJ |
| Letchworth Garden City | 3Rd~Avenue | SG6 2HX |
| Leven | Riverside Road | KY8 4PS |
| Lincoln | Tritton Road Lincoln | LN6 7QN |
| Linlithgow | Gallowsknowe | EH49 7PE |
| Liphook | Midhurst Road | GU30 7TW |
| Lisburn | Sprucefield Park | BT27 5UJ |
| Liverpool | 112 East Prescot Road | L14 5PT |
| Liverpool | Cavandish Drive | L9 1NL |
| Livingston | Almondvale Retail Park | EH54 6RQ |
| Loanhead | Straiton Mains | EH20 9PW |
| London | 1 Cooke Close | SE2 9BW |
| London | Charlton Riverside Place | SE7 7FA |
| London | 27 Townmead Road | SW6 2GD |
| London | 62 Wandsworth Road | SW8 2LF |
| Londonderry | Meadowbank | BT48 7TL |
| Loughton | Old Station Road | IG10 4PE |
| Luton | 34 Dunstable Road | LU1 1DY |
| Luton | Quantock Rise | LU3 4AB |
| Macclesfield | 61 Cumberland Street | SK10 1BJ |
| Maidenhead | Lake End Road | SL6 0QH |
| Maidstone | Romney Place | ME15 6SF |
| Manchester | Oldham Road | M34 3SJ |
| Manchester | 347 Wilmslow Road | M14 6SS |
| Mansfield | Nottingham Road | NG18 1BW |
| March | Millview | PE15 8SY |
| Market Harborough | Springfield Street | LE16 7DR |
| Matlock | Cawdor Quarry | DE4 3SP |
| Melksham | Bath Road | SN12 6LL |
| MELTON MOWBRAY | Nottingham Road | LE13 0UL |
| MILDENHALL | Recreation Way | IP28 7HG |
| Milton Keynes | 799 Witan Gate | MK9 2NW |
| MORECAMBE | Christie Park | LA4 5TJ |
| Nairn | Balmakeith Retail Park | IV12 5QW |
| Nantwich | Middlewich Road | CW5 6PH |
| Newbury | Kings Road | RG14 5AB |
| Newcastle Under Lyme | Liverpool Road | ST5 2SJ |
| Newcastle Upon Tyne | Etherston Avenue | NE7 7JW |
| Newhaven | Newhaven Harbour | BN9 0AG |
| Newport | 3 Foxes Road | PO30 5ZB |
| Newport | Newbridge Industrial Estate | NP12 2AN |
| Newport | Albany Street | NP20 5NG |
| Newquay | Fore Street | TR7 1NF |
| Newry | The Quays | BT35 8QS |
| Newton Abbot | Keyberry Road | TQ12 1BN |
| North Cheam | 566 London Road | SM3 9AA |
| North Walsham | Bacton Road | NR28 0DB |
| Northampton | 20 Gambrel Road | NN5 5DG |
| Northfield | Frankly Beeches Road | B31 5AA |
| Northfleet | Wingfield Bank | DA11 8JH |
| Northwich | Venables Road | CW9 5RT |
| Norwich | 1 Brazen Gate | NR1 3RX |
| Norwich | Pound Lane | NR7 0SR |
| Norwich | William Frost Way | NR5 0JS |
| Nottingham | Castle Bridge Road | NG7 1GX |
| Nuneaton | Vicarage Street | CV11 4XS |
| Oldbury | Freeth Street | B69 3DB |
| Oldham | 60 Union Street | OL1 1DJ |
| Oswestry | Blackgate Street | SY11 2EF |
| Oxford | Heyford Hill Store | OX4 4XR |
| Paignton | Brixham Road | TQ4 7PE |
| Penrith | Southend Road | CA11 7HA |
| Penzance | Eastern Green | TR18 3AP |
| Peterborough | 116 Oxney Road | PE1 5NG |
| Plymouth | Plymouth Road | PL3 6RL |
| POCKLINGTON | South West Side Of The Balk | YO42 2GG |
| Pontypridd | Brown Lennox Retail Park | CF37 4DA |
| Poole | 4 Alder Park | BH12 4BA |
| PORTISHEAD | Serbert Way | BS20 7GA |
| Portsmouth | Fitzherbert Road | PO6 1RR |
| Portsmouth | 315 Commercial Road | PO1 4BS |
| Preston | Flintoff Way | PR1 6PJ |
| Preston | Cuerden Way | PR5 6BJ |
| Prestwick | Ayr Road | KA9 1TR |
| Ramsgate | Thanet Westwood Cross | CT12 5FJ |
| Reading | Bath Road | RG31 7SA |
| Redditch | Abbey Retail Park | B97 6RF |
| Renfrew | Unit J Braehead Retail Park | G51 4BT |
| Rhyl | Rhuddlan Road | LL18 2TP |
| Ripley | Nottingham Road | DE5 3QP |
| Ripon | 5 Market Place | HG4 1BP |
| Romford | 1 - 15 The Brewery | RM1 1AU |
| Rowley Regis | Halesowen Street | B65 0HF |
| Rugby | 385 Dunchurch Road | CV22 6HU |
| Salford | 100 Regent Road | M5 4QU |
| Salisbury | 33 The Maltings | SP1 1BD |
| Scarborough | Gallows Close | YO12 5EA |
| Scunthorpe | The Old Showground | DN15 7RQ |
| SELBY | 18 Abbey Walk | YO8 4DZ |
| Selly Oak | 12 Selly Oak Shopping Park | B29 6SQ |
| Sevenoaks | Otford Road | TN14 5EG |
| Sheffield | Archer Road | S8 0TD |
| Sheffield | Lower Mall | S20 7PQ |
| Sheffield | Claywheels Lane | S6 1LY |
| Sherborne | Ludbourne Road | DT9 3ND |
| Shrewsbury | Meole Brace Retail Park | SY3 9NB |
| Sittingbourne | Roman Square | ME10 4DN |
| Slough | Uxbridge Road | SL1 1SW |
| Solihull | 11 Poplar Way | B91 3BX |
| South Norwood | 122 Whitehorse Lane | SE25 6XB |
| Southampton | 1 District Centre | SO16 8HY |
| Southampton | Tollbar Way | SO30 2UH |
| Southampton | 414 Bitterne Road | SO18 5RS |
| Southampton | 1 Redcarr Street | SO15 5LL |
| Southampton | Portswood Road | SO17 2LB |
| Southend On Sea | 45 London Road | SS1 1PL |
| Spalding | Holland Market Retail Park | PE11 1DA |
| St Albans | Barnet Road | AL2 1BG |
| St Albans | Everard Close | AL1 2QU |
| Stafford | Chell Road | ST16 2TF |
| Stanway | 1 Western Approach | CO3 8RH |
| Stevenage | Poplars | SG2 7DU |
| Stevenage | Hitchin Road | SG1 4AE |
| Stirling | Drip Road | FK8 1RA |
| Stockton On Tees | Bishopton Road West | TS19 0QB |
| Stoke On Trent | Etruria Road | ST1 5SA |
| STOKE-ON-TRENT | Minton House | ST4 7QD |
| Stourbridge | Sandringham Way | DY5 3JR |
| Street | Gravechon Way | BA16 0HS |
| Stroud | Dudbride Road | GL5 3HG |
| Sudbury | 66 Cornard Road | CO10 2XB |
| Sunderland | Silksworth Lane | SR3 1PD |
| Sunderland | Riverside Road | SR5 3JG |
| Sutton | 287A High Street | SM1 1LD |
| Swadlincote | Civic Way | DE11 0AD |
| Swansea | Quay Parade | SA1 8JA |
| Swindon | Ashwoth Road | SN5 7AA |
| Swindon | Oxford Road | SN3 4EW |
| Swindon | 4 Brunel Plaza | SN1 1LF |
| Sydenham | Southend Lane | SE26 4PU |
| TADLEY | 30A Mulfords Hill | RG26 3JE |
| Tamworth | Bonehill Road | B78 3HD |
| Taunton | Billet Street | TA1 3NE |
| Taunton | Heron Gate | TA1 2LR |
| Telford | Telford Forge Retail Park | TF3 4AG |
| Thetford | London Road | IP24 3QL |
| Tonbridge | Angel Centre | TN9 1SF |
| Torquay | Nicholson Road | TQ2 7HT |
| Tottenham | 28-48 Northumberland Park | N17 0TX |
| Trowbridge | Conigre | BA14 8PB |
| Truro | Treyew Road | TR1 3XL |
| Tunbridge Wells | Linden Park Rd | TN2 5QL |
| Victoria | 99 Wilton Road | SW1V 1DT |
| Wakefield | Lower Trinity Walk | WF1 1QQ |
| Wakefield | 50 Ings Road | WF1 1RS |
| Wallington | 2 Stafford Road | SM6 9AA |
| Walsall | Reedswood Way | WS2 8XA |
| Walthamstow | 112 High Street | E17 7JY |
| Walton On Thames | 53 New Zealand Avenue | KT12 1AD |
| Wandsworth | 45 Garrett Lane | SW18 4AD |
| Wantage | Limborough Road | OX12 9AJ |
| Warlingham | 631 Limpsfield Road | CR6 9DY |
| Warrington | 100 Church Street | WA1 2TN |
| Warwick | Shires Retail Park | CV34 6RH |
| Washington | Galleries Shopping Centre | NE38 7RU |
| Waterloovile | Hambledon Road | PO7 7UL |
| Wednesfield | Rookery Street | WV11 1UP |
| Wellingborough | 260 Northampton Road | NN8 3GZ |
| Welwyn Garden City | 44 Church Road | AL8 6PS |
| West Sussex | New Road | BN16 3RT |
| West Wickham | 163-164 Wickham High Street | BR4 0LU |
| Weston Super Mare | North Worle Centre | BS22 6BL |
| Weymouth | Mercery Road | DT3 5HJ |
| Whitby | Stainsacre Lane | YO22 4NL |
| Whitchurch | London Road | SY13 1LW |
| Whitechapel | 1 Cambridge Heath Road | E1 5SD |
| Whitley Bay | Newsteads Drive | NE25 9EX |
| Whitstable | Reeves Way | CT5 3QS |
| Wigan | Worthington Way | WN3 6XE |
| Wimbledon | 8-12 Worple Road | SW19 4DD |
| Winchester | 1 Badger Farm Road | SO22 4QB |
| Wirral | Upton By Pass | CH49 5LW |
| Witney | Witan Way | OX28 4FF |
| Woking | Redding Way | GU21 2QT |
| Wokingham | King Street Lane | RG41 5AR |
| Wolverhampton | St Marks | WV3 0TE |
| Wombourne | Heathmill Lane | WV5 8AP |
| Worcester | Worcester St Johns | WR2 4EL |
| Worksop | Highground Road | S80 3AT |
| Worthing | Downslands Business Park | BN14 9LA |
| Wrexham | Plas Coch Road | LL11 2BW |
| York | Monks Cross | YO32 9LG |