For The Love Of StoriesBig Finish produce fantastic full-cast audio dramas for CD and download.
The Ninth Doctor is on Red Alert!
8 February 2023
The Ninth Doctor goes up against the Vashta Nerada in a brand-new box set of frightful Doctor Who full-cast audio adventures, released today by Big Finish Productions.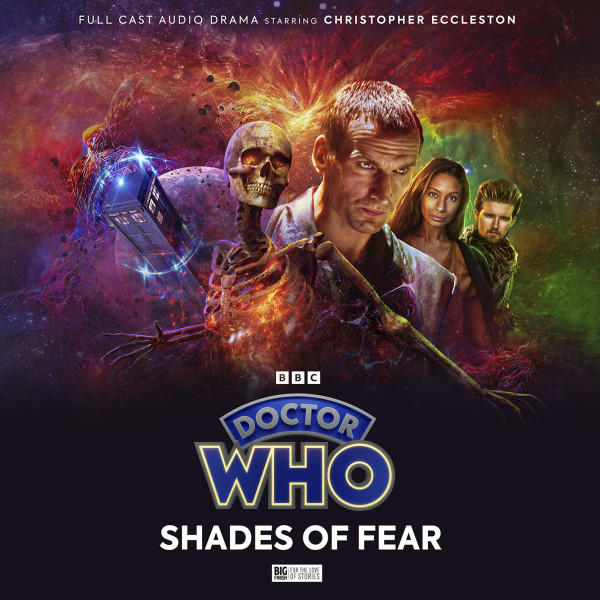 Starring Christopher Eccleston, Shades of Fear is the final box set of The Ninth Doctor Adventures series two and features the ravenous hunters, the Vashta Nerada (as first featured in the unforgettable 2008 TV episode, Silence in the Library).
Two other spine-chilling tales find possessive plants attacking 1920s aristocrats and a powerful source, known as the Virmeen, manipulating the colour red to cause havoc...
Doctor Who – The Ninth Doctor Adventures: Shades of Fear is now available to own for just £24.99 (collector's edition CD box set + download) or £19.99 (download only), exclusively here.
The legendary comedian and actor Frank Skinner guest stars (as Pete) alongside Susan Penhaligon (as Mrs Bevell), Harki Bhambra (as Doyle), Laura Rollins (as Cath), Adam Martyn (as Callen Lennox) and founding member of the Olivier Award-winning Mischief Theatre, Dave Hearn (as Toby Entwistle).
Alien threats come in many forms - and many different hues. A charity shop where customers vanish, a 1920s gentleman's club besieged by giant plants, and a distant colony planet where death hides in darkness - wherever they manifest, the Doctor is on hand to fight every shade of fear...
The fearsome adventures are as follows:
The Colour of Terror by Lizzie Hopley
Mrs Bevell wants to keep the star rating for her charity shop at any cost – but why does she stock so many items of one particular shade?
When West Morebry residents start to notice disappearances, the Doctor assembles a motley band to do battle... with the colour red!
Lizzie Hopley said: "I was so thrilled to be asked to write another story for Christopher Eccleston. I decided to put something that challenged me sci-fi wise – that wasn't so much based on character and plot as it was a sci-fi concept. I decided to go into spectrums and do a lot of research on wavelength."
The Blooming Menace by James Kettle
Toby Entwhistle and his bachelor chums in the Fellows Club are falling victim to a plague – of marriage!
The chaps are all besotted by giant flowers – but Toby's new valet seems to know what's going on. The Doctor could be London's only hope...
James Kettle said: "It's still an amazing treat to have Christopher Eccleston performing my words. The fact that this is the third I've written for him doesn't make me blasé at all.
"I love that Doctor Who fuses together unlikely things to make stories and The Blooming Menace is a fusing of delightful drawing room comedies with catastrophic sci-fi."
Red Darkness by Roy Gill
The sunlight from Solis Kailya could revolutionise colony farming. While his mother researches its properties, Callen and his seeing (and talking!) dog Doyle meet a new arrival – and discover an impending threat...
The Vashta Nerada are closing in, and they are not alone.
Roy Gill said: "The Vashta Nerada are a really good example of one of Steven Moffat's great skills as a Doctor Who writer which is to take an elemental, instinctual childhood fear and weaponise that as a monster. There's something very overwhelming about the way they attack – the suddenness and voracity of it. When they come for you, that's pretty much it.
"When you're using an established monster there's a responsibility both to trying to do something a little bit different with it and not undermine the existing story."
All four volumes of The Ninth Doctor Adventures series two are available to purchase together in a bundle for just £88 (collector's edition CD box set + download) or £78 (download only).
Doctor Who – The Ninth Doctor Adventures triple LP vinyls can be ordered at £35.99 each or £132 for the bundle of all four albums and are strictly limited to a pressing of 1,000 per volume. Please note: the vinyl editions do not include any behind-the-scenes extras. However, listeners purchasing vinyl LP editions will receive a download of the story automatically and be given access to the CD edits as a bonus download. Episodes will be edited specifically for the vinyl format, presented as 2 episodes, one on each side, each with opening and closing music. All pre-orders of the vinyl will also receive the behind the extras as a bonus download.
All the above prices include the special pre-order discount and are subject to change after general release.
Big Finish is currently operating a digital-first release schedule. The mail-out of collector's edition CDs may be delayed due to factors beyond our control, but all purchases of this release unlock a digital copy that can be immediately downloaded or played on the Big Finish app from the release date.