For The Love Of StoriesBig Finish produce fantastic full-cast audio dramas for CD and download.
The Quantum Possibility Engine
16 October 2018
The latest release in the Doctor Who Main Range is out today. In The Quantum Possibility Engine the Doctor and Ace face the ultimate betrayal and the fate of the universe lies in Narvin relying on the Doctor to defeat one of the biggest threats to the web of time†¦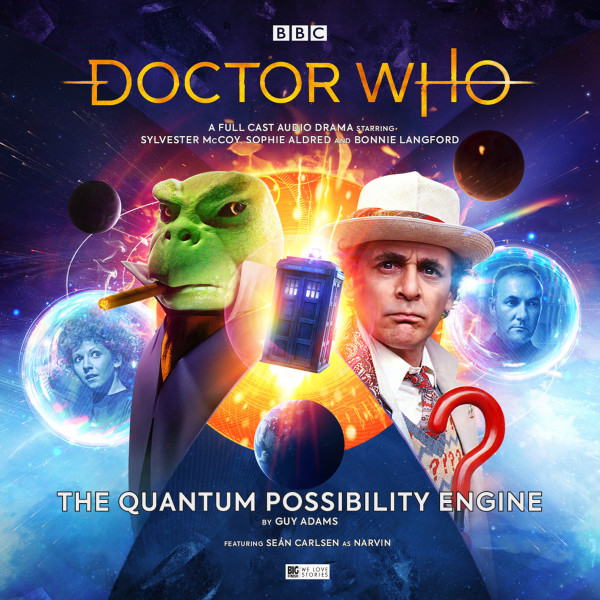 Doctor Who – The Quantum Possibility Engine is out now.
The Doctor and Ace are locked up. The TARDIS is gone. Things just couldn't get worse, could they?
Of course they could. Things can always get worse — the new President of the Solar System, Josiah W Dogbolter, didn't get where he is in life without learning that. That's why he has a Quantum Possibility Engine. It's a wonderful machine, creating a wonderful Solar System. And with this wonderful device, he can bring happiness and peace to all.
Possibly.
Either that or tear the universe to shreds, it's hard to be sure which.
Writer, Guy Adams told us more in July's edition of Vortex: "The Quantum Possibility Engine is all about making the Solar System great again. The new president has brought peace and prosperity – does it really matter how he achieved it? Especially if he can manage to avoid the war that's about to tear the worlds apart.
"It's a story I very much enjoyed writing. Hopefully it feels very much like a Seventh Doctor tale, bubbling with fun and pace and comedy and yet, underneath..."
Doctor Who – The Quantum Possibility Engine is available now at £14.99 on CD or £12.99 on download. All CD purchases unlock a download option via the Big Finish app and the Big Finish website.
Or you can save money by getting a subscription to the Doctor Who Main Range. When you subscribe you'll get 30% off the price, free specially recorded Short Trips stories, PDFs of the scripts, and extended downloadable extras. You can subscribe for either 6 or 12 releases.
Coming out next month in the Doctor Who Main Range is the concluding chapter in our UNIT Trilogy, following on from this year's The Helliax Rift and Hour of the Cybermen. Elizabeth Klein returns and all of UNIT's secrets will be revealed…
It's time the truth was told. About UNIT. About the Cybermen invasion. About the so-called 'Doctor'. About what happened all those years ago, at Warlock's Cross. About the man they keep locked up in a cage, in a secret prison…
It's time. Because UNIT scientific adviser Elizabeth Klein is going to help ensure the truth is brought to light.
Today's the day… that UNIT falls.