For The Love Of StoriesBig Finish produce fantastic full-cast audio dramas for CD and download.
26 May 2022
The Chenka sisters are back! The penultimate box set of the highly-acclaimed 18-part audio saga, The Robots, is released today by Big Finish Productions.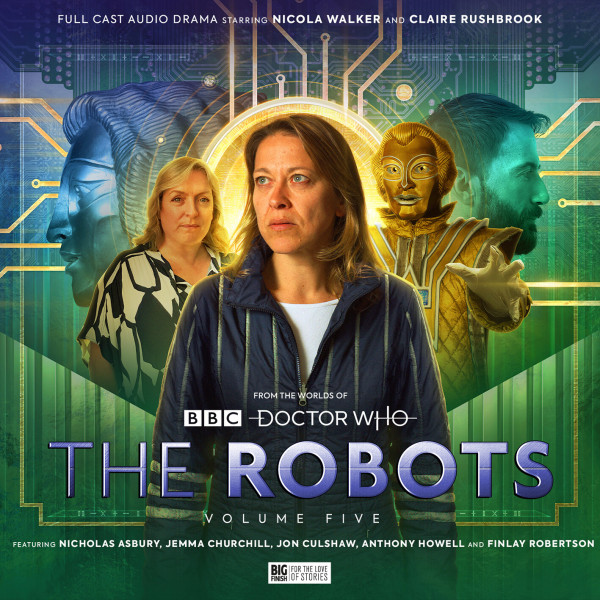 During her break from the TARDIS, Liv Chenka (Nicola Walker) tries desperately to forge a relationship with her sister Tula (Claire Rushbrook). But the political climate of their home planet, Kaldor, doesn't make this easy.
As technology continues to advance rapidly, the all-powerful Company begin implanting security chips in member's brains and, to Liv's horror, Tula is first in line!
The Robots: Volume 5 is now available to own as a collector's edition 3-disc CD box set (+ download for just £19.99) or a download only (for just £16.99), exclusively here.
Anthony Howell returns as robotics scientist Volar Crick, alongside Sarah Lambie as Chief Robots Officer Graf Kirran, and Jon Culshaw voices Sorkov — a robotic reincarnation of Kiy Uvanov from 1977's Doctor Who TV story The Robots of Death.
The star-studded ensemble cast also includes Paul Bazely (The Ipcress File, Benidorm), Jemma Churchill (Doctor Who, Alma's Not Normal), Nicholas Asbury (Chewing Gum, Why Didn't They Ask Evans?) Yasmin Mwanza (Spider-Man: Far from Home), and Finlay Robertson (Unforgotten).
During the events of Doctor Who: Ravenous 2, Liv Chenka left the Doctor and the TARDIS behind. Just for one year. A year during which she would live on Kaldor, and get to know her sister Tula all over again.
But Kaldor is going through a period of tumultuous change. Technology is changing at an advanced rate –the robots are evolving, artificial intelligence is adapting, and with these changes so politics is altering too. Dangerously.
Can Liv and Tula make a difference during the most turbulent time in the world's history?
The three action-packed adventures in this box set are as follows:
The Enhancement by Aaron Douglas
The Enhancement chips are the next stage of personal security for the citizens of Kaldor - and following her experiences with identity theft, no-one is keener to get involved with them than Tula.
Liv, however, has other concerns. The Sons of Kaldor have been suspiciously quiet. But is this something to be worried about? Or is the true threat much closer to home?
Machines Like Us by Phil Mulryne
Kador Arris of the founding families used to work for the Company - but now he's on the outside and demanding greater accountability.
His populist plans are gaining momentum - but also gaining him enemies. A terrifying conspiracy is underway - and only Liv and Tula are in a position to stop it.
Kaldor Nights by Tim Foley
Kaldor Nights is the most popular reality TV series on the planet… and it now has two new people on set.
As danger approaches outside, Liv and Tula are there to ensure sure the show must go on. Because it's just TV isn't it? There can't be anything sinister going on… can there?
Nicola Walker said: "I love these scripts. There's a really great build-up through all three episodes. These stories explore the concept of AI invading our lives slowly and look at a heightened version of where that could take us. The brilliant thing about the Doctor Who world is that it's always taken to real extremes — it's quite philosophical and asks big questions.
"It seems to me that Liv's obsession in these stories is about trust. Ultimately, there is only one person she can completely trust and that's her sister — it's becoming clearer as the stories go on. They're getting closer and closer. It's quite beautiful actually.
"I think Tula is really starting to understand what it means to be a Company woman and I think Liv has pulled Tula over to her more revolutionary side."
Claire Rushbrook added: "The script is so pertinent to today. There are parallels [to reality] all over the place with suspicions about the insidious possibilities of being manipulated by larger forces. People are not happy to accept the surface truth and perhaps don't have trust — which they want to explore more."
The Robots: Volume 5 is now available to own for just £19.99 (collector's edition CD box set + download) or £16.99 (download only), exclusively from the Big Finish website. Volume 6 is also available to pre-order at the same price.
Big Finish listeners can save money by purchasing volumes 5 and 6 of The Robots together in a bundle for just £38 (collector's edition CD + download) or £33 (download only).
All the above prices include the special pre-order discount and are subject to change after general release.
Please note that Big Finish is currently operating a digital-first release schedule. The mail-out of collector's edition CDs may be delayed due to factors beyond our control, but all purchases of this release unlock a digital copy that can be immediately downloaded or played on the Big Finish app from the release date.