For The Love Of StoriesBig Finish produce fantastic full-cast audio dramas for CD and download.
Thirteenth Doctor Special Offers Week 9
2 December 2018
Now that Doctor Who is back on our screens, all of us at Big Finish couldn't be more delighted. To celebrate, each week we're taking you through one of the Doctor's past lives, up until Thirteen, with some very special offers...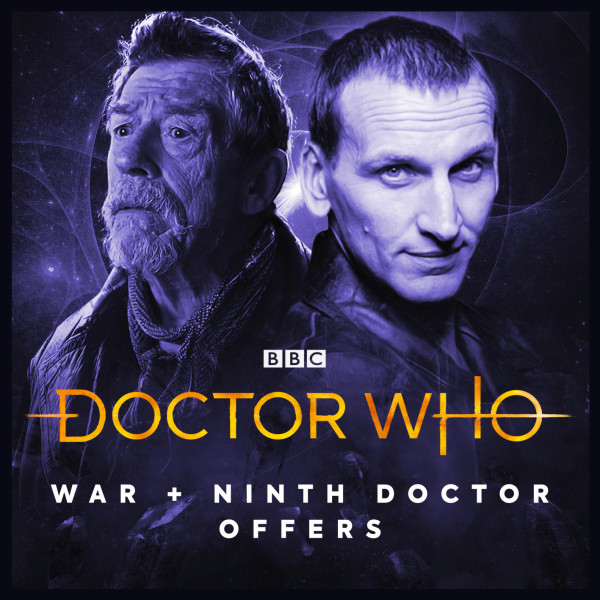 We're so delighted with the new TV series of Doctor Who that we've created some very special offers. Some of our Doctor collections will be on special offer throughout the whole TV season, and other specific releases will be available each week. But please note, each week the offer prices will 'regenerate' so don't miss out on the bargains when you see them!
You can pick up Destiny of the Doctor – The Complete Adventure, The Light at the End (Big Finish's celebratory 50th anniversary Doctor Who release) and Classic Doctors New Monsters Volumes 1 and 2 all on special offer.
Any and all of these releases are a great place to start if you've not heard Doctor Who on audio before!
Head to page https://www.bigfinish.com/offers/v/regenerate and use the access code DOCTOR13 to get these special offers.
For week nine we have some special offers on stories with the War Doctor, played by the late Sir John Hurt and the Ninth Doctor (played by Christopher Eccleston in the TV series).
We are privileged to have recorded four box sets of stories with John Hurt, exploring what made the Time Lord give up the title of the 'Doctor'.†¨
Known to Big Finish and Doctor Who fans as the 'War Doctor', these audio adventures are just a small part in the career of one of the great British actors, a career which has encompassed ground-breaking roles and iconic, distinctive appearances on stage and screen.
With the Time War raging between the Time Lords and the Daleks, enveloping all of time and space in the conflict, the Doctor knew he could stand on the sidelines no more. To that end, he renounced his name and pledged to do what was necessary to bring about peace.
But the fire of the war so vast and so fierce is not easily extinguished. Its strategies, its betrayals, its sheer devastation will severely test the Doctor who knows he can be the Doctor no more.
And as the battlefields seem to stretch on for eternity, he will now face new and terrifying, unthinkable dilemmas…
The War Doctor: Only the Monstrous; Infernal Devices; Agents of Chaos and Casualties of War are now on special offer at £20 each on CD or £18 each on download.
We also have stories from the era of the Ninth Doctor on special offer this week.
Why not listen to The Ninth Doctor Chronicles with four stories from the Ninth Doctor's era, performed by Nicholas Briggs and featuring Bruno Langley as Adam Mitchell and Camille Coduri as Jackie Tyler. These stories capture the era of the epic return of Doctor Who in 2005, with actors from that first year reprising their television roles on audio.
And as a bonus special offer, we also have stories featuring one of history's leaders and friend of the Doctor, Sir Winston Churchill. You can get both volumes of The Churchill Years now at a specially reduced price.
Why not ask other listeners on social media for their recommendations on the best stories to start with.
Head to page https://www.bigfinish.com/offers/v/regenerate and use access code DOCTOR13 to get all of these special offers.