We love StoriesBig Finish produce great full-cast audio drama for CD and download, featuring many popular television fantasy series.
26 September 2015
Catch up on all the news you may have missed this week!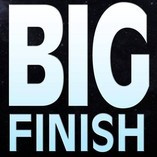 Last week we enjoyed the festivities of Big Finish Day 7 – but we've followed up a packed weekend of announcements with news of exciting additions to some beloved spin-off ranges.
The New Counter-Measures will see the return of the Intrusion Counter-Measures Group, who first appeared in Doctor Who: Remembrance of the Daleks. Details are a closely guarded secret, but we can confirm that Hugh Ross will be reprising his role as Sir Toby Kinsella, the shadowy head of the organisation. A two-disc special will open the series in July 2016, before a full Series 1 boxset is released in December 2016.
Meanwhile, those intrepid investigators Jago & Litefoot will return for an eleventh series of curious capers. Series 11 will see the pair match wits with Jago's unknown son, the great composer Ravel, Dracula-author Bram Stoker and the most evil intelligence the detectives have ever faced – one who will be familiar to Doctor Who fans! You can pre-order this April 2016 boxset today, with Series 10 due for release soon in October.
But you don't need to wait until next year for some audio delights. This week has seen the release of our latest Short Trip Doctor Who: Etheria a terrifying new First Doctor story by Nick Wallace, which you can download today for just £2.99.
We've also taken another visit to Collinsport, with the release of Dark Shadows: Tainted Love. This haunting new tale stars Kathleen Cody, Alec Newman and Stephanie Ellyne, and picks up after the events of our acclaimed mini-series Dark Shadows: Bloodlust. Check out the trailer below!
But there's more for horror fans to look forward to in the coming months, with the November release of The Confessions of Dorian Gray: Series 4. This eight-story set will see the return of Alexander Vlahos' immortal anti-villain, as he roams history in pursuit of hedonistic pleasures. The newly released trailer can be heard below.
Finally, we've had the unfortunate news of a change in schedule for both Charlotte Pollard: Series 2 and Gallifrey: Enemy Lines. Both this release will now appear in October 2016. Big Finish would like to apologies for those fans looking forward to these releases - but we promise they'll be worth the wait!
That's all for this week, but keep a close eye on the Big Finish website and Facebook feedfor more releases and reveals – included the unveiling of The Prisoner trailer on Tuesday September the 29th – 48 years to the day the original series premiered.
Based on the classic ITV series, this new release follows a British secret agent, who after resigning finds himself with an imposed identity - "Number Six" - and that he's now imprisoned in 'The Village' - a bizarre community with a cheery veneer, but an underbelly of mystery and threat. The authorities running this Village are intent on discovering why Number Six resigned – but it's a secret he steadfastly refuses to divulge. As the drama unfolds, the authorities, in the guise of the sinister Number Two, try ever more ingenious and aggressive means to bend Number Six to their will. All the while, Number Six is intent on two aims: to escape and to find out 'Who is Number One?'.
You can pre-order this brand new set today from the Big Finish website. The release contains four one-hour episodes and a Behind-the-Scenes audio documentary, with the CD version shipping with a lavish colour booklet.
And don't forget – our weekend of special offers celebrating the latest Doctor Who episode 'The Witch's Familiar' are still in effect until Noon on Monday the 29th of September (UK Time). Selected titles featuring everyone's favourite genocidal maniac Davros are available for as little as £2.99, with collected extra value bundles also available. See here for more details.