We love StoriesBig Finish produce great full-cast audio drama for CD and download, featuring many popular television fantasy series.
7 November 2015
Catch up on a week of news and releases with our round-up of all things Big Finish!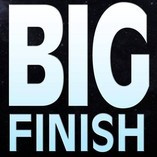 This week has seen the return of some old friends - some with new faces!
First we have an exciting addition to the ranks of The Avengers. Arriving in April 2016 will be Olivia Poulet as Mrs Emma Peel! Olivia is joining Julian Wadham as John Steed for a set of new audio adventures based on the classic Diana comic strips. The Avengers – Steed and Mrs Peel: The Comic Strip Adaptations Volume 1 can be pre-ordered today, while Volume 2 will follow in November 2016 – accompanied by a graphic novel reprinting of the original comics. You can pre-order all three releases as part of a stylish bundle today.
Ahead of this colourful new release, January 2016 brings us The Avengers – The Lost Episodes: Volume 5, containing four more audio recreations of episodes from the first television series. Anthony Howell returns as Dr David Keel with Lucy Briggs-Owen as Carol Wilson, joining Julian Wadham in adventures stretching from the circus ring to the Caribbean. Listen to the trailer below, and pre-order today!
Also announced this week is another in our occasional series of interview CDs. Call Me Jacks is an in-depth conversation with Jacqueline Pearce, best known for her role as Supreme Commander Servalan in Blake's 7. Recorded over a bottle of champagne, and interviewed by the one and only Nicholas Briggs, Jacqueline discuss her long and illustrious career, her past triumphs and times. You can pre-order this double disc release today – with all CD versions purchased before its release in March 2016 being signed by Jacqueline.
We round off the week with two exciting new releases. Survivors: Series 3 returns us to the nightmare world of post-apocalyptic Britain, where Abby Grant (Carolyn Seymour) and Jimmy Garland (Richard Heffer) struggle to make a life for themselves in the ruins of central London. Based on Terry Nation's classic television series, this terrifying new box set is available to order today, alongside the previously released Survivors: Series 1 and Series 2, and an audiobook reading of Terry's original novel by series star Carolyn Seymour.
Meanwhile, Gwen Cooper (Eve Myles) and Rhys Williams' (Kai Owen) pasts comes back to haunt them in Torchwood: Forgotten Lives. This blockbuster new release continues on from the events of Torchwood: Miracle Day and begins a whole new chapter for the beloved Doctor Who spin-off. Catch up with our Torchwood releases so far with a money-saving subscription, and check out the trailer below:
That's all for this week – but join us on Monday for the eagerly awaited release of UNIT: Extinction! The first Big Finish release from the New Series of Doctor Who, this five-disc box set stars Jemma Redgrave, Ingrid Oliver and Warren Brown, depicting a desperate battle against the Nestene Consciousness (voiced by Nicholas Briggs) and its army of plastic Autons! Pre-order today for free UK delivery, and check out our epic new video trailer below: