We love StoriesBig Finish produce great full-cast audio drama for CD and download, featuring many popular television fantasy series.
28 November 2015
Catch up on a week of news, releases and reveals from the worlds of Big Finish...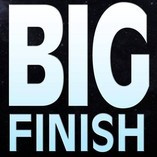 This week we've been getting excited about this Christmas' biggest sci-fi spectacular. Featuring forceful heroes, planet destroying super-weapons and galaxies far, far away Doctor Who - The War Doctor 1: Only the Monstrous will be released on December 14th 2015!
This epic new box-set sees the return of John Hurt as the War Doctor, the secret incarnation of our favourite Time Lord, as revealed in the 50th anniversary Doctor Who special, The Day of the Doctor. John is joined by Jacqueline Pearce as the scheming Cardinal Ollistra; whose desperate pursuit of a Gallifreyan victory sends the Doctor behind enemy lines – where the Daleks await! Listen to the trailer for this brilliant new series via the SoundCloud player below, or on the product page here:
The first in a series of four box-sets, Only the Monstrous has been written by Big Finish Executive Producer Nicholas Briggs. Also featured in the cast are Lucy Briggs-Owen, Carolyn Seymour, Beth Chalmers, Alex Wyndham, Kieran Hodgson, Barnaby Edwards, Mark McDonnell and John Banks.
You can order this release separately, or as part of the Time War Saga bundle. The bundle contains all four box sets from the War Doctor series, along with the five-disc prequel Doctor Who - The Eighth Doctor: The Time War starring Paul McGann, due for release in 2017. And remember, when you choose to buy this release on CD directly from Big Finish, you will also unlock instant access to a digital copy for download on the day of release.
For an extra sneak preview of the set, listen to the clip below – as the War Doctor prepares to make the ultimate sacrifice to save Bennus (Kieran Hodgson) and Averton (Barnaby Edwards) from a Dalek attack!
The War Doctor isn't the only traveller with adventures to look forward to. 2016 will see the continuation of our Doctor Who Short Trips series of downloads, featuring new stories from Jenny T Colgan, Nigel Fairs, Julian Richards and Penelope Faith. Guests stars for the series will include Mark Strickson, Nicola Bryant, Sophie Aldred, India Fisher and Anneke Wills – with range producer Ian Atkins promising plenty more surprises to come! For more details and to pre-order now, click here.
(Incidentally, Ian also happened to get married yesterday! Congratulations to Mr & Mrs Atkins from everyone at Big Finish!)
That's not the only preview we've been treated to, as six all new trailers are now available to listen to online! Enjoy special previews of Doctor Who: The Waters of Amsterdam, Doctor Who: Aquitaine, Doctor Who – The Novel Adaptations: Theatre of War, Doctor Who – The Novel Adaptations: All-Consuming Fire, Doctor Who – The Fourth Doctor Adventures: Wave of Destruction and Doctor Who – The Fourth Doctor Adventures: The Labyrinth of Buda Castle on their product pages now, or enjoy them all on our SoundCloud page.
In the dying days of November, we've celebrated the nights drawing in with a long-awaited supernatural release. The Confessions of Dorian Gray: Series 4 sees the return of Alexander Vlahos as Oscar Wilde's immortal anti-hero, in eight all-new adventures. Featuring tales spanning the globe and the centuries, this terrifying five-disc release is the perfect companion for those long winter nights, and is still available for the special pre-order price of £20 on CD or £18 to download. Listen to the trailer below:
To cap off the week, Big Finish were proud to release Bastei Entertainment's fascinating series The Sigmund Freud Files, exclusively available for download from our website.
This new range focuses on the investigations of famed psychoanalyst Doctor Sigmund Freud (David Rintoul) who uses his interest in the human psyche to solve crimes both unusual and mysterious. All four episodes of are now available from the Big Finish website priced at just £3.99 each, with a bundle of all four downloads for only £10.
Plus, as a special introductory offer, the opening episode The Sigmund Freud Files: The Second Face is available FREE until Thursday 31st December 2015. Download today, and discover this mystery series that will delight fans of Sherlock Holmes and The Avengers.
Please note: The Sigmund Freud Files contain adult material and are not suitable for younger listeners.
That's all for this week – but don't forget that you can still enjoy our range of offers on our Top 20 Doctor Who Main Range titles, as chosen by you! All 20 nominated titles remain discounted until Tuesday December 1st, starting at just £2.99! Click here for full details of the offer.
You can also still save on an order from the new Big Finish Spreadshirt store - with free postage on 2+ items when you use the code 2GIFTS.
Next week, we unveil some more secrets from our 2016 release – as well an endure a long wait for next weekend's Doctor Who Series 9 Finale Hell Bent – where the Doctor has a score to settle on Gallifrey! Check out the trailer below!
And while you wait, don't forget you can pick up Doctor Who: Solitaire this weekend for just £5 as part of our run of Series 9 special offers!