For The Love Of StoriesBig Finish produce fantastic full-cast audio dramas for CD and download.
Torchwood - Series 5 - cover art and synopses revealed
2 August 2017
Coming soon, the fifth season of Torchwood - and we can reveal the artwork and synopses for these exciting episodes!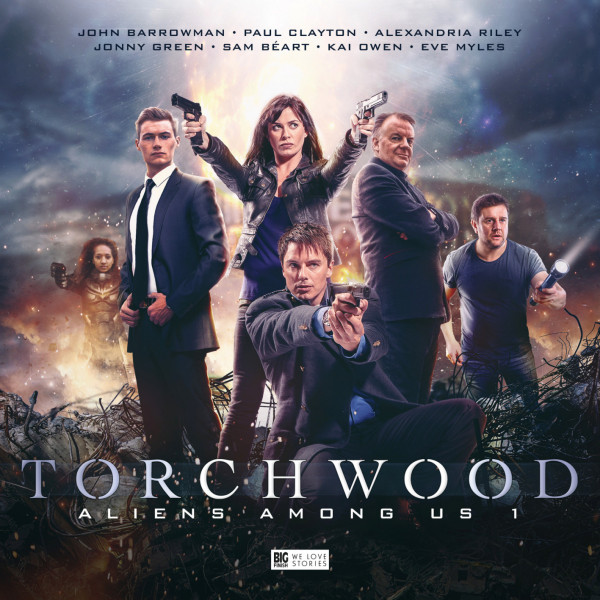 Today we are excited to reveal more details and episode synopses for Torchwood Series 5 - Aliens Among Us, the official continuation of Torchwood from Series 4 - Miracle Day.
5.1 Changes Everything by James Goss
Tyler Steele has washed up in Cardiff looking for a fresh start. A disgraced journalist, he's looking into the Red Doors movement – are they really behind the terrorist attacks on immigrants? Who is stirring up the racism and hatred in the city, and what does outsourcing contractor 3Sol have to do with it? Tyler finds out that Torchwood - a secret organisation that everyone thought long gone - is back in business. Tyler realises that this is the second chance he's been looking for, and he'll do anything to be a part of it.
5.2 Aliens & Sex & Chips & Gravy by James Goss
Has Cardiff really been invaded by aliens? Tyler thinks he's found a lead – the daughter of the mysterious Ro-Jedda is getting married and has booked a private party. If Torchwood can infiltrate it, there's a chance they'll end up closer to the truth. Free bar, canapés, and the chance to find out what's really going on. What could possibly go wrong? Soon Torchwood are on the run for their lives, and learning more than they ever wanted to about alien life.
5.3 Orr by Juno Dawson
Vincent Parry is the most successful property developer in Cardiff. A while ago he made an agreement with the mysterious Ro-Jedda, and it is an arrangement he has come to bitterly regret. Something has to be done – but it's going to cost him everything he loves. With time running out for Cardiff, Torchwood encounter an alien who knows them only too well.
5.4 Superiority Complex by AK Benedict
Poverty and homelessness are on the rise in Cardiff. The streets are full of the desperate and the dispossessed. So, of course, it's the right time to open a 7-star luxury, all-inclusive hotel. And, naturally, the hotel is for aliens only. As the humans stand outside the gates and look hungrily in, there's one thing that makes them smile. Someone is murdering the guests.
Starring John Barrowman, Paul Clayton, Alexandria Riley, Jonny Green, Sam Béart, Kai Owen and Eve Myles, with writers James Goss, Juno Dawson and AK Benedict, directed by Scott Handcock and produced by James Goss, don't miss this exciting new series, available for pre-order at £28 on CD or £25 on download.
Or save in a bundle. Pre-order the whole series (part 2 out in October and Part 3 out in February) as a bundle, for £75 on CD or £60 on download.
With the anticipation for this upcoming series, we talked to the producer of this series, James Goss to see what gossip and information we could get in the upcoming series, its characters and all things Torchwood.
Big Finish (BF): James Goss, how are you doing? We are here to talk Torchwood: Series 5 - Aliens Among Us, part 1 and we're very excited
James Goss (JG): I'm very excited too!
BF: We've just listened to episode 1, called Changes Everything, which is a clever reversal on the pilot episode of Torchwood, Everything Changes. And with the Torchwood team returning to Cardiff after the events of Miracle Day, is it a regression back to the early days of Torchwood?
JG: It introduces Torchwood to someone who has no idea what Torchwood is. And whereas in the first episode of Torchwood you got to discover Torchwood through the eyes of someone you love, this is discovering the world of Torchwood through the eyes of someone who makes you wince. Tyler Steele is the anti-Gwen, which is why it's so good to pair him up with her. You can tell Gwen immediately gets the measure of him, but at the same time you look at Tyler and go "You're Horrible! I wouldn't mind a go, but you're HORRIBLE".
BF: Amazing! And why did you move the series back to Cardiff? After Miracle Day, did it feel like the natural thing to do?
JG: The home of Torchwood has always been Cardiff and will always return to Cardiff - that's where it started, and that's where it feels most at home. Miracle Day told a brilliant story all over the world, but the best scenes were set in a kitchen in Swansea. Well, apart from Lauren Ambrose fighting Eve Myles in a lift...
And Cardiff is great! In the world of Torchwood, it's like Gotham. It's been through so much… it seems foolish to say "Here's Torchwood in its new base of Northampton" - "I look forward to the episode where they go to Kettering". Cardiff is Torchwood and it's brilliant.
BF: Plus, the Rift is there.
JG: Yes! There is no Rift in Northampton*
BF: Should there be?
JG: Nooooo.
BF: How involved was Russell (T Davies, creator of Torchwood)? We've mentioned before that Russell oversaw it and loved it. But to what level do we get Russell's input in this new series?
JG: Russell has managed to be the most enthusiastic back seat driver imaginable. When we started we had meetings with Titan so that their comic series will tie up with this new series (which it will). We told Russell our plans and he said: "This is all lovely, but how about..." It's brilliant, as we're able to email writers with a document about the series and they go "Wait - this document is written by Russell!".
Some of the thoughts that Russell had are things we would never dare do. Big Finish normally (rightly) has a custodial duty to the brands it licences - take them interesting, amazing places but, at the end of the day, return them to the garage without a scratch. With Aliens Among Us, Russell's approach is "Drive it off a cliff! Bring them back, kill them off..." Some of the stuff to come is really shocking.
This series is ambitious, even by Big Finish's standards! This is a full series of 12 hour-long episodes, and Russell has been instrumental in creating all the fun bits of the puzzle. He's been so hands on. Answering emails, discussing casting options with Scott… he went to see one of the cast in a play they were touring in, and told us "Oh yes, great choice". It's amazing to have Russell over our shoulders. Amazing and scary.
BF: You mentioned "Bring them back" there… Anyone we should… look out for?
JG: Well, someone is coming back from the dead. There'll be a few familiar faces…
BF: So, spoiler-free for BF listeners, please… Tyler Steele. Who is he? What does he do? What's his motivation? And who's going to shag him first?
JG: Tyler is dreadful! He's a journalist in disgrace who's come to Cardiff as a last resort and clearly, he's set his sights low. He's not Clark Kent, planning on having an exciting career in journalism or a Pulitzer Prize - his highest ambition is a 5,000-word essay on Buzzfeed. And he encounters Torchwood because he's actually very good at his job. Torchwood discover him, realise he's onto something and they work with him. Along the way, Tyler discovers that Torchwood aren't insane, there really are aliens in Cardiff.
BF: These new characters, Orr, Mr Colchester, Tyler, are they a mix of Russell's and your ideas, or do the actors also help bring them to life as well?
JG: The actors have a lot of input. But most of it comes from Russell. Orr (in the third episode), is the kind of character only Russell could create. It's been brilliantly written by Juno Dawson, an excellent writer who was so enthusiastic about Orr that you could only say "Juno, have at it." Episode 3 is bizarre, it's delightful and Orr, as played by Sam Béart, is disturbingly unique.
BF: A lot has happened since Torchwood started on screen in 2007 and to Torchwood now in the modern day. Has Torchwood completely changed?
JG: Yes. Austerity hit Cardiff. The entire Welsh property market collapsed. Aliens Among Us' is set against the backdrop of this. A city that's just getting back on its feet, and in Aliens Among Us there's a strange reason why the Cardiff property market is going through a boom. The city's become worried about immigration, refugees, about people who aren't like them. And Tyler has found that something is behind all of this, stirring this up for reasons of their own.
The writers have really delivered. AK Benedict has one with an all-inclusive luxury hotel. You hear about luxury hotels in third-world countries where impoverished people with no clean water peer through the fence at rich holidaymakers eating pineapple by the pool.
We also hear a lot about a group called Red Doors. It was inspired by a story from Manchester, where the front doors of asylum seekers were accidentally painted red, causing a massive increase in hate crimes.
And, worryingly Captain Jack discovers dating apps. A man with a Vortex manipulator and dating apps... How's that going to work out? Badly and messily.
BF: Since Torchwood came to Big Finish, all the stories have stood alone, are there any essentials for listeners before starting series 5?
JG: You can start from scratch with Series 5. But, if you want to listen to Torchwood stories that are relevant, we've been slowly telling the story on how Gwen has been restarting Torchwood, you can listen to More Than This, Forgotten Lives…
BF: And Juno Dawson and AK Benedict's fantastic Torchwood stories!
JG: Yes! Juno's The Dollhouse - a hilariously feminist retelling of Charlie's Angels, and AK Benedict's The Victorian Age, which is utterly charming - Captain Jack and Queen Victoria go hunting monsters together!
BF: Amazing! But with series 5, is this the end of the Torchwood monthly releases?
JG: No, the regular range has a short hiatus so we can focus on series 5, but then the regular range kicks off again, with a special guest and an old flame returning… Our first release is the funniest, naughtiest, most 18+ thing that Torchwood has ever done. Not to be listened to with children.
Thanks, James Goss! Get ready for Series 5, which Changes Everything...
*Big Finish cannot confirm nor deny the existence of a Rift in Northampton