For The Love Of StoriesBig Finish produce fantastic full-cast audio dramas for CD and download.
15 December 2022
Full story and cast details are today revealed for the first of three explosive box sets in the forthcoming series of Torchwood: Among Us, due for release in May 2023.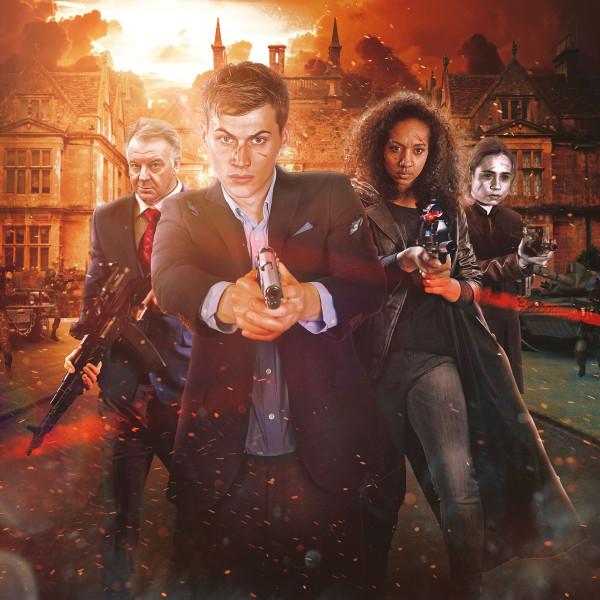 Since 2017, Big Finish Productions has produced the official audio continuation of the popular Doctor Who spin-off, with two highly-acclaimed Torchwood series, Aliens Among Us and God Among Us.
Kickstarting the third series is Torchwood: Among Us – Part 1 featuring some familiar names in the cast. Joining the previously-announced Eve Myles (as Gwen Cooper) and Kai Owen (as Rhys Williams) for more alien-hunting escapades are Paul Clayton (as Mr Colchester), Jonny Green (as Tyler Steele), Alexandria Riley (as Ng) and Samantha Béart (as Orr).
Torchwood: Among Us – Part 1 is available to pre-order for just £27.99 (collector's edition CD box set + download) or £19.99 (digital download only) here.
Torchwood are on the run. As the world puts itself back together, Torchwood are there to pick up the pieces. And they find something nasty hiding in them.
A housing estate where everyone's gone mad, an industrial estate interrogation facility, a lighthouse in Iceland, the comments section of a newspaper. Trouble is everywhere. And so are Torchwood.
Aliens Next Door by Ash Darby
Mrs Betty Clerihew has an exciting secret in her spare room. Torchwood are hiding out there, watching the comings and goings of her estate. Apparently, monsters are living on the cul-de-sac.
Samantha Béart, who features as Orr, said: "This is a real documentary-piece for Torchwood and a cautionary tale about gossip and hearsay! Orr is a product of the emotions around them, so if society is showing an ugly underbelly, that's what Orr becomes and that's terrifying."
Colin Alone by Una McCormack
Colin Colchester-Price has been left behind. But he's kept calm and he's carried on. He knows his husband is out there, saving the world for Torchwood. And he'll comeback for him. One day. Soon. Surely.
Paul Clayton said: "Mr Colchester is still very much in love with Colin but that love is about to be severely tested. Colchester puts that relationship above everything and is willing to kill for it. He's been referred to as 'the Terminator in a cardigan' and it's a title I'm prepared to own."
Misty Eyes by Tim Foley
Gwen Cooper and Rhys Williams have made a new life for themselves in Iceland. Away from death and aliens and horror and Torchwood. Until there's a knock on the door from the last person they want to see.
Kai Owen said: "I love playing Rhys and I had such a wonderful time doing it over the years. Whenever we get the chance to come back, we jump at it. God bless Big Finish for continuing to bring us these amazing stories. The Rhys and Gwen story is just brilliant. It's a joy."
Moderation by James Goss
Tyler Steele has a job moderating the comments section of a website. His old friend Petra is a star reporter for the newspaper. And Tyler realises the newspaper is going to kill her.
Jonny Green, on playing Tyler Steele, said: "It's a load of fun to record. It's always so varied and really enjoyable. It's a typically mad script which I love. It was really cool to look at the side of Tyler's life of him being a journalist as we've heard so much about it over different series. It gives an insight into what he was like before the audience met him. It's been great to be back."
Big Finish listeners can save money by pre-ordering all three volumes of Among Us together in a bundle for just £75 (collector's edition CD box set + download) £59 (download only).
Torchwood contains adult material and may not be suitable for younger listeners.
All the above prices include the special pre-order discount and are subject to change after general release.
Big Finish is currently operating a digital-first release schedule. The mail-out of collector's edition CDs may be delayed due to factors beyond our control, but all purchases of this release unlock a digital copy that can be immediately downloaded or played on the Big Finish app from the release date.