For The Love Of StoriesBig Finish produce fantastic full-cast audio dramas for CD and download.
11 May 2023
The official audio drama continuation of Torchwood embarks upon a new chapter today, with the release Among Us – Part 1 from Big Finish Productions.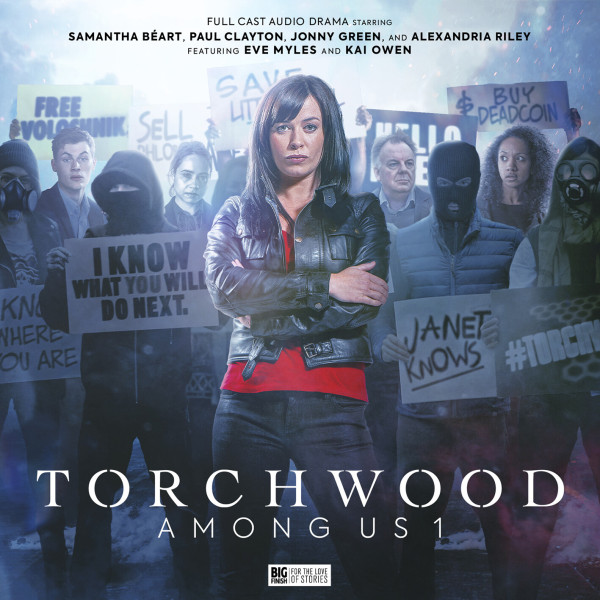 "I know where you are. And I know what you will do next."
The Torchwood crew are back. Years in the making, these four brilliant full-cast audio adventures begin a brand-new three-box-set series arc entitled Torchwood: Among Us.
Producer James Goss said: "We're telling a story about the worst elements of human nature being manipulated. Torchwood, in hiding and on the run, is having to come back together and give the human race a stern talking to.
"This series is about online harassment, racism, forgotten wars, crypto bros, the dangers of using the internet, AI content creators and about the world being saved by the maddest guest star Torchwood's ever had.
"By the time we were finally able to finish recording last autumn, we were worried that what had seemed like an eerily prescient satirical thriller would be outdated but, if anything, we've been too kind on human nature. Hopefully, you'll come away from it having had a great time."
The two TV Torchwood stars returning for this first box set are Eve Myles (as Gwen Cooper),and Kai Owen (as Rhys Williams), alongside audio regulars Paul Clayton (as Mr Colchester), Jonny Green (as Tyler Steele), Alexandria Riley (as Ng) and Samantha Béart (as Orr).
Torchwood: Among Us – Part 1 is now available to own for just £27.99 (as a collector's edition CD box set + download) or £19.99 (as a digital download only) here.
Torchwood are on the run. As the world puts itself back together, Torchwood are there to pick up the pieces. And they find something nasty hiding in them.
A housing estate where everyone's gone mad, an industrial estate interrogation facility, a lighthouse in Iceland, the comments section of a newspaper. Trouble is everywhere. And so are Torchwood.
Aliens Next Door by Ash Darby
Mrs Betty Clerihew has an exciting secret in her spare room. Torchwood are hiding out there, watching the comings and goings of her estate. Apparently, monsters are living on the cul-de-sac.
Colin Alone by Una McCormack
Colin Colchester-Price has been left behind. But he's kept calm and he's carried on. He knows his husband is out there, saving the world for Torchwood. And he'll come back for him. One day. Soon. Surely.
Misty Eyes by Tim Foley
Gwen Cooper and Rhys Williams have made a new life for themselves in Iceland. Away from death and aliens and horror and Torchwood. Until there's a knock on the door from the last person they want to see.
Moderation by James Goss
Tyler Steele has a job moderating the comments section of a website. His old friend Petra is a star reporter for the newspaper. And Tyler realises the newspaper is going to kill her.
Big Finish listeners can save money by pre-ordering all three volumes of Among Us together in a bundle for just £75 (collector's edition CD box set + download) or £59 (download only).
Note: Torchwood contains adult material and may not be suitable for younger listeners.
All the above prices include the special pre-order discount and are subject to change after general release.
Big Finish is currently operating a digital-first release schedule. The mail-out of collector's edition CDs may be delayed due to factors beyond our control, but all purchases of this release unlock a digital copy that can be immediately downloaded or played on the Big Finish app from the release date.